Paris– and Barcelona-based Hazard Studio have completed the design for restaurant NM, a clandestine venue in the northwest Spanish city of Oviedo from two Michelin-starred chef, Nacho Manzano. With seating for just 20 diners, the space features unique interior design, directed by Alfredo Rodriguez; the entire project focussing on neutral tones, volume and texture.
Situated within the old El Vasco station in the gastronomic town's centre, Hazard Studio were tasked with creating a neutral and organic environment to showcase chef Nacho Manzano's gastronomic experience, with as little distraction as possible. "The objective was to create a private space, free from noisy distractions where people can lose themselves within and be able to really focus on the importance of the cooking," explains designer and studio founder Rodríguez.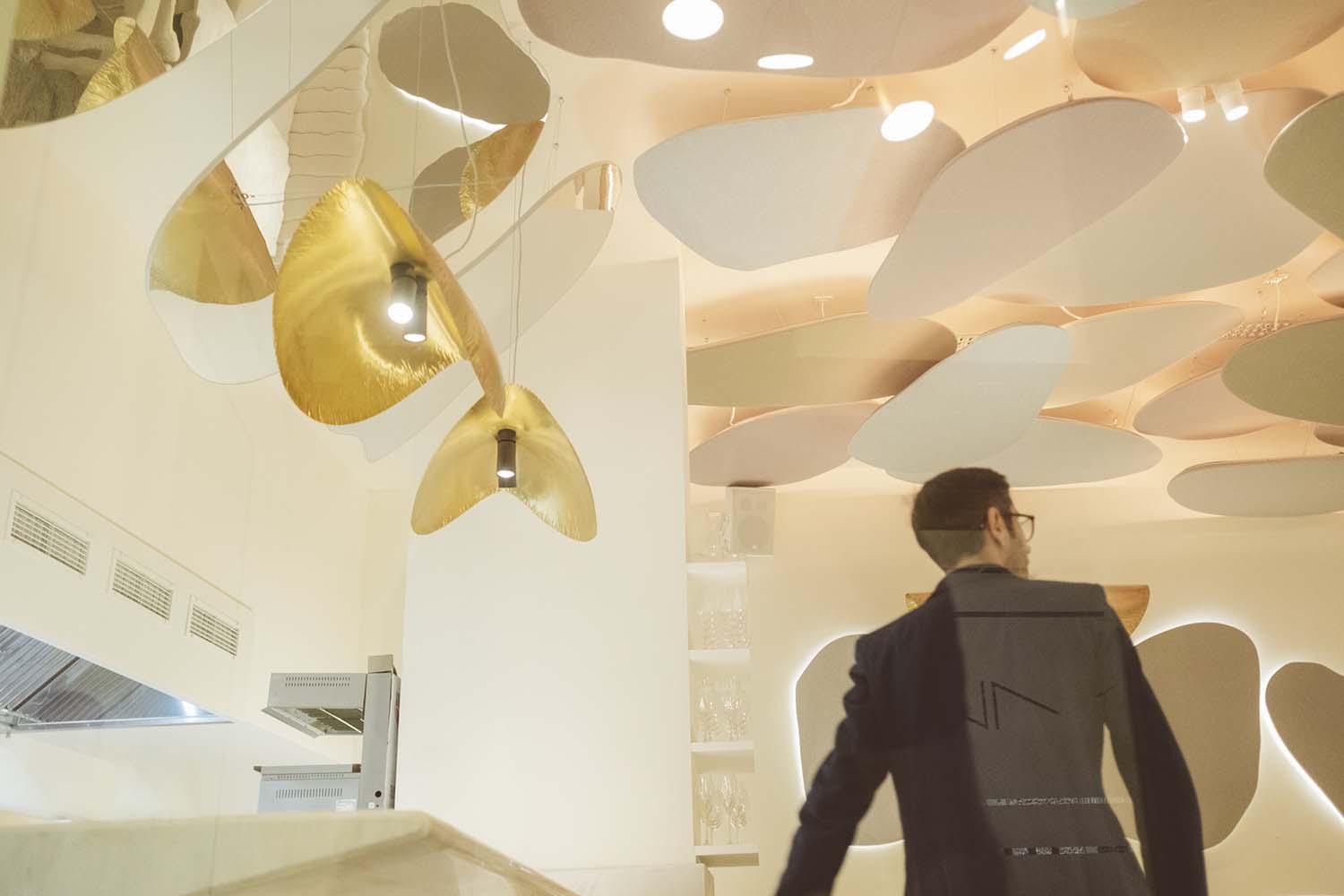 Applying a 'non-colour' principle, the furniture has also been designed by Hazard Studio and includes white Corian tables and bar counter, as well as padded upholstered chairs and stools in a white swirly texture that lends the space an otherworldly essence.
Walls and the ceiling are covered with petal- and scale-like volumes that act as decorative lifelike organic forms and resemble the protective skins of different types of food. Not just aesthetically pleasing, these elements also perform practical functions such as sound absorption, "creating the feeling of a peaceful and relaxing setting, a warm and welcoming bubble," Rodríguez continues.
A theatre of the senses, lighting was also very important at NW, Italian designer Paolo Navone for Gervasoni drawing the diners gaze upwards with what appears to be floating lighting which lends a delicate luminance, complemented by individually adjustable spotlights focused on the tables. Warm and atmospheric, the lighting has been designed to change according to what's being served on the menu, resulting in an immersive ambience and sensory experience that compliments the food's taste and smell.
An organic feel that is in touch with the cuisine at its core essence, Hazard Studio's fascinating design for NW is as captivating as it is creative.
@nachomanzano_casamarcial
@hazardstudio