East London has long been one of the capital's most exciting go-to restaurant destinations for visitors and locals alike; and it continues to be the case. Back in October 2019, Bethnal Green saw its newcomer, Da Terra, receive its first Michelin star. Just eight months after opening. The klaxons were out for chef-restaurateurs Paulo Airaudo and Rafael Cagali.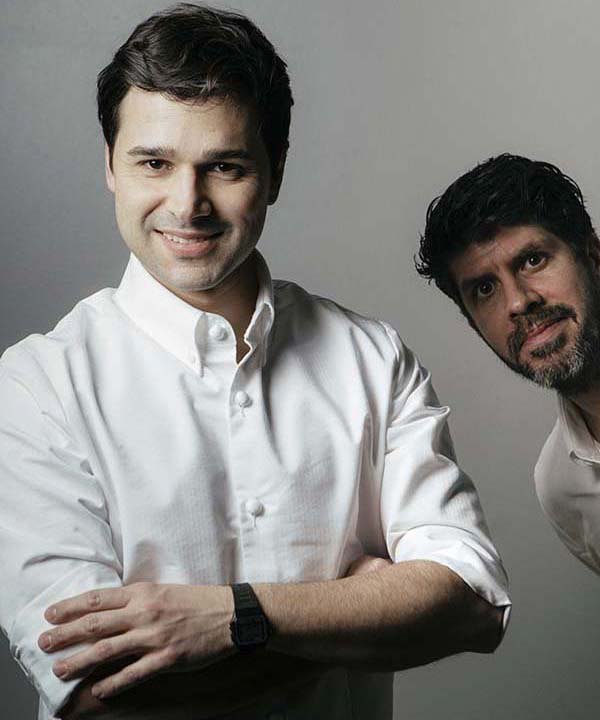 Airaudo, born in Argentina, has worked in prestigious kitchens all over the world. Chasing the stars at Arzak in Spain, The Fat Duck in England and Magnolia in Italy; he opened La Bottega in Geneva which received its very own star in just four months. Soon afterwards, he opened Amelia in his family's much-loved San Sebastián.
Cagali was born in Brazil and, not quite knowing what to do with himself as a young(er) man, moved to London to work in various Italian restaurants; including Daphne's in Chelsea. After gaining knowledge and experience, he relocated again, this time to Verona to live with his grandfather.
Here he would join the team at Grand Hotel Villa Feltrinelli on Lake Garda, before jetting off to Spain to work under Quique Dacosta in his three Michelin-starred restaurant. Eventually, The Fat Duck came calling, and another new adventure and culinary schooling begun. Which is where he would meet Paulo, and the rest, as they say, is history.
Da Terra is housed in the splendid Town Hall Hotel, the successor of Lee Westcott's much-loved Typing Room. With big shoes to fill, the team behind Da Terra have made a substantial impact with Latin American inspiration fused with the Mediterranean tasting menus.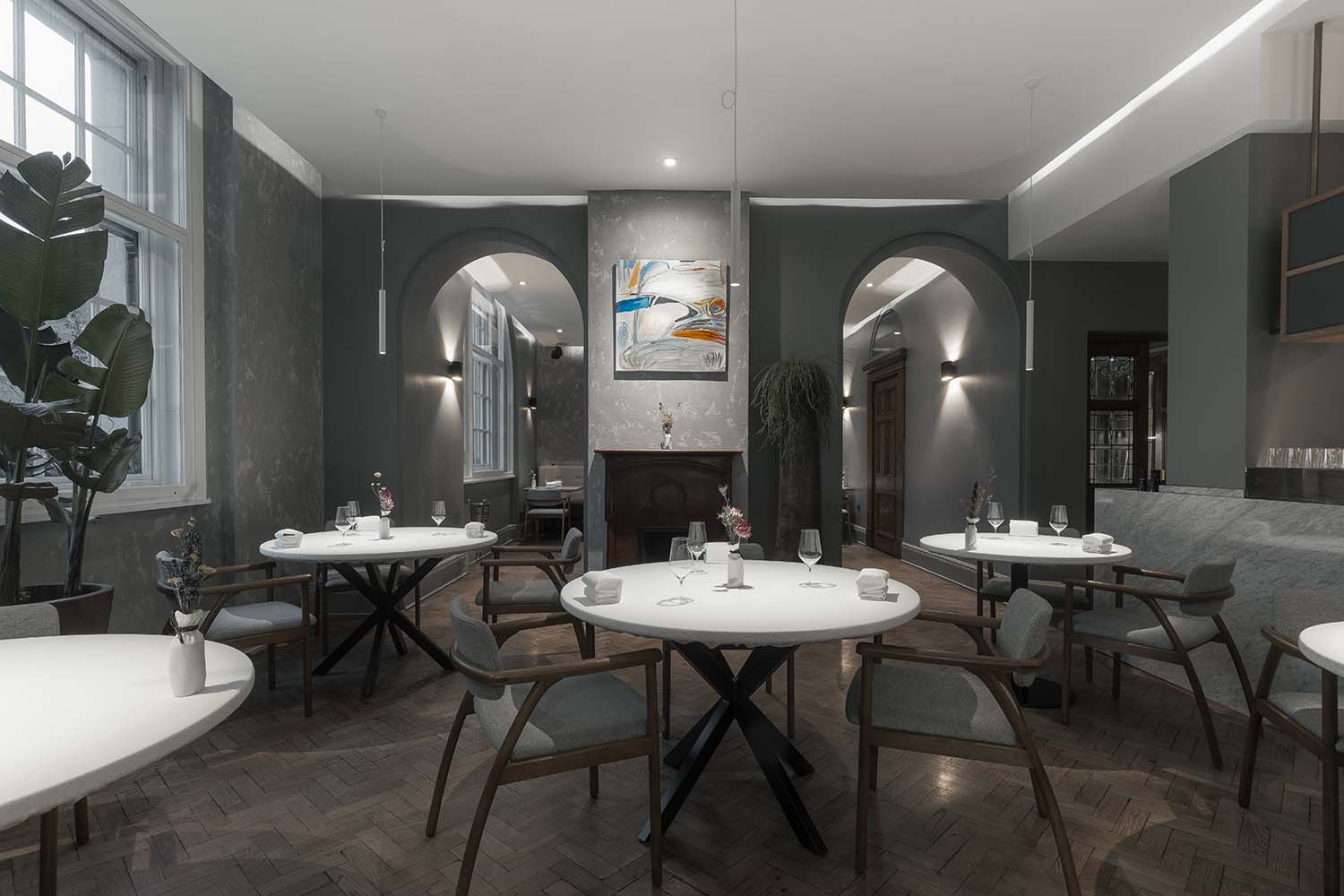 The eight or eleven course offer showcases the best from Airaudo and Cagali's culinary accomplishments inspired by their Latin American roots and Italian heritage.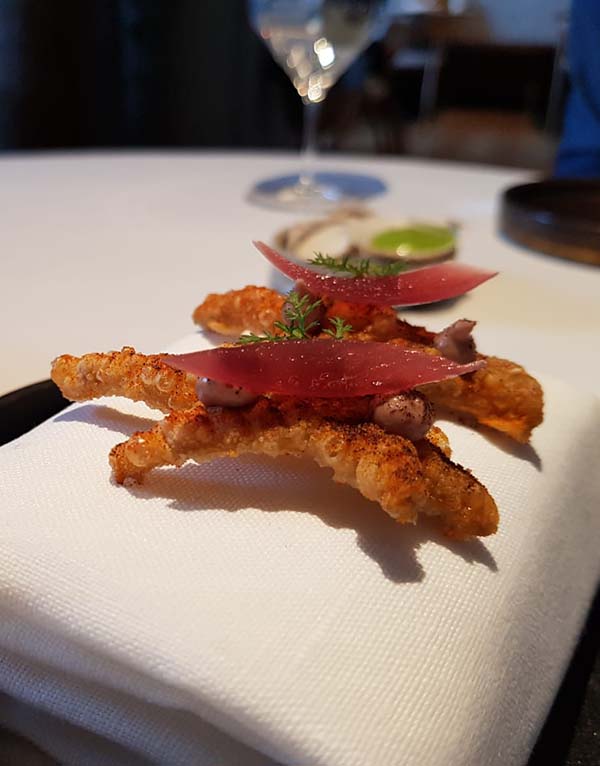 So, is the food any good? You bet your sweet Cachaça it is.
The five course Friday and Saturday only lunch menu has been available for just a couple of months, Alvin tells us as we are seated. It's a sunny winter's midday, and the small but beautiful space is aglow with sunshine on calming grey walls with hints of contemporary colourful art and greenery. There are only eleven tables, and the restaurant vibe is intimate, cosy and modern.
No menus arrive, this is intentional. We're asked about allergies and intolerances, but we're going in blind. Chef Jing Wang leaves the pristine and modern open kitchen to bring us our appetisers. Because we don't want to spoil their blind tasting menu ethos, let's just say that the little chicken feet and cod croquettes were created by an incredibly skilled hand; the presentation was faultless. Exciting new flavours hit as we slowly bite into crispiness. Thrilling and mysterious, we loved that we had no way of knowing what was coming next.
The five courses are extraordinarily exciting. Each one arrived with a short (again mysterious) booze pairing, and we were challenged by Antonio the sommelier to guess what the libation might be. On offer isn't just wine, but a mixture of Airaudo and Cagali's favourite tipples which inspired the menu.
Each dish has a clear narrative, and you feel like you're stepping into a memory with every bite. One of the most colourful plates on the menu was like summer in a bowl, and brought to mind a road trip to Tuscany. The vivid colours and bold flavours were simple, and natural but presented like a florist's bouquet.
The concept has a clear connection to the earth. Wood, fire, water and air all feature. They celebrate ingredients by highlighting important ones with others. Some of the components and pairings were unusual (sauerkraut featured when you least expected it), yet there is harmony and balance at every turn.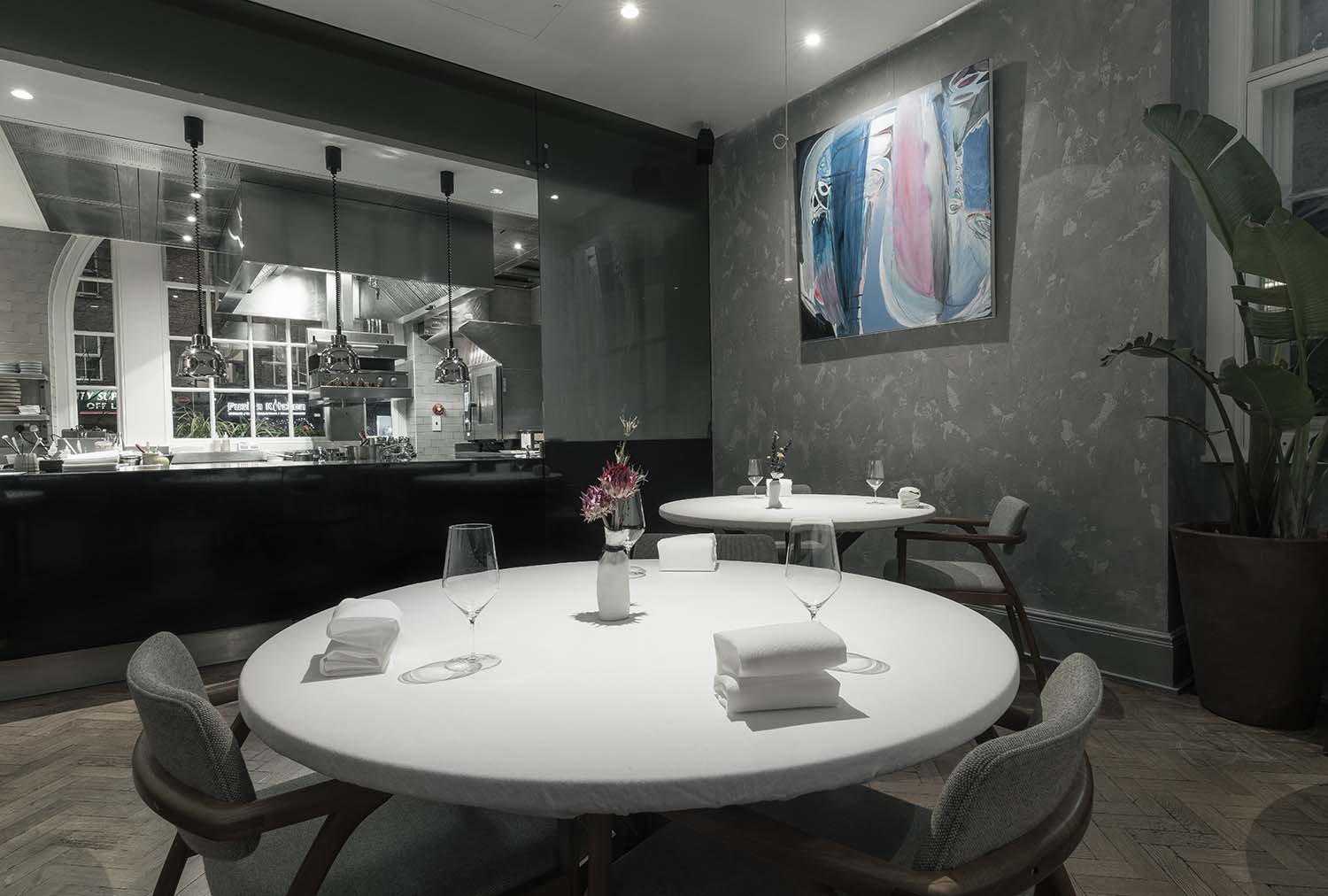 Visually, each course is a stunning example of culinary innovation and respect for ingredients; all presented on a mix of stone, clay, wood or glass designed specifically for each dish. Even the temperature of the vessel or stand played a part in the experience. The tableware at Da Terra is beautiful, tactile and curious; some of which made by Odd Standard.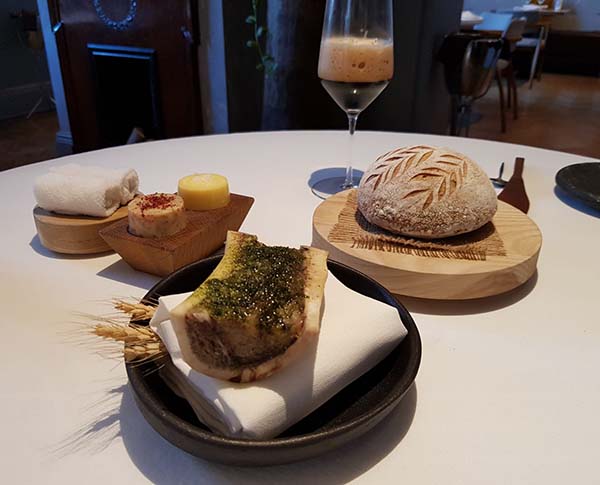 The glassware, by Zalto Denk.Art, is elegant and exudes finesse. The attention to detail in all respects is impressive, and no wonder the guys and gals at Michelin awarded the star so quickly. The team at Da Terra is friendly, attentive and interactive when explaining each dish. When Sean brought out the bread (sourdough with grilled bone marrow and cultured butter), which made a comforting course, you could see that he was keen for you to dive in and was pleased with our excitement. We really enjoyed the contact, which wasn't invasive, but intriguing.
The guys are perfectionists, and even though our experience at De Terra was inspiring and obviously delicious, we were dazzled by their skill. Every milligram on our plates was considered and artistically thought-out. So much passion has gone into the concept, development, creation and presentation that the experience made us feel like they did it all just for us.
If you're after an exquisite experience that evokes memories, excites your senses and makes you feel entirely welcome and at peace, then a few hours at Da Terra will not disappoint.