Distrikt Coffee gives that oldie but goodie 'hidden gem' a whole new meaning: hiding a good 10-minute walk away from the nearest train station, off the beaten tracks of Mitte's busy Torstraße. In a city where there's never a shortage of spots to happen upon, Distrikt Coffee has still managed to rise to the peak of most Berlin coffee obsessive's bean-list; its Instagrammable interior and tasty menu surely factors.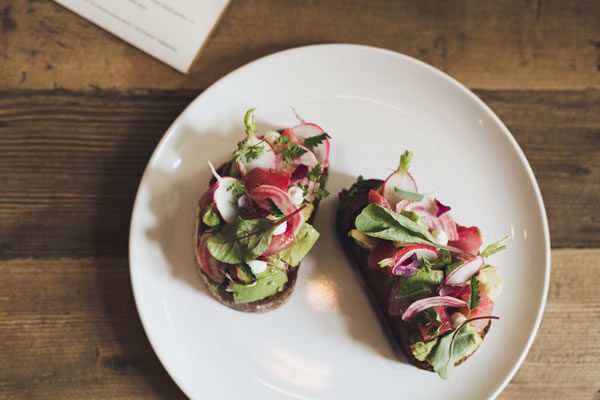 The new neighbourhood favourite serves a café style menu that really hits the spot. Hungry kittens from all over the city come to Bergstraße for the pancakes, the avocado toast and the banana bread. The menu is American-style, but heavy on the veggies; chef Matthew Maue, a New York original, changing the menu every season. Untypical for Berlin, the coffee bar opens at 8.30am, and serves all coffees with two shots. Sophie Hardy, a South Wales import, and German Hannes Haake did not only prove a good hand when choosing their chef, but also when designing the space; choosing not to go with the usual Berlin mix-match of styles by following a homogeneous concept.
Concrete floors to arched masonry walls; dark timber furniture; utilitarian lighting; intelligent repetition of materials; leather upholsteries ramping up the coziness; Distrikt Coffee has it all.