I long ago lost count of the number of hotel tours I've been taken on. I've seen all manner of presidential suite, speakeasy and shiny steel kitchen; been filled in on every amenity you care to mention. While art curators, cultural programmes and artisanal suppliers have become the norm, how many hotels have a head herbalist?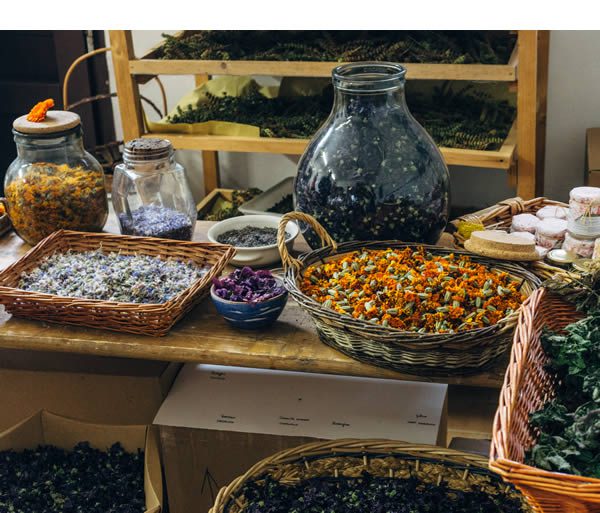 It sounds like a gimmick that might've been dreamt up for a hip Amsterdam design hostel, but certified naturopath and gem therapist Lisabetta Matteucci — who graduated from Urbino University's Faculty of Pharmacy — is the real deal. Here, deep in the Tuscan countryside, Matteucci oversees the process that takes aromatic plants from a 750-acre organic estate to soaps, lotions and essences available to guests at Borgo Pignano. Head herbalist? It's certainly a new one on me, but then Borgo Pignano is no typical hotel.
The story is a long one, and it dates back over 2,500 years, to Italy's Etruscan civilisation; the first people to settle here, nearby the ancient hill-top city of Volterra. A sale deed from 1139 contains the first words written of Pignano, the hamlet that 877 years later would make up this singular Tuscan retreat; its current form taken in the 17th century having fallen into the hands of Volterran nobility.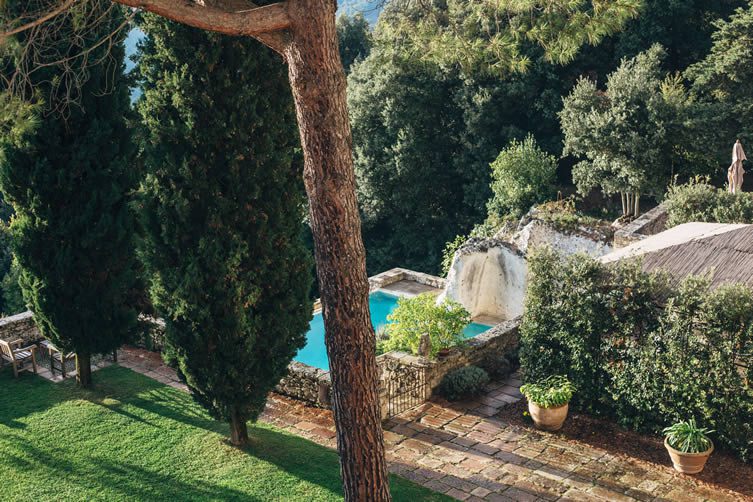 The working estate fell foul to the march of Italian industrialisation, and several owners later I find it in its most imposing state to date; a historic hamlet ramped up to levels of regal hospitality, a working organic farm with biodynamic gardens, olive groves, orchards, meadows, lakes, waterfalls and woodlands.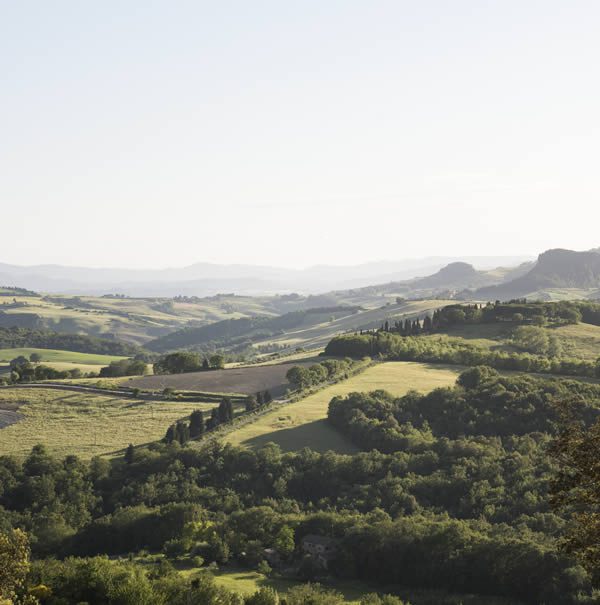 And views. Magnificent, humbling views. 500 metres above sea level, Tuscany's revered countryside stretches for miles; hilltop towns and burial mounds, and the Mediterranean coastline on a clear day.
It's here, though, with Lisabetta in the heart of the organic estate's engine room — close to beekeeper Antonio Usan's honey production room, among the machinery used to cultivate the biodynamic vegetable gardens — where the Borgo Pignano philosophy takes shape.
I spend time with chef de cuisine Vincenzo Martella later, as he finds the time to run us through a pasta-making class, and he can't contain his excitement about working on an estate where the journey of so much he makes can be traced back within minutes.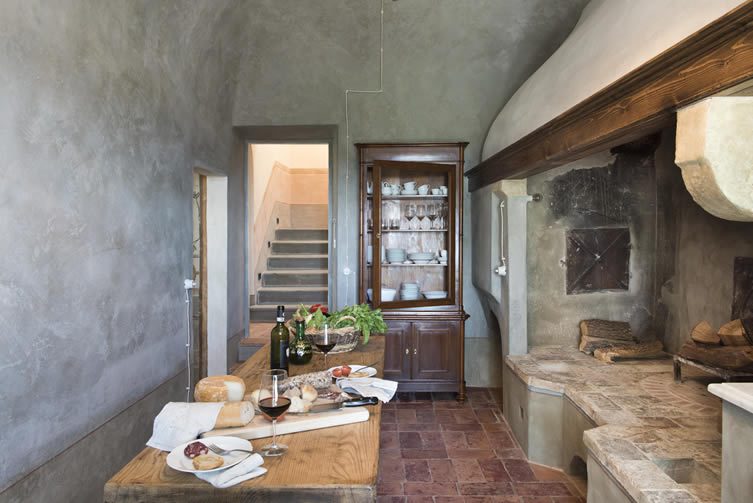 He's particular keen to point out a bag of flour, which could seem rather — if you'll forgive the pun — run-of-the-mill; stone-ground here, though, its part of a narrative that runs through all that is Pignano today: a deep-rooted philosophy of ground to guest.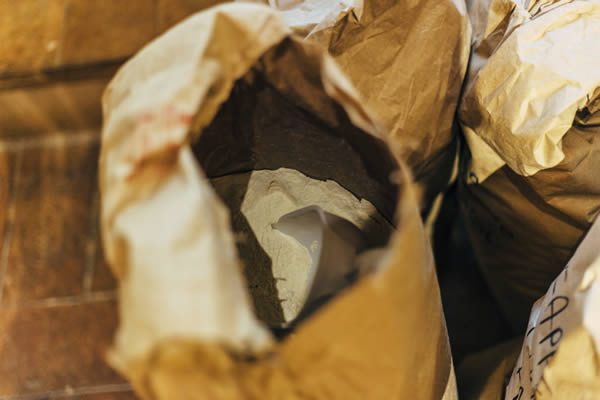 Martella uses it to make pasta and pies, and cakes and granola; he's aided by farm-fresh eggs, and yoghurt and cheese, cold pressed olive oils, honeys, herbs, jams. Traditional Tuscan plants are grown from heritage seeds, traditional production methods are employed to bear the fruits; self-sufficiency is not a buzzword here, it is a mantra.
Farm to table and beyond may be the narrative that drives Borgo Pignano, but there are plenty of chapters that uncover layers and layers of depth to this tale. Taking the estate over in 2000, Michael Moritz is a Cardiff-born venture capitalist of some repute in Silicon Valley — beginning his career as a noted tech journalist, he went on to invest in pretty much everything that dictates your digital world today, and is reaping the benefits.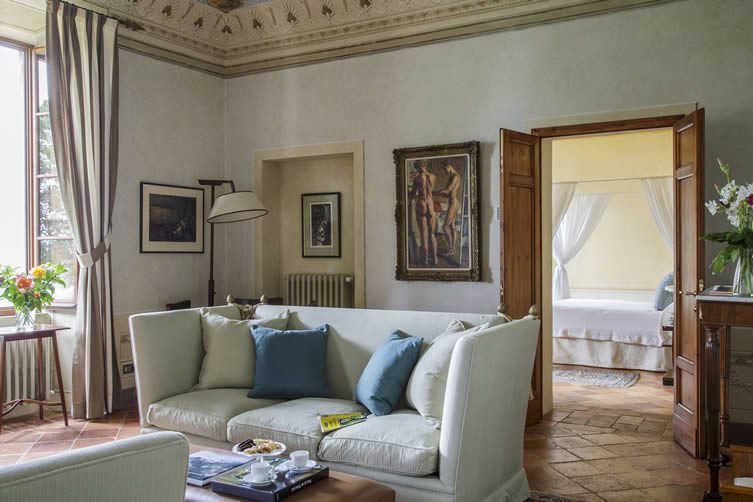 A keen admirer of art, a budding amateur artist himself, Moritz's vision lends an edge to this Tuscan retreat that others lack. The newly-opened Pignano Gallery provides contemporary artists a unique setting to showcase their work, a unique setting to work from too; a working artist's studio and 'artist's cottage' (a short walk from the main villa) regularly home to residencies, many in collaboration with London-based Royal Drawing School.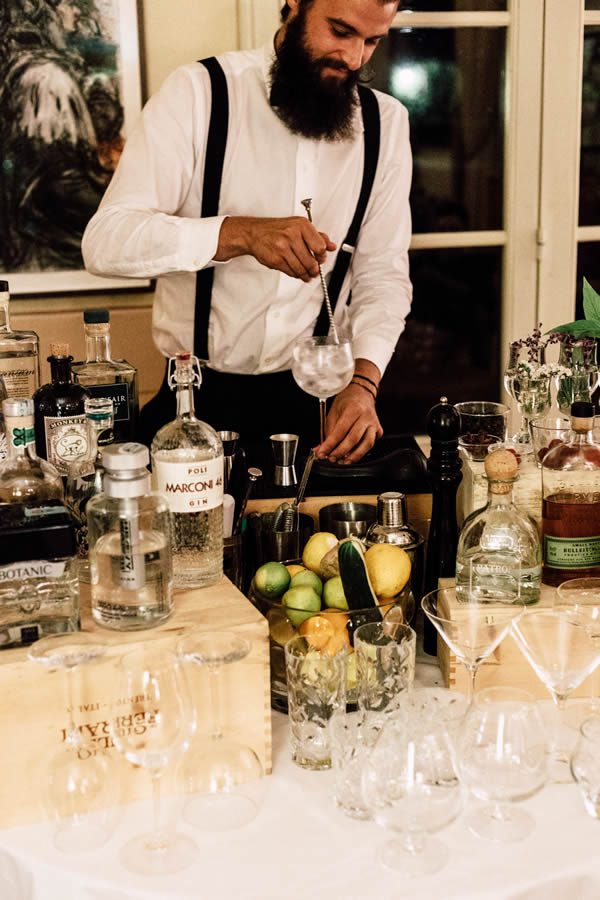 From contemporary to classic, majestic frescoes that date back to Renaissance times have been painstakingly restored, and an impressive 'priest's house' — adjoining the ancient church of San Bartolomeo — is packed with original features like medieval stonework, archways, columns, vaulted ceilings.
It's not long before the sands of time shift again, though, as a bearded mixologist prepares aperitivos in a cosy salon; before our passionate friend Vincenzo Martella flexes his creative muscle in the kitchen. We are unquestionably embraced by the old world charm of Tuscany, but the comforts demanded by contemporary travellers are never once overlooked. Martella's cooking is exquisite and the homely atmosphere fosters community amongst the guests.
It's a subtle, but considered touch, as the lack of internal signposting is pointed out to me; 'we want you to feel like you're staying in someone's home', I'm told. Of course, we are, a multi-billionaire's home at that — but the warmth and charm extend beyond the matter-of-fact; for two nights in October, we are guests of the Volterran nobility who built this home, the history of Borgo Pignano engulfing us. Much is made of the magic of travel, seldom is it so tangible.