Unconcerned with representation or narrative, the work of American artist Brian Calvin seeks to ask questions over answering them. His portraiture paintings — depicted by repetition of his archetypal female figure — invite the viewer to look beyond the face and consider the idiosyncrasies of his formal choices, the face reduced to its essential features, oft with oversized eyes and lips.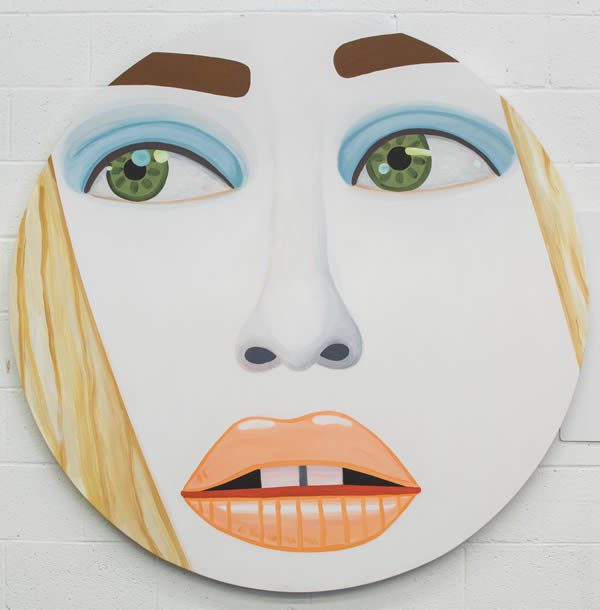 In his fifth solo show at New York's Anton Kern Gallery, Calvin presents new work that features tightly-cropped portrait paintings, coloured pencil drawings, and anthropomorphic wooden sculptures, demonstrating the artist's evolution of reduced style.
Whilst the sculptures (his first at the gallery) suggest a group of idle teenage loiterers through the use of stilt-size painted wooden legs leaning against the walls, his paintings — in a wonderful palette of pastels — are exhibited on tondos; circular-shaped canvases whose cropping eliminates any sense of background or place, and underscores the flatness of his compositions.
An exercise in seeing, the artist plays with doubling throughout the exhibition, works appearing almost identical but differing in terms of scale, orientation, or expression; with some works rearranging facial features and others guiding the viewer to find hidden landscapes in fingernails. Showing at Anton Kern Gallery until 7 October, the artist's latest collection is another riot of irresistible pop art the reaffirms his position as one of America's contemporary greats.