Conceived and designed by and for today's women, Juno House provides business, wellness and motherhood services to Barcelona's female entrepreneurs and creatives. A first for the city, the members club has been designed as a catalyst for collaboration and refuge, with a desire to make the daily lives of these career-focused ladies more streamlined and inspired.
Set across two imposing buildings with a combined 1,400 square meters in the Catalan capital's Eixample Esquerra, Juno House features two spaces, The Nave and The Farinera, where members will find inspiring corners to work in settings with an exceedingly high level of aesthetic consideration.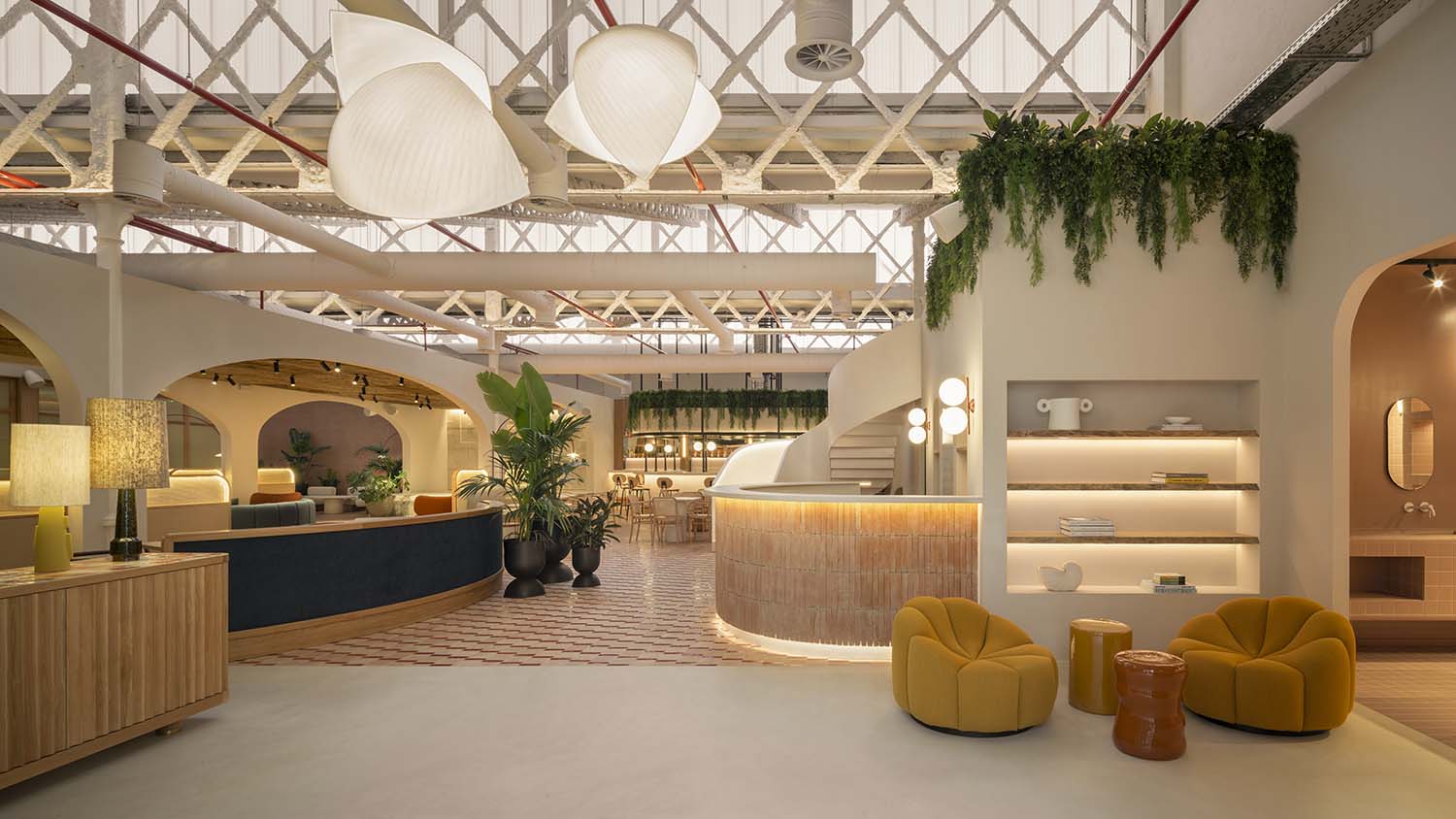 Designed by Barcelona-based The Room Studio, and led by Meritxell Ribé and Josep Puigdomènech, the house opens with Nave, Juno's creative hub and a place where ideas are born and collaborations conceived. Divided into three differentiated areas 'separated' only by the change of flooring and segmentation of spaces, the Nave is home to the reception area, a shop, restaurant, and large coworking area that includes boardrooms, zoom rooms and a recording studio.
The bright environment of Juno's core is accentuated by the brand's corporate raspberry colour palette, natural materials, sleek lighting and tables and chairs designed largely by The Room Studio for the project. Ornamental finishes, and 'that' extraordinary sculptural iron staircase, introduce round, sinuous shapes, nodding to and celebrating the womanly sensuality and curves.
If the Nave is focused on the business and personal development of its members, The Farinera is where emotions and wellbeing come into play. With an eye-catching raspberry and white façade, members enter into the Club House. Intended for leisure, its design features New York touches, custom-made furniture and a well-considered lighting system that creates an atmosphere perfect for guiding members from daytime through to night. A library completes the space, the nook boasting the same colour palette as the Farinera façade.
Little Juno is located on the second floor, a space adapted and decorated for little ones featuring custom-made furniture and a ballet bar for different activities. Parents can take advantage of the breastfeeding and baby care facilities up here. A beauty area and wellness suite, meanwhile, can be found on the third and fourth floors; members able to get their 'glow on' ready for an empowering day in the 'office', one of the house's many curated events, a night of cocktails and dinner in the Club House, or following a yoga session on the top floor. A space to be enjoyed based on your mood, the Farinera is Juno's very own Doll House.
Founded by a team of women from both the United States and Spain, and located in one of Barcelona's most emblematic buildings, Juno House is a members club where productivity and international synergies combine in serious style. A new vision for a new breed of female entrepreneur, this project represents a giant leap forward for the Mediterranean city and its creative minds.
@junohouseclub
@theroom_studio