Canadian cannabis collective, Superette, continues to push boundaries with The Annex, a cannabis dispensary and consumption workspace with neighbourhood Italian deli vibes.
Open to students age 19 and over from the University of Toronto St. George and George Brown College's Casa Loma campuses (who can purchase and consume cannabis, as well as work and socialise), The Annex combines the convenience of a grocery store with the playful design and fun shopping experiences the herbaceous brand has become renowned for.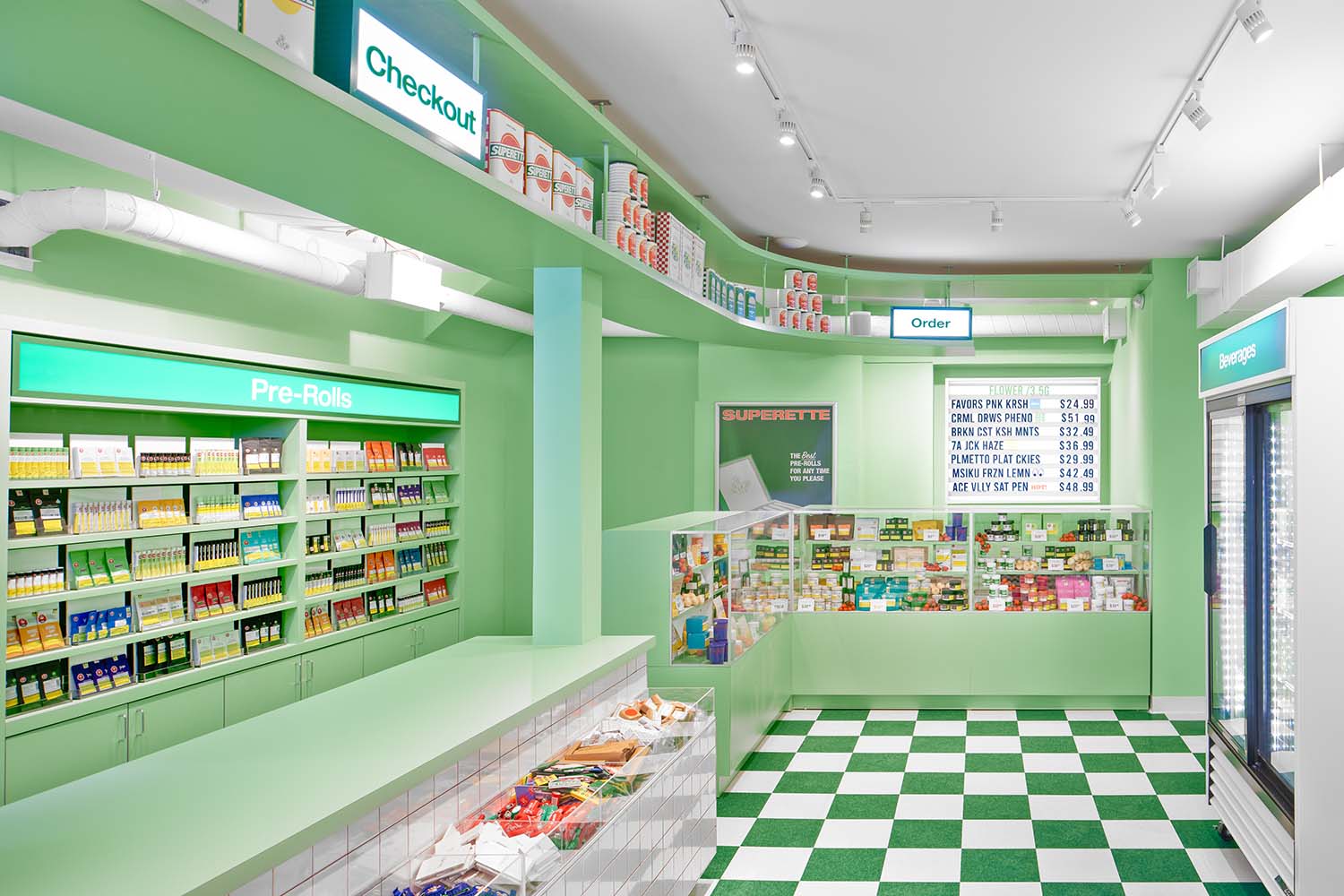 "Cheese-like shop? Italian deli-inspired? Our newest shop is a true reflection of everything we love at Superette. This highly nostalgic and immersive space is rooted in one of our favourite communities and is a great addition to our growing portfolio." – Drummond Munro, founder of Superette.
For their seventh outpost, customers enter through Superette-branded doors to find elements of a traditional neighbourhood deli and the convivial spirit of the college canteen. Green and white checkered floors and bar stools add a touch of nostalgia, whilst glass cases that display their curated selection of Superette products remind us that this is a brand intent on turning traditional cannabis retail on its head.
A collaboration with local candlemakers 'This Candle is Lit' sees the store sell a special range of bodega-inspired candles, and with free Wifi throughout the 500 square foot space, customers are also encouraged to choose from an unparalleled assortment of the best weed products, connect and consume their wares in a kind of cannabis coworking space.
This location offers the playful spirit that has made Superette such an inclusive space across the city. Think Super Slots offering a chance to win everything from lighters to bigger ticket items like a record player, or the shop's signature Munchie Phone, which has a direct line to beloved neighbourhood Jewish deli Rose & Sons for when those cravings kick in.
Another winner confirming this brand as one of the most innovative in the cannabis retail space, the Superette Annex is sure to heighten curiosity and inspire creativity among Toronto's student populus.