Canada's largest shipping container market, Stackt, a hip and artsy complex in downtown Toronto, gets an additional hit from the 'cool bong', as the irrepressible kings of cannabis, Superette, rock up with their latest kaleidoscopic shopping experience.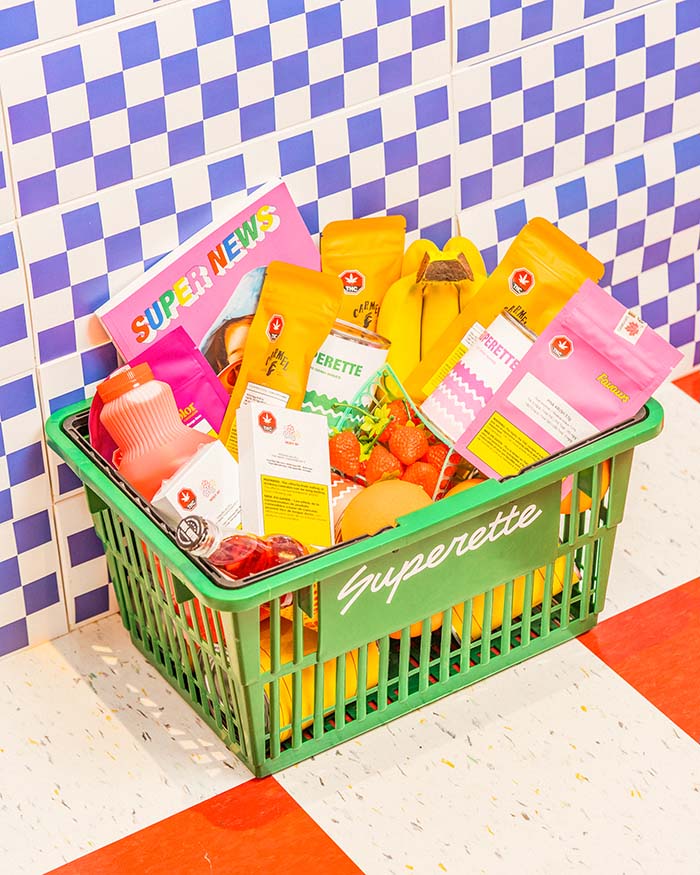 At 800 square feet, SuperMarket is a collision of old-school grocery store cum innovative retail environment; a place where customers will be able to get their hands on a selection of weed, fashion, accessories and in-house collections, assisted by one of the brand's expert budtenders. Housed inside a shipping container and in keeping with their overarching design ethos, Superette SuperMarket follows the blueprint of a quintessential neighbourhood grocery store, whilst emblazoning it with all the colour, graphic prints and nostalgic objects (including a Wheel of Fortune-style 'Super Spin' game and rocket-shaped gumball machine) that the Canadian brand has become loved for.
There's no 'menu' at SuperMarket, customers instead shopping with their eyes and senses in a sort of trippy version of Supermarket Sweep. (R.I.P. Dale Winton.) Those budtenders, however, are on hand to provide info on the curated selection of weed and products, if required.
Shop the aisles and prepare to be surprised in what is perhaps the funnest grocery store you'll ever visit in your life. Especially so if you've sampled some of the products prior. As bold, brilliant and innovative as we've come to expect from team Superette, Stackt Market Toronto's Superette SuperMarket is a good time riot. Grab your shopping baskets and come on down.