Take a seat around either the long communal or one of several small wooden tables and enjoy a breakfast of poached eggs, a lunch consisting of hearty soups, or a dinner made from regional fare at Bogen Bistro, a cute eatery in Bolzano that is attached to five design-led apartments also available for short-term stays.
Located in a historic building, the house boasts a fascinating past that goes back centuries, and was once home to shoemakers, carpenters, carters, wood and fruit merchants; the ancient barrel-vaulted workshop transformed into a charming bistro courtesy of noa* network of architecture, who are on a one-studio-quest to turn sleepy South Tyrol into a world-renowned design destination. Through noa*'s considered update——which has emphasised original architecture, specifically the interior arches——Bogen is home to several cozy snugs for clients to get lost in the moment and enjoy to the fullest the fine food and drinks offered here.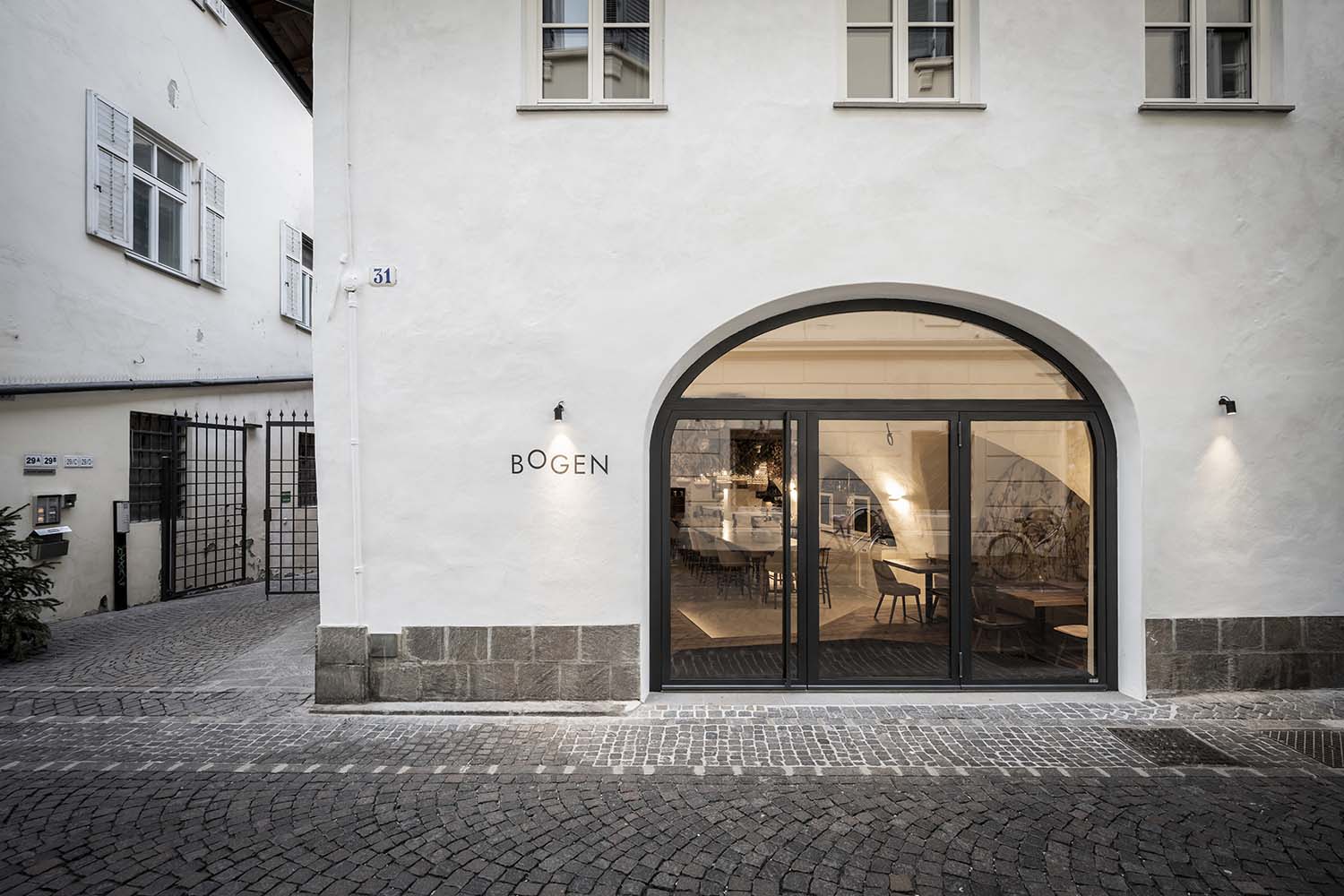 With the owners' desire to create a "romantic, bohemian-style atmosphere, and impart a personal touch with her handcraft and artistic talents in the form of floral compositions," a seven-metre long counter has been placed under a ceiling of flower baskets, and is certainly a pivotal element at the bistro. The highlight of the interior design, noa* designer Silvia Marzani explains how "the upturned baskets filled with dried flowers are a suggestive image that symbolises the transience but at the same time the beauty of life."
Whilst the long table encourages a convivial ambience, smaller tables can be found on the left side of the bistro, sheltered by the arches and offering a more intimate vibe for diners.
Situated on Via Dr. Streiter close to Via Portici, the main axis of the city which was a long-time hub of trade for Italian and German-speaking merchants going back to the 13th century, the mercantile history of Bolzano oozes from the new design of Bogen, a place where warm hospitality and good food blends seamlessly with characterful historic elements and contemporary yet respectful new touches.
Another beautiful destination for this picturesque part of the world, Bogen Bistro is a must for visitors to the South Tyrol capital.
@bogen_bistro_apartments
@networkofarchitecture