Occupying a unique spot in the middle of the Dolomites, hotel Gfell offers a modest 17 rooms and suites, each with imposing mountain views and interiors guaranteed to relax even the most active guest to this northeast Italian resort.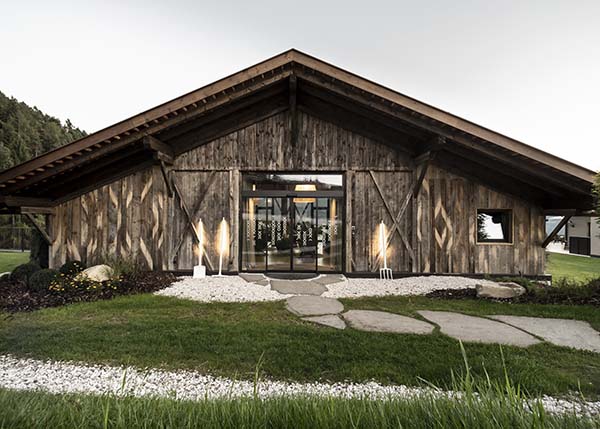 Located in the village of Fiè allo Sciliar and surrounded by all the fairytale wonder of Alpine restaurants and charming guesthouses, hotel Gfell has been designed by locally-based architecture studio noa* and is set to attract enthusiastic hikers, nature lovers, foodies, and those seeking ultimate luxury and tranquillity after a hard day out in nature.
Embedded into the terrain at the top of a slope providing soul-soothing views over unspoiled forests and meadows, noa*——in collaboration with the property's owner——sought to create top quality accommodation that enhanced the distinctiveness of the location, architect Andreas Profanter explaining: "We could have added an extra level, but in line with the contractors, we opted for a less invasive and more environmentally friendly solution, placing the new section inside the hill."
Involved also in the design hotel's notable interiors, noa* opted for natural materials and fabrics to create a relaxing environment, choosing the darkest tone of durmast wood and pairing it with neutral rough-fibre upholstery, such as thick-weaved linen and cotton. Access to the new spaces take place through an old barn which sits by the restaurant; itself a highlight with panoramic views and a spacious terrace from which to enjoy regional and original dishes, fine wines, and killer sunsets on mild summer evenings.
Rooms and suites are lit by the natural light that floods in from the large windows that overlook the valley and, inline with local architectural tradition to restore all the feel of a typical South Tyrolean farmstead, they are structured seamlessly under a large wooden truss, and feature a spectacular column fireplace that reinterprets the Alpine hearth, natural materials and an open bathroom.
Another winning design effort from noa* is another startling design hotel for magical South Tyrol. One for the post-pandemic bucketlist.
@networkofarchitecture
@hotel_gfell