Apfelhotel Torgglerhof (Apple Hotel) combines hospitality with farm-life, the decadent 40-room abode in Italy's South Tyrol province a family run affair; a startlingly designed destination to linger, connect, and soak up the unforgettable scenery.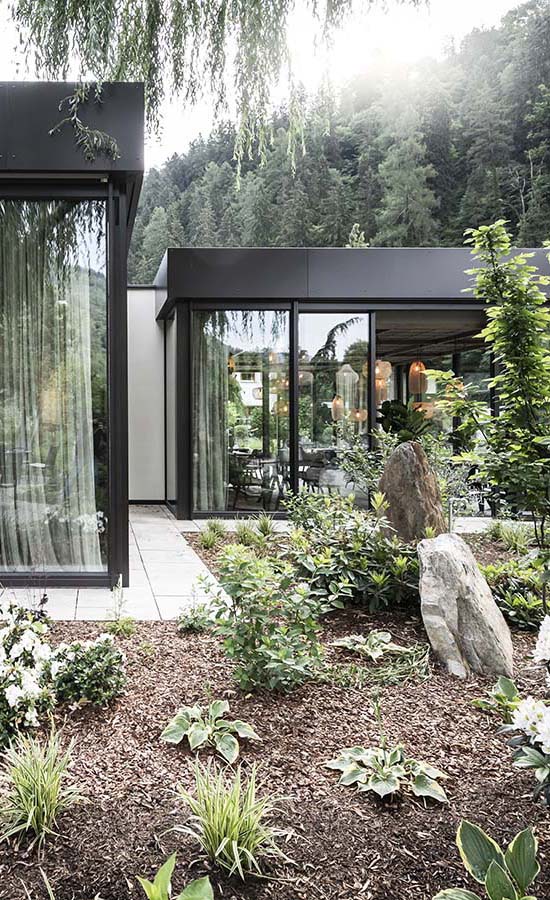 2020 sees Apfelhotel Torgglerhof add 18 new suites alongside a vast wellness facility; undoubtedly the property's centrepiece. Featuring an indoor-outdoor pool, adults only sauna lounge, relaxation room, Finnish sauna and steam bath, the luxuriant spa is an oasis of calm. Like the hotel itself, the new facilities remain true to their traditional roots, whilst boasting some damn fine architecture and design.
Both the interior design and architecture has been completed by noa* network of architecture, a young team based out of based in Bolzano and Berlin, and who are also responsible for the design at the Zallinger hotel high up in the Dolomites. Following success in a 2014 design competition to expand the hotel's existing structure, the team have stripped back, dismantled and rebuilt various areas of the property—before converting, adding and emphasising existing elements, making the hotel-cum-farm what it is today.
From the garden suites on the hotel's east-facing side with saddle roofs that absorb the architectural language of their surroundings; through the wellness facility with its northside façade, allowing it to blend into a natural green slope so as that it can barely be seen; the restaurant, located in the main building and centred around the principle of three rooms or 'cubes' with differing heights and filled with lush greenery; to the impressive 40-year-old weeping willow en route, Apfelhotel Torgglerhof is a very, very special place.
Reflecting the nature and passion of its family-owners who make guests feel at home rather than simply 'guests,' together with architecture that blends into nature and nods to history, this is a charming place to make and share beautiful moments.
@apfelhotel
@networkofarchitecture