With just 15 rooms and suites, a panorama spa and epic views of South Tyrolean mountain skyline, AEON B&B is an exclusive getaway; a place for guests to escape the everyday life in a property where tradition meets innovation and imagination becomes a reality.
The adults only resort is located in the town of Soprabolzano, some 1,221m above sea level, and has been designed by noa* network of architecture, who continue to make this part of northern Italy a prime destination for design lovers.
Set upon a farm that dates back 550 years, noa* opted for a design concept that "consists of freestanding bodies that allow the landscape to flow through and become part of it." The result is two buildings: one that houses the reception, bistro, bar, and wellness area; the other, the exclusive property's 15 rooms and suites. Although at first glance the buildings appear singular and together forming a courtyard context, there is in fact ingenious connection in the form of a hallway that vanishes under an artificially created hill, thus disappearing out of sight.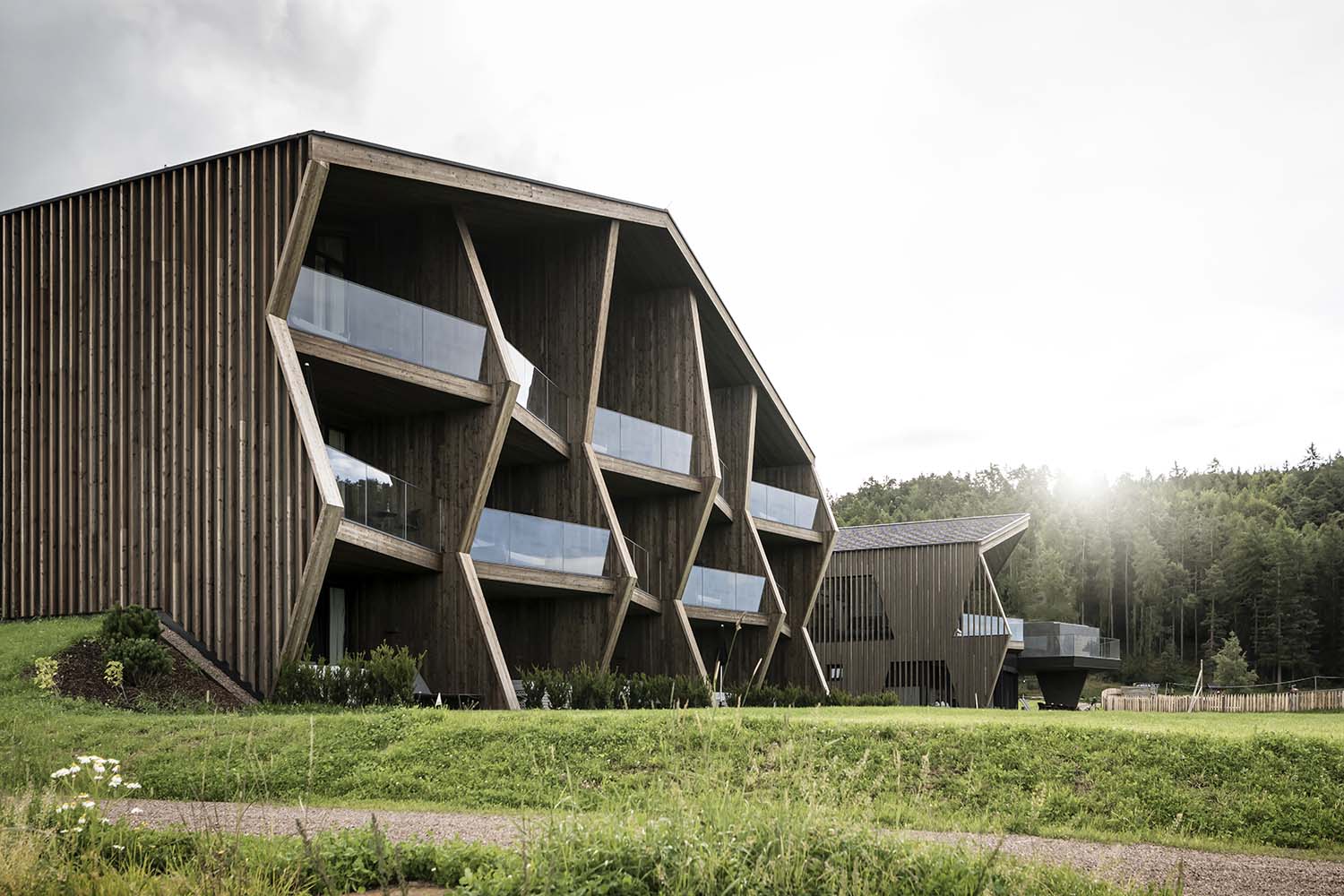 The entire project takes life from its many details and stories, many revolving around current owners, the Ramoser family, the others relating to the venue's 550 year past. A place to disconnect and take in the surrounding nature, stepping through the front door of AEON is intended that guests experience an intense and extraordinary breakthrough; an immersion into something that atmospherically represents an inspired future.
A collision of two worlds, interiors are characterised by a colourful, horizontal dichotomy, whilst the use of soft beige communicates feelings of being grounded and familiar. Guest rooms are warm and welcoming, the spa a delight for the senses. And, for those fortunate enough to book themselves the Gallery Suite, be sure to take the stairs to the living platform that offers unrivalled views of the night sky through an opening in the roof.
An unforgettable new hospitality project, AEON B&B is another noa*-led reason to set enigmatic South Tyrol in your travel crosshairs.
@aeonhotel
@networkofarchitecture