The creative's leisure pursuit of choice has been served an annual ace over the last four years by charity art project, The Art of Ping Pong. Founded by creative agency Fivefootsix, which was closed by its founding partners Mark McConnachie and Algy Batten in 2015, the project continues under the leadership of Batten; and 2016's edition (in support of The Alzheimer's Society) is another grand slam.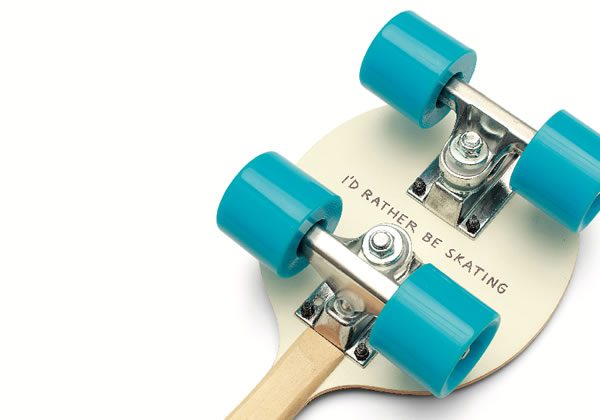 As always, it's an impressive list of artists involved in the creative defacing of a series of table tennis bats — the honours list going a little like this: Matt Blease, Jon Burgerman, Jake & Dinos Chapman, Philip Colbert, Jacob Everett, Filfury, Ryan Gander, James Joyce, Kai & Sunny, Alan Kitching, Lacey, Linda Linko, Lakwena Maciver, Studio Moross, Morag Myerscough, Thierry Noir, Nylon Sky, Damien Poulain, Lauren Rolwing, David Shillinglaw, and Wilfrid Wood.
The names involved ensure that this year's project is as riotous as ever, from the Chapman brothers' Brexit-baiting ('just because you're sorry you voted leave doesn't mean you're not a cunt') to Wilfrid Wood's scary sculptural work, and trademark interventions from folk like Morag Myerscough and Thierry Noir; 2016's The Art of Ping Pong is never dull.
The reimagined paddles can be bid on at www.theartofpingpong.co.uk throughout November, an official launch party will take place from 6 — 9pm Thursday 3 November at Shoreditch's 71A Gallery; the exhibition will continue until 8 November. Expect DJs and creative collabs at the opening, books, posters and other merchandise available throughout the course of the show.