The addition of ten tree houses at Parc Hotel Florian——a firm South Tyrol favourite for active travellers, thanks to its location at the foothills of Siusi allo Sciliar——sees architecture blend with the rich diversity of nature; the hotel's staggering new suites a feat of spectacular design both inside and out.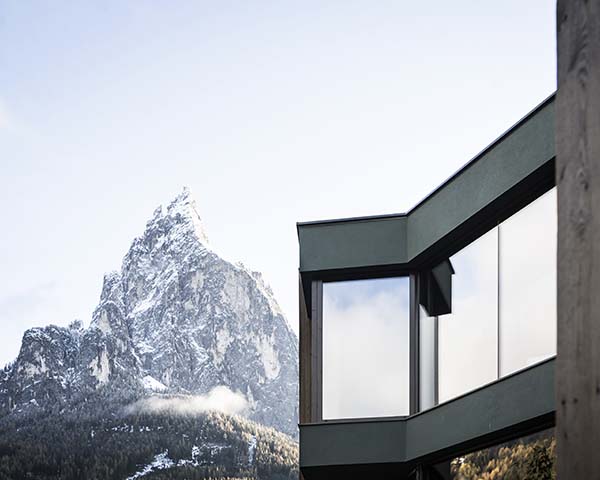 Separated from the Florian's original complex and set within a lush green expanse where guests are encouraged to linger among ancient trees, an idyllic pond and impressive outdoor pool, the new 'Floris Green Suites' are presented as a grouping of intimate, self-contained tree houses elevated up on three-metre-high supports, leaving those beautiful grounds fully accessible underneath.
The new project has been put together brilliantly by South Tyrol-based architecture studio noa*, the new architectural additions boasting five rooms on each floor, each two-storey structure providing views over the park, whilst fusing seamlessly into the natural landscape. Positioned at a slight angle to enhance the aesthetics of the development and give guests the impressions of being ensconced in their own little house, expansive horizons, casual openness and personal freedom are the defining tones of this project.
A central living area opens out onto a sheltered balcony overlooking the magnificent mountain scenery, a colour palette of subdued green interspersing with shades of grey to add an evocative tree-house ambience; all whilst looking damn fine at the same time. Open plan living with enviable vistas are complemented by intimate features such as a small, private Finnish sauna. Those really looking to treat themselves, mind, can opt for a stay in the Green Suite, complete with an open patio and outdoor hot tub; the perfect way to unwind after a day skiing in the colder months or hiking, swimming and biking throughout summer.
Beautifully crafted luxury interiors, individual architectural getaways, lush grounds and premium amenities, Floris South Tyrol is a mountain hideaway of enviable style and unforgettable scenery.
@floris_green_suites
@networkofarchitecture