Architects Treivas, have completed the interiors of a new location for Academiya, a city café that serves Russian, European and Pan-Asian cuisine in various locations throughout Moscow.
Located at 3k1 Argunovskaya Ulitsa, close to the Ostankino Television Technical Center, this latest Academiya is a relaxed neighbourhood spot where customers come to drink coffee, eat brunch, lunch and dinner and enjoy non-alcoholic cocktails. Comprehensive, the menu consists of hot and cold appetisers, salads, pizzas, pasta, Russian specialities and sushi: the café-pizzeria being part of Igor Vitoshinsky's Semifreddo Group of restaurants.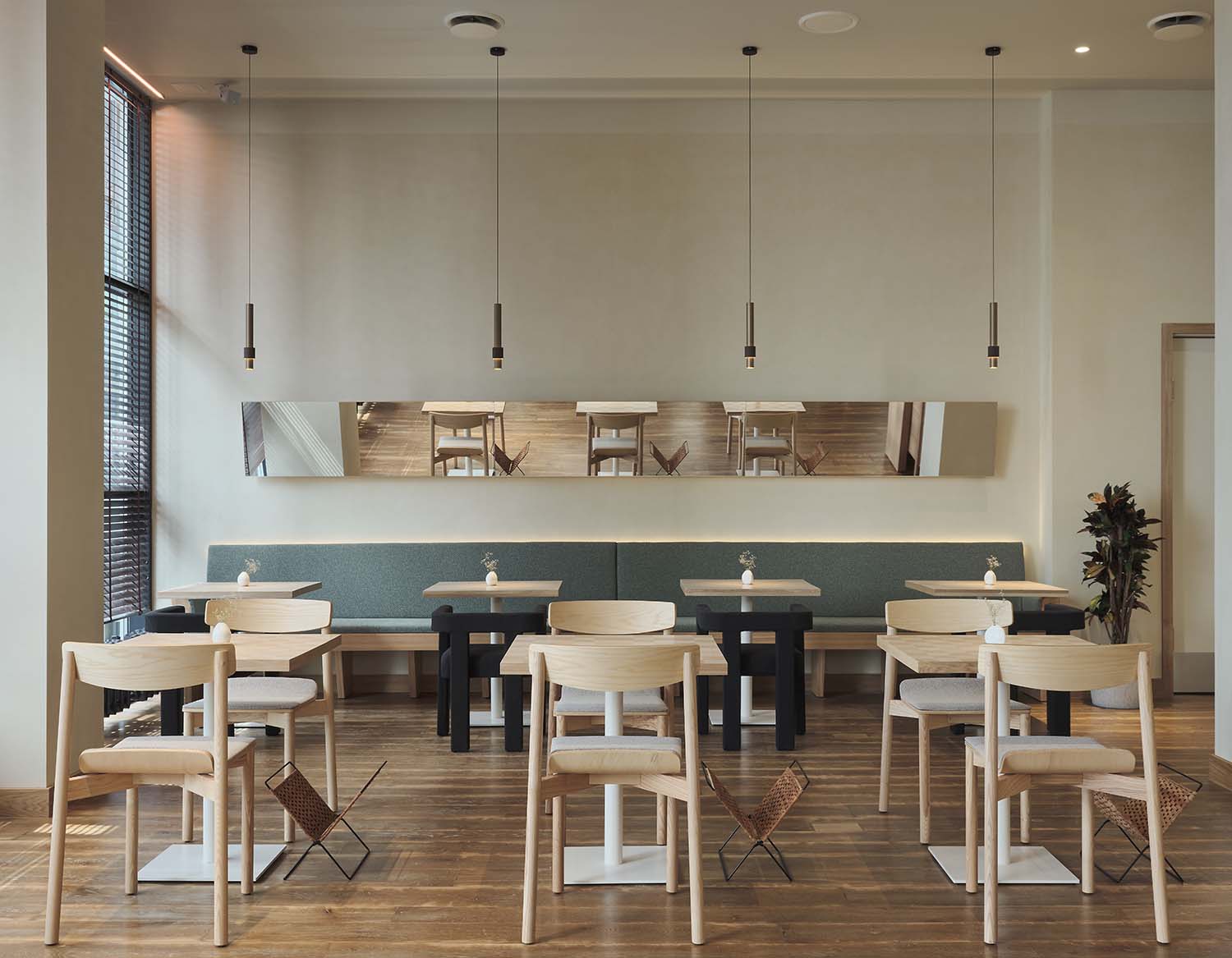 Tight on time, Treivas transformed the space opting for muted colours, lots of greenery, natural materials and textures. All ensuring that here, the food is the centre of attention. Transparent walls open the space to a green square that surrounds the building, whilst wooden blinds (a distinct detail of the Academia chain that was left from the old interior) and screens dividing the entrance zone from the dining hall help to reach the balance between privacy and openness.
As a nod to its proximity to the Ostankino Television Center, neon lighting above the bar and a chequered pattern of dining tables add a sense of pizazz; the latter also paying homage to that very Russian obsession, chess tables. Elsewhere throughout the space, diners will find artisan ceramics and art in a bid to draw attention to the inside of the café and help customers disconnect a little from the buzz of the Moscow streets outside.
A nice spot to meet a friend for lunch, a business partner for coffee, or head with family for a weekend brunch, Academiya Argunovskaya is another fine addition to Moscow's buoyant dining scene.