Integrated into a lush national eco-reserve, consisting of 120 hectares of rolling hills and over 13,000 olive trees, owners Vitor Borges and Franck Laigneau fell head over heels in love with this serene spot in Portugal's Alentejo region immediately. Quickly realising that their plan of creating a holiday home together might become all together more grandeur, Dá Licença would soon be conceived.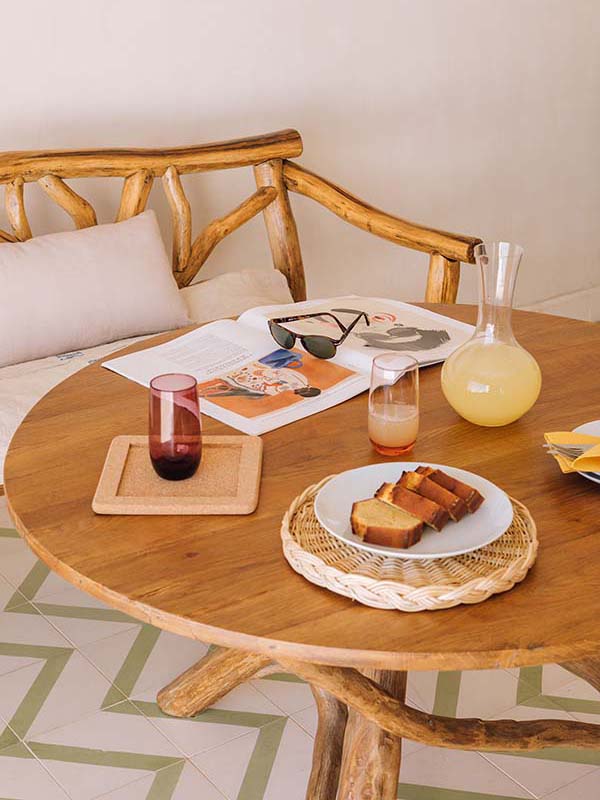 Translating to 'with your permission', an old horse-riding tradition which dictates that the first thing you should say on entering the arena is dá licença, Borges and Laigneau have extended this cordiality to the hotel industry, creating a haven consisting of three buildings that feature a total of five suites and three bedrooms; coupling all with impeccable hospitality.
With both owners having had a life-long connection to art—particularly jugendstil (a more graphic and geometric Scandinavian variant of French art nouveau), and anthroposophical design (an organic expressionist style rooted in the spiritual philosophy founded by 19th century esotericist Rudolf Steiner)—pieces can be found throughout the property with art and design deeply ingrained in the soul of project; be that monumental works in a bathroom or sculptures as you turn a corner in the lush gardens. And in the sprit of the dá licença tradition, Borges and Laigneau have kept the approach to art informal, in the interests of guests not feeling they're in the midst of an imposing, exhibition-like setting.
Alongside art, style and elegance are paramount at Dá Licença, the accommodation generous, minimalistic, and welcoming. In the main building, a central courtyard is composed of common areas, a dining room, several other rooms, a suite, and two bedrooms—whilst a second and third building contains additional suites and bedrooms. Situated in a rural location, architects Procale have ensured that the rehabilitation of the buildings embraced the past, combining lines, volumes, and modern elements in a dialogue between traditional and contemporary architecture. Shared and private pools—including the perfectly round pool that reflects the colours of the light and surrounding nature—allow guests to disconnect, tune into the natural world, and enjoy luxury in its most pure form: relaxation.
With an air of utopia about it, Dá Licença is rich in the authenticity of the area that surrounds it, whilst eclectic art and design define the quintessence of Borges and Laigneau's landmark project. A mesmerising retreat quite unlike anything else, the couple's former olive mill now stands as a staggering getaway that sets breathtaking new standards. Permission granted.