Seating a modest 56 diners, café cum bistrot, Cooker's Gourmet Cafe, serves tasty treats and affordable fare in impressive surrounds. Located in the heart of Moscow, on the enigmatic Kuznetsky Most—a street that runs from Bolshaya Dmitrovka Street to Lubyanka Street—Veter Design & Architecture have put together a space that nods to the fast but epicurean food through the use of rich colour and texture.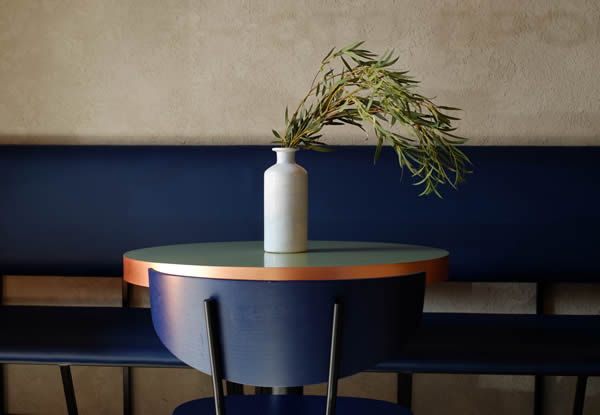 Taking an industrial start poing, exposed ceiling pipes and stark walls have been warmed by wood, brass, golds, and a dusty, photogenic colour palette. Mirrors and large windows make Cooker's look larger than its 100 sqm, whilst reflections fall upon the misshapen geometric flooring—inspired by icy lakes starting to cracking during spring—and over the window seating area adorned with long benches and stools.
The food offering at this Instagram-friendly Moscow eatery is displayed in glass cabinets and on two blackboards; a food and drink offering that is nourishing but fast, enabling Muscovites to fill-up and continue their day with as little disruption as possible. Of course, those looking to linger amid Veter's fine aesthetics are more than welcome to do so, and we couldn't recommend a better spot than lounging in the navy blue classic Russian train-style seating that lines the side wall with views over the whole place.