Inspired by Catalan artist, Xavier Corberó i Olivella, in particular his 'labyrinth' home in the suburb of Esplugues de Llobregat, Barcelona, Vodniy Tea Bar is an eclectic place in Moscow for customers to enjoy good food and herbal drinks. All in a space that combines round openings and high arched portals; details that nod to the oriental labyrinth city and the poetry of architectural forms of Corberó's legendary house.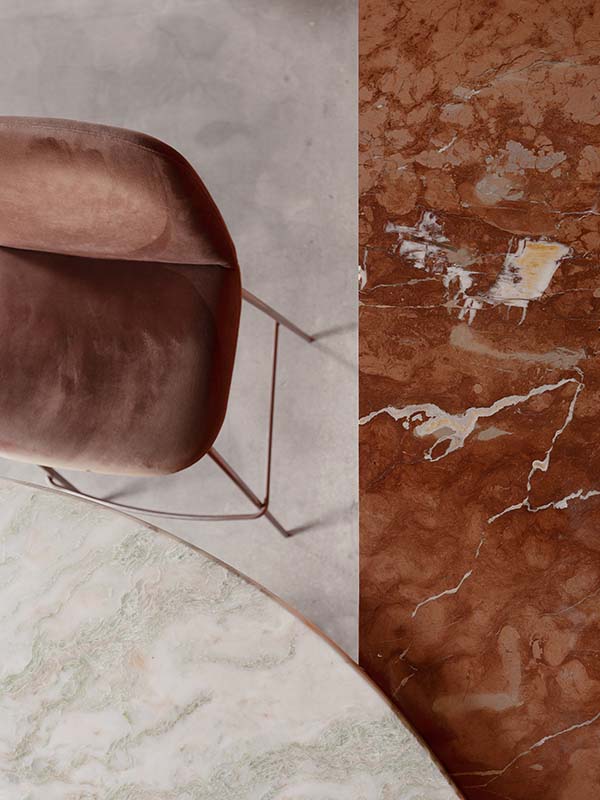 Designed by Belarusian architects Aleksey Klimov and Eugene Cherkas, of interior design bureau ATELIER PROTOTIPI, the 150 square metre tea bar is located on the ground floor of a modern high-rise, and capable of functioning as an art gallery as well as a bar. Meaning 'watery', or to be 'connected with water', the name Vodniy reflects the purpose of the venue 'to make drinks', whilst taking part of its name from the nearest metro station, Vodny Stadion.
Taking into account the use of the already-existing architecture in the area, it was decided to develop the concept according to the 'city within a city' principle; the space providing a three-way visual connection with the city by means of tall windows and four entrances. Red clay and terracotta tones hark to coastal wild beaches near Mirleft, Morocco, with their cliffs ranging from Martian red to wet sand colour; serving to complement the floor, which is finished with authentic concrete textures and black terrazzo.
As the interior spaces flow, guests are able to move around with ease and in awe, especially as they move deeper into the venue and find themselves in front of a large round mirror with a pedestal decorated with burning candles. Also in the 'kaleidoscopic zones', which ATELIER PROTOTIPI created with the idea of making rotating exhibitions feel like viewing "an act of worship".
An aesthetic wonder with diverse inspirations, Moscow tea bar, Vodniy, is a space of awe and inventiveness, a true one off.