A sister restaurant to Bayberry Beer Hall, the hip Rhode Island beer hall known for its craft beers and relaxed vibes, Bayberry Garden is now open; husband and wife team, Tom and Natalie Dennen, ready to host a uniquely New England-inspired dining experience that fuses innovative seasonal dishes, from chef Mike Seely, with a bold wine menu.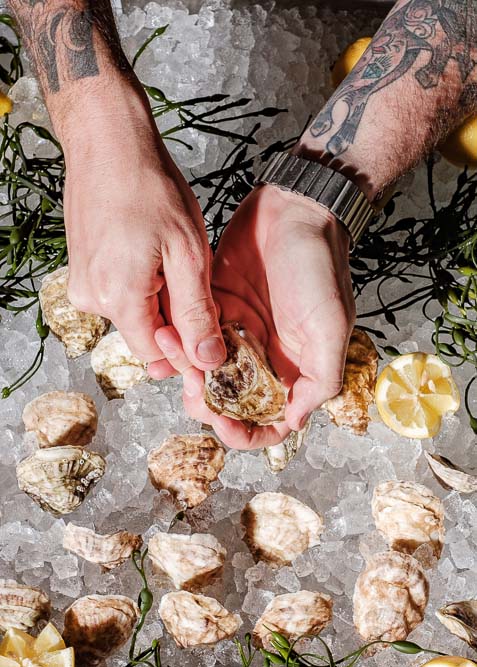 The 196-seater space is located at 225 Dyer St and features an all-day raw bar where diners can feast on oysters with preserved lemon mignonette; Fluke Crudo with smoked peach, chili, black lime; and tinned fish with pickles from the larder, crème fraîche, and house crackers. Freshly artisanal bread is baked daily in-house, making the perfect accompaniment to the selection of small and larger plates on offer.
The bright and airy space, conceived by Natalie Dennen, was inspired by lush English gardens. Accordingly, The Bayberry Garden Providence dining room offers an immersive botanical experience with twelve feet Ficus Alii trees rooted in the ground. Ivy creeps up the walls, and potted foliage weaves among the banquettes.
Floor to ceiling windows create an abundance of natural light and complement the neutral earthy tones, exposed wood, and some 100 trees, vines and foliage. Whilst the design harmoniously blends raw, structural elements and textured details, the ambience is homely. Diners are encouraged to share plates with friends, drink fabulous wines and cocktails, and linger a little while longer. This is relaxed hospitality at its finest.
With a vibrant menu that celebrates preserves, pickles, and fermented sauces, an exploratory beverage program and enthused front of house team, Bayberry Garden is a place for all inspired by food and drink's finest qualities.