UNLOCKED is a weighty new publication by ATOPOS cvc, the Athens-based cultural organisation founded in 2003 by Stamos Fafalios and Vassilis Zidianakis (recently joined by Angelos Tsourapas), that 'attempts to "unlock" the depiction of the naked body in the post-photographic, digital era. That means it features hundreds of naughty (often very) photos by 145 trailblazing photographers from around the world.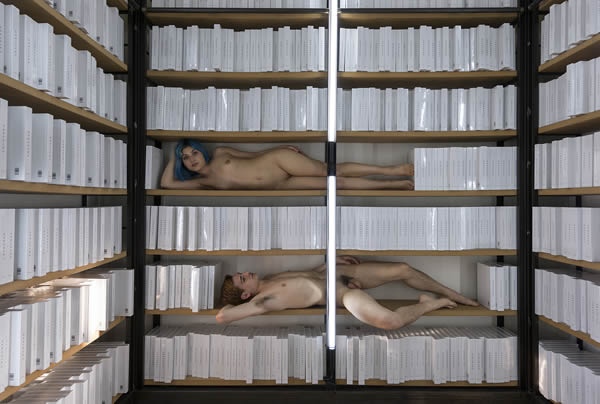 It's not long ago that this tome would have shocked in a 'getting arrested' kind of way, but the digital age has brought with it a saturation of imagery; erotic, pornographic, mischievous, provocative. Much of it self-produced. The naked form is no longer the preserve of those with long enough arms to reach the top shelves, it lives among us, in our pockets, on our screens.
Based on an original concept by Vassilis Zidianakis (whose site-specific installations at the exhibition reveal his research and production process), UNLOCKED serves as a monument to this new visual language: 'photography has emancipated itself from antiquated rules', says Jérôme Delormas, director of la Gaîté Lyrique Paris, in his foreword. Photographers established, and less so, carve out a narrative that echoes the way imagery of the body is replicated in our social media age; playful, avant garde, distant, suggestive, hedonistic, aggressive. Always free from the shackles of times gone before. Always artful, powerful.
The UNLOCKED exhibition continues at ATOPOS cvc, Athens, till 22 April. The book is available to buy now, priced €49.50 (and from the exhibition at a discounted rate).