"We're going to need a bigger brewery…" The good news for the Howling Hops folks was that their HQ in the basement of Hackney brew-pub, Cock Tavern, had turned the fledgling brewers into a roaring success. Despite an unprepossessing location, the Cock had grown into a firm favourite with the beer geeks of east London since its opening in 2011.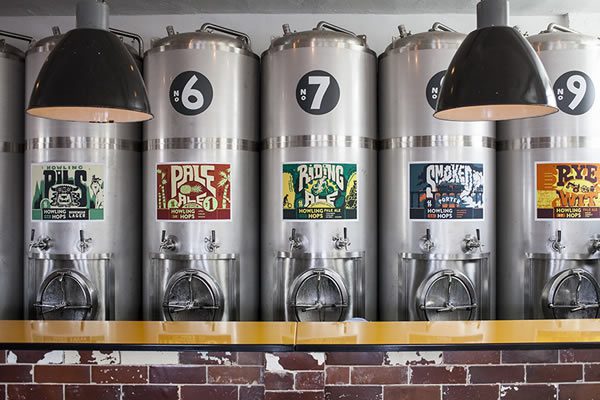 It was such a hit that the wee four-barrel brew kit was pumping out 45 casks per week of ales ranging from pale to fruity and plenty in between, but eventually she couldnae take any more. Time for Howling Hops to hop off somewhere with the necessary capacity for expansion…
And here we are, down the road a mile or two in Hackney Wick, with a shiny new 15bbl brewkit whose vessels stand gleaming to attention at what proudly proclaims to be the UK's first dedicated tank bar. Customers feel right amongst the action in the spacious, communally-seated beer hall, flanked by the industrial equipment and shelves groaning with sacks of ingredients. A second bar deals with non-beer victuals including cakes, sandwiches and (gasp) soft drinks. Most of the craft beer — an ambitious 10 varieties to start — is being sold straight from the tanks on site at the Queens Yard, but look out for any bottled and kegged surplus in local pubs and off-licences.