Taking aesthetic cues from its surrounding beauty and its name from the wild grass that grows on the sand dunes around the property, 96-room hotel Marram—the only oceanfront resort in the evocative Long Island village of Montauk—is a place for guests to disconnect from the bustle of life; where they are encouraged to engage with the natural landscape, enjoy a curated selection of hip happenings, and dine on fresh, healthy fare.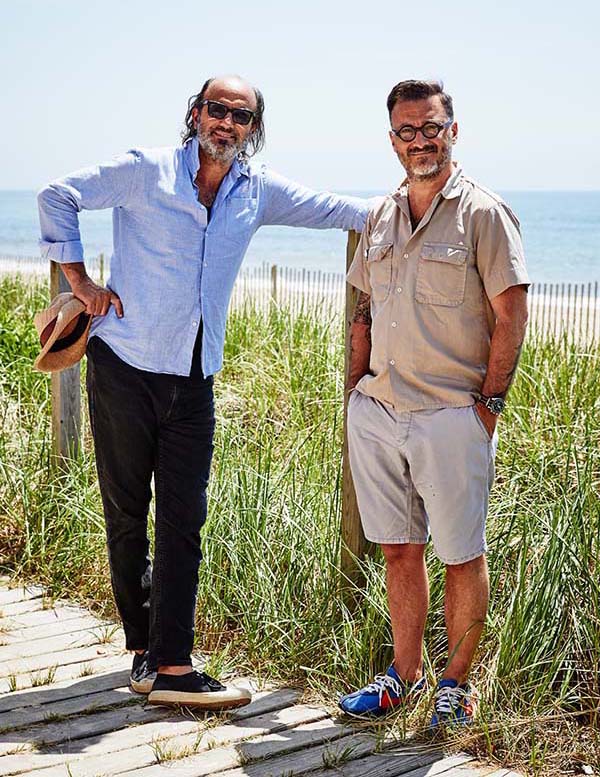 Owned and designed by hospitality company Bridgeton​, rooms at Marram Montauk feature essential materials and a pared-down palette. Luxurious yet enticing, here you can spend a lazy morning or while away a few hours in the afternoon taking in the ocean views and salty air. Exposed white oak beams and hand-textured plaster walls are softened by handwoven rugs; artwork from beach and surf photographer Brian Bielmann, and Rhode Island-based musician and artist Sean Spellman; and furniture, bedside tables and stools in particular, crafted from solid Suar wood reclaimed from old homes and fishing boats.
Whether it's overlooking the water's edge from your beachfront room, accessing the pool and open fire pit from your courtyard room, traversing Marram's secluded pathways carved throughout the resort, or the hotel's main entrance bursting with wild botanical balusters and blurring the line between indoors and out, the hotel's dedication to laid-back beachside feels can be felt in every detail; the food and beverage options helmed by Fernando Trocca and Martín Pittaluga no exception.
Together, the chef and the restauranteur of Uruguayan restaurants Mostrador Santa Teresita, La Caracola, and La Huella (currently ranked No.22 in Latin America's Best 50 Restaurants) have created Mostrador Marram, a fresh and flavoursome eatery where meat and local seafood and vegetables are served in an intimate yet communal atmosphere; the restaurant taking on a refined approach to the Latin American counter or 'mostrador'. From paella to simply grilled veggies and a plate of colourful salad leaves, here laid-back excellence is the order of the day.
Ticking boxes of location, design, atmosphere and first-rate cuisine, Marram is a New York State hotel capable of transporting the soul to another place altogether.