Rising high above the ocean, Hotel Albatroz——an icon of the Portuguese coastal town of Cascais——has recently undergone a complete renovation, interior design practice, Viterbo Interior Design (led by Gracinha Viterbo), unveiling a timeless revival inspired by the 1940s and '50s golden age of Estoril and Cascais.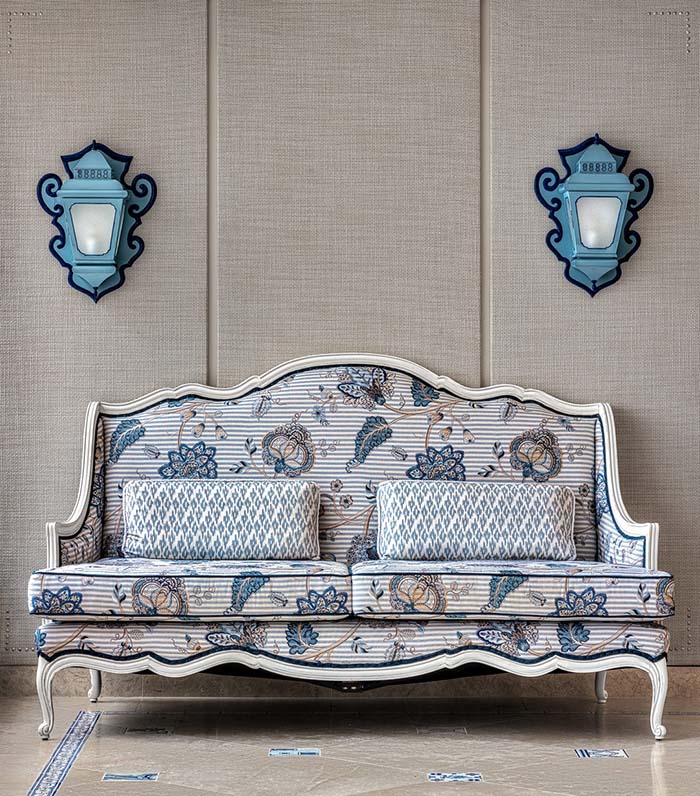 Once dubbed 'The Great Dame of the Portuguese Coast', the 52-roomed hotel is a place of glamour with no restraint. A place where artists, Hollywood actors, illustrious figures and politicians came to stay for more than half a century. Inspired by the Atlantic Ocean and the hotel's rich history, including testimonials found in the hotel's first ever guest book, Viterbo Interior Design have combined a classic style imbued with a fresh Portuguese spirit; bringing original features including Lancastre family ́s coat of arms together with modern materials and furnishings.
First built in the early 1900s for the Lancastre family, the grand property of Italian architecture features Moor, Neo-Gothic and Neo-Manueline motifs. Preserved paintings, 17th and 18th century tiles, and a ceiling that dates back to the year of construction give the property a regal presence. To lend the lavish hotel a fresh and more modern appeal, traditional Azulejos and hand-picked aged Lioz stone sits alongside bespoke art installations by contemporary artists, hand-drawn murals by Portuguese graffiti artist SMILE, and a large tapestry by macramé artist Diana Cunha.
Each room here is individually decorated to convey the beauty of Portuguese artisanry, and for those guests who can tear themselves away from their haven, the bar and terrace is another wonderful spot to disconnect; an experience made all the better when watching the sunset with a cocktail in hand.
Rich in history but very much for the modern traveller, Hotel Albatroz Cascais is opulence that knows no bounds, an echo of travel's golden age with a grand future very much ahead of it.
@thealbatrozhotel
@viterbo_interior_design