Whether it be ego; desire to connect with a wider audience; ambition; aspiration to push one's own limits … there comes a point in most artists' professional lifespan where the question of scale arises.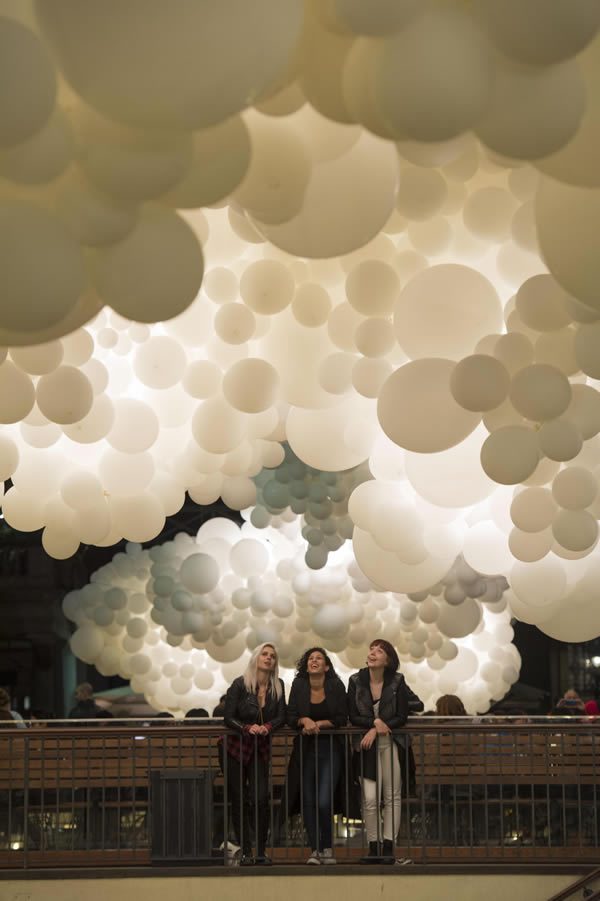 Jeffrey Koons' hulking flower-drenched Puppy at Guggenheim Bilbao; Michelangelo's ceiling of The Sistine Chapel; The Physical Impossibility of Death in the Mind of Someone Living; Banksy's Dismaland. True, scale does not guarantee your magnum opus (Mona Lisa is 77 cm × 53 cm), but there are few better ways to say "look at me".
French artist Charles Pétillon, whose balloon invasions — metaphors for our intrusive presence in the world — we featured earlier this year, is having his "look at me" moment; marking his first public art installation (and first work outside his native country) with 100,000 whopping great white balloons in Covent Garden. Somewhere, Nena is busy inflating 99,901 balloons.
Launched ahead of this year's London Design Festival, connecting with Covent Garden's legacy (it was London's first public square), and the surrounding area's standing as the heart of the city, Heartbeat — 54 metres long, 12 metres wide — pulsates with white light, fusing its dominant presence with a human fragility.
A far cry from the children's playgrounds and beat-up cars of Pétillon's Invasions series, the grand Grade II* listed Market Building is a significant canvas to mark the artist's largest work; a pop-up gallery will show Charles' less-imposing, no-less-powerful photography work. The heart will beat until 27 September.
@CoventGardenLDN
#CoventGardenBalloons