Natalia Kopytko and Marcin Sipiora founded Diploo Studio in 2010; creating nature-inspired beings of myth and reality, settling on a use of ceramic clay, for now.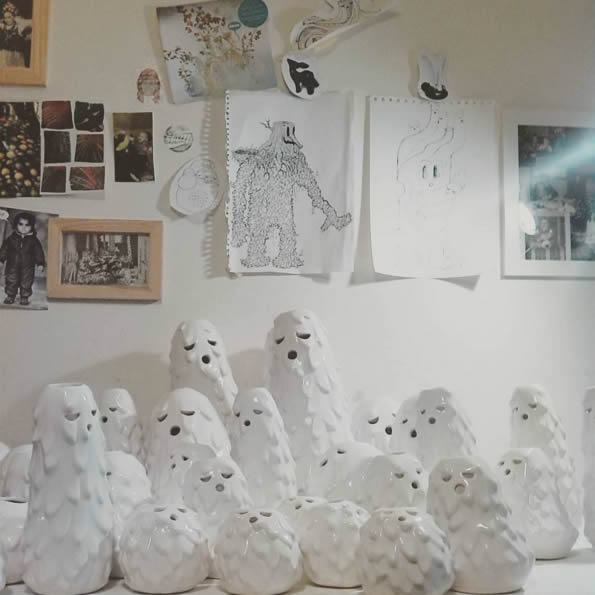 Inspired by the wild landscapes of Poland, of infinite forests and their imagination, it seems the artists never really grew up. Creating playful, fun and cute installations and sculptures, their memories and fantasies of childhood resurface as a result.
I don't know about you, but I still vividly remember playing as a kid. Leaving the house on daylong adventures … my bike my horse, my friends my sidekicks, we'd face witches, talking flowers, and magical bees. I left those daydreams with my childhood, but Natalia and Marcin did not. They create sculptures from their respective memories, full of joy and surprise. Expertly executed to a fine glossy finish, with aims of simply inciting happiness, I cannot think of a better reason to do anything. Their works are handmade, and crafted in small batches or one-offs at their studio in Wieliczka, just outside of Kraków. Nothing is mass-produced.
I needed to know more about their work, where the obsessions with youthful misadventure, pop culture, and nature fit in; why ceramics, and how Kopytko and Sipiora approach their work as Diploo …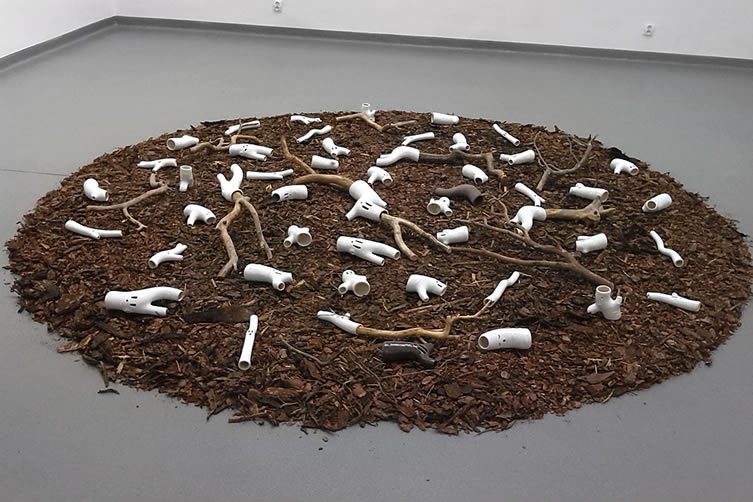 Where did you study, and why did you choose to create pieces in ceramic?
We studied at the Academy of Fine Arts in Kraków. We both graduated from Józef Murzyn's Workshop IV in the sculpture department. At that time we worked in various materials; stone, metal, wood, plastic and ceramic. The fascination of ceramics came from Valencia in Spain, where Natalia studied a scholarship — she also comes from small village, Łysa Góra, where ceramics were produced in large factories. You can say that it was inevitable we'd wind up working with ceramics.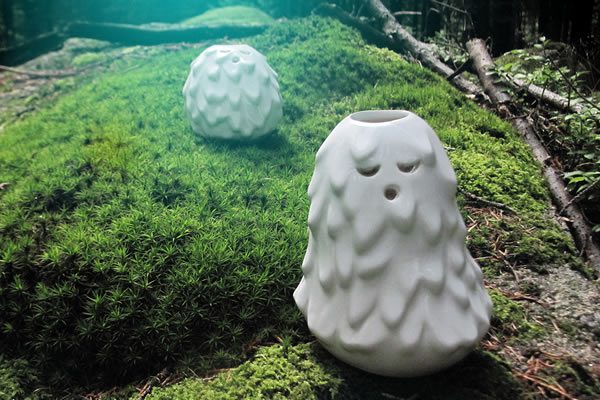 We love your Singing Brownies; where did the inspiration for them come from?
Inspiration for Singing Brownies came from our childhood memories of games and playing in the woods, when we imagined that ghosts lived in trees. We are also big fans of ghost stories; mythologies; fairy tales; cartoons; anime; and pop culture in general. Visually, Singing Brownies may resemble creatures from Moominvalley or from Princess Mononoke … but, with our projects, we can't predict what they will mean for others; inspiration hits us in most unexpected ways. The stories and their meaning come later, after the whole work process is complete. That's extremely exciting for us.
What ideas and memories have inspired your other creations? We can see that nature is one of them, tell us more …
Nature is the very best thing, we love it. The forests; mountains; lakes; meadows; animals; and everything else. We spent our childhoods playing outside, because there was no internet, and very few computers, so we had to imagine everything from scratch and, with nature, it was so very easy to do.
Growing up, the city and technology started to change rapidly around us — the internet; MTV; cartoons; fashion; modern architecture … all those new things. It was very exciting to discover those things back then, and to observe how they are evolving right now is even more inspiring for us. We try to be aware of the balance between the natural world, human culture, and technology — and the need for it to be preserved somehow. We are trying to do that in our art and design.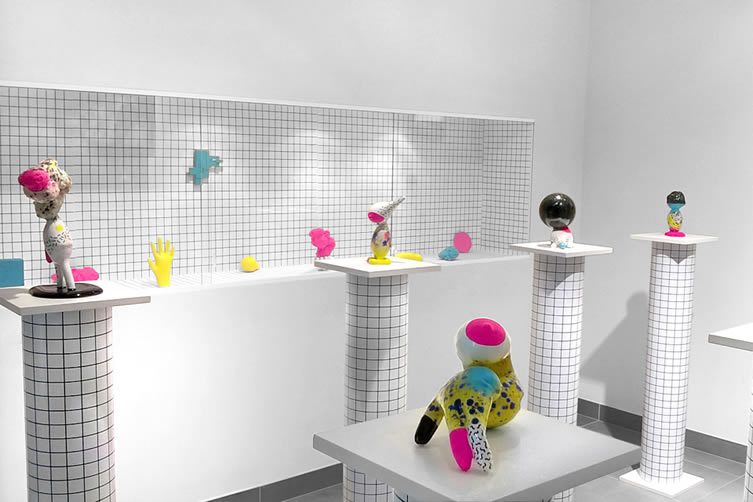 Tell us a little about your Woods — Prologue exhibition …
Woods — Prologue is the title of our exhibition, and part of an ongoing project called Woods. It was the first show from series of three which we have planned. The second, Leśnienie (those are two Polish words juxtaposed together: shining and forest), is now being exhibited at SiC Gallery in Wrocław, Poland.
The third one we hope to show next year, but we can't say more about it. Woods is basically our tribute to the might and glory of all the forests around the world. They used to be terrifying, mystical, mysterious, sacred and wild; filled with elves, creatures, ghosts, and ruled by Gods. Now forests need our protection, we have to take care of what's left of these treasures. Our project shows the fragility and some kind of spiritual dimension that is no longer available for us. We are trying to say that "the forest was before us and it will still be after us" eventually …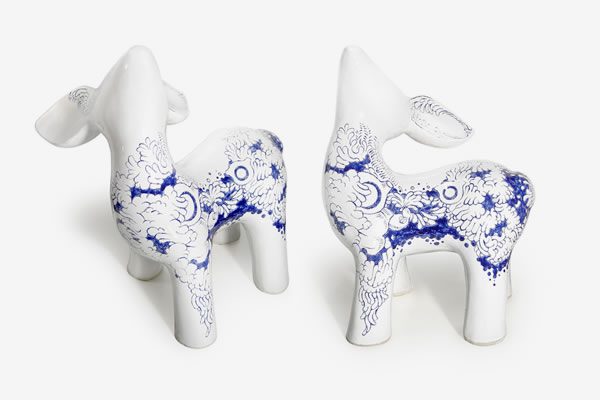 Some of your creations are interpretations of real things (like My Dear Deer Friend), others incredibly abstract (like your I'm Not Digital exhibition), can you tell us how you approach each project?
Well, as we said before — nature and pop culture are our main inspiration providers. Behind each project is a different history and inspiration. It can come from the digital world, it can be a cute animal or useful object. In general we don't create strictly abstract forms – even in I'm Not Digital we've used well know objects like LEGO bricks, hand gloves, and other items, to create those kind of strange silhouettes of human-like glitched creatures.
It's because we think that everything anyways relates to reality in the end, whether you create abstract or minimal art it's just a way to tell the story about people and their life on earth.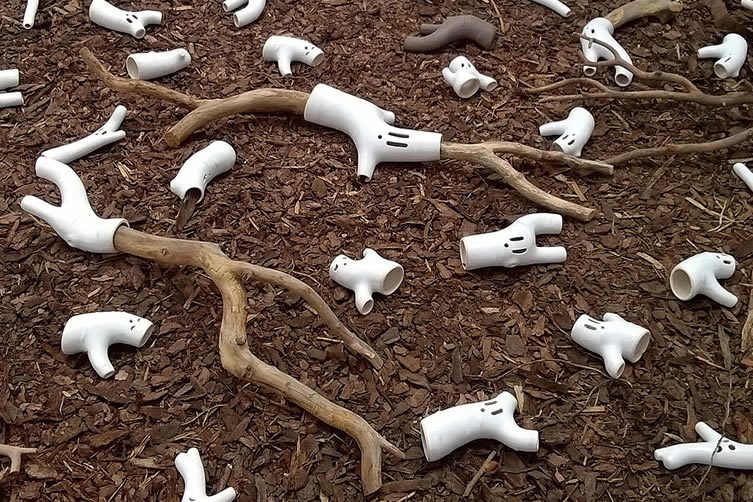 If you could collaborate with anyone, who would it be?
That's a tough question. There are so many great artists and brands. We would love to work with Jaime Hayon or Gary Baseman, and to design something for Kidrobot, Alessi, or Lladro; but that's just the tip of the iceberg …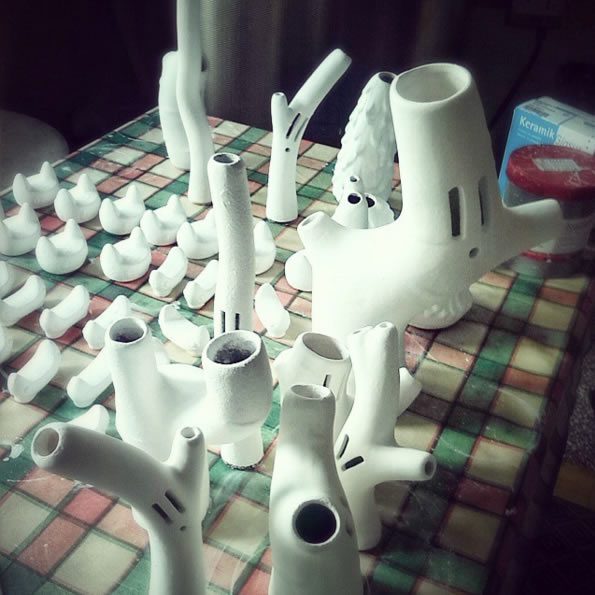 When not creating or making, what do you each like to do on your day off?
As well as working and creating together we like to spend our free time together too. We very much enjoy long walks in the forest, travelling, watching cartoons and movies, hanging out with friends … pretty usual stuff.
What are your favourite local galleries, cafés and shops?
We like to visit Bunkier Sztuki Gallery and MOCAK Museum of Contemporary Art in Krakow. We like to hang out in Forum Przestrzenie and Konfederacka 4. There are so many cool places in Krakow.
Which artists or designers do you each admire, and who should we be looking at?
We admire many artists from different fields of art but our most beloved are: Jaime Hayon; Gary Baseman; Nika Zupanc; Yoskay Yamamoto; Takashi Murakami; Brendan Tang; James Jean; David O Reilly; Zeitguised; Mat Kołek; Oskar Zięta; Piet Parra; Jana Brike; Mark Ryden; Tokujin Yoshioka; Qubus Studio; Nendo; Yomsnil; Rebekah Bogard; and plenty more …