Emerging from the intersection of two buildings, one on Porto's Rua do Almada and the other on Avenida dos Aliados, the Editory Boulevard Hotel Aliados has undergone a fresh transformation, local interior design and architecture studio, Ding Dong, using noble and natural materials to convey the idea that the hotel had always been there.
With a sophisticated and eclectic appearance that blends with the hotel's urban setting, the property is suitable for the business and leisure traveller as well as families, its 68 rooms set over six floors and home to detailed woodwork, oak flooring, frames painted in oxblood red, bespoke Monsaraz rugs, and unique details realised by drawings from a Portuguese artist.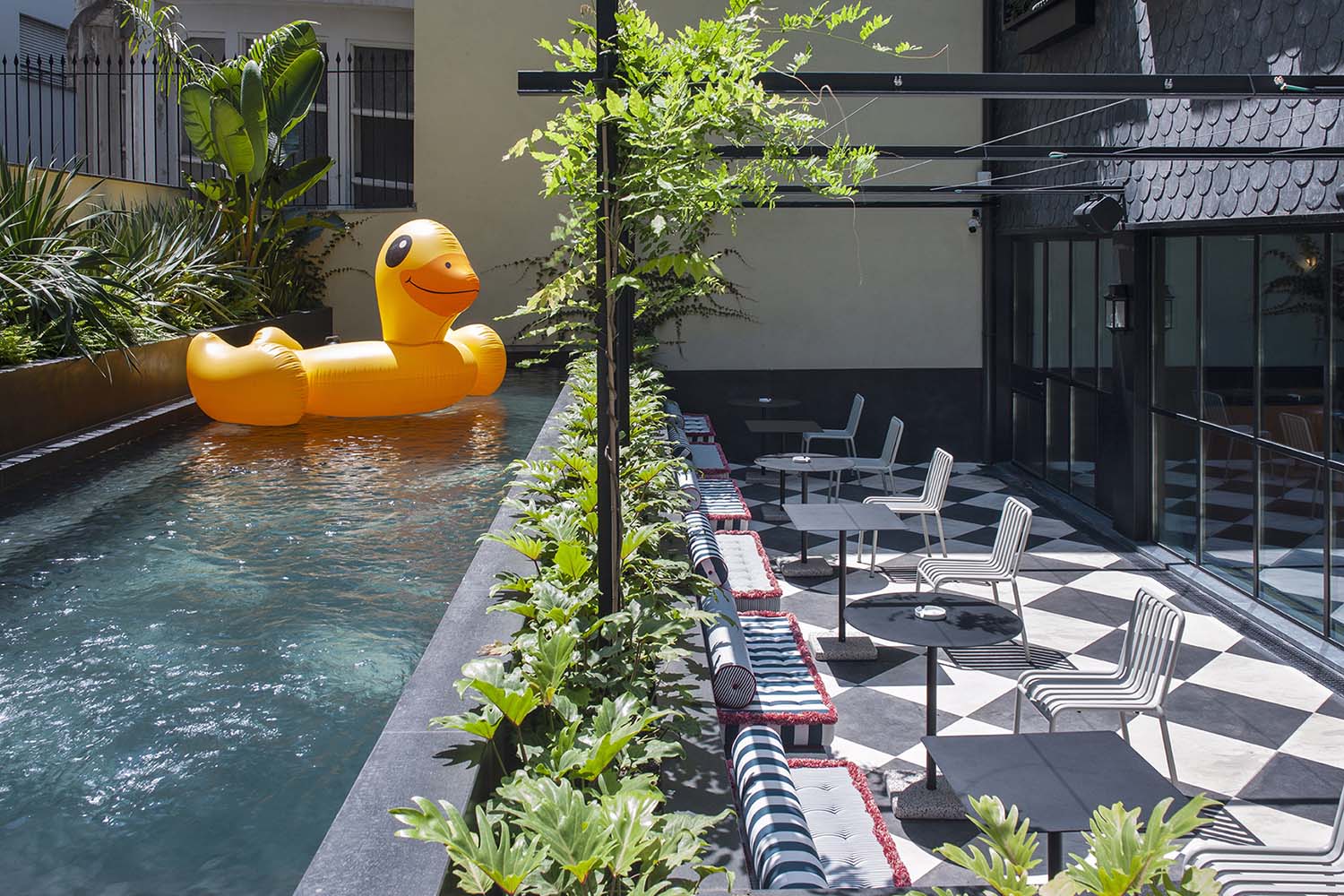 The public spaces are calming and avant-garde in equal measures with detailed woodwork, geometric wallpaper on the wainscotting, and fitted carpet flooring with a Terrazzo pattern; just some of highlights that guests can expect among many surprises. The lower- to first-floor staircase is completely lined in oak whilst the design of the upward leading staircase is carpeted with woodwork on the skirting board and handrail, its walls painted in two colours lend an otherworldly appearance that harks to many of the hotel's more off-kilter design touche.
Ding Dong selected and curated the artwork, one of the most significant traits of this project, which includes two whopping murals developed by Porto-based artist Sofia Torres, photography by Mónica Menez and a sculpture by João Galrão among many others.
As creating an oasis within the city was one of the main objectives, the hotel pool and terrace is surrounded by elements of vegetation, whilst the restaurant, Ilícito, is already becoming a city hotspot; chef André Silva creating a menu without borders of flavour, nor limits of creation.
For a great design hotel set in an equally fine city, the Editory Boulevard Hotel Aliados Porto is a place where sophistication and surrealism bang heads in pleasing style.