"It felt a little intimidating at first," explains French documentary and portrait photographer, Jérôme Favre. "Obviously Millwall fans have an infamous reputation, and going there as an outsider, with two cameras around my neck, felt a little awkward at times. But as I was going to every home game, frequenting pubs and cafés around the ground, it allowed people to slowly familiarise themselves with my presence, enabling me to immerse myself in their community."
Fans of many an unfashionable English football team have acquired bad reputations since the heyday of hooliganism in the '70s and '80s, but no team more so than Millwall. "No one likes us, we don't care," is their famous chant, and the former is most certainly true. For Favre, a Frenchman living in New Cross, London, the reputation was familiar. Back before billion pound contracts were being bandied around, and Middle Eastern oil tycoons were snapping up football teams like gold-plated Lamborghinis, clubs and communities were inseparable. In fact, most clubs had been founded by cornerstones of the community as a means of encouraging a sense of belonging. As Millwall was set up by the workers of JT Morton's canning and preserve factory, Jérôme's hometown team, RC Lens, was established by a mining company. They too have a reputation of their own.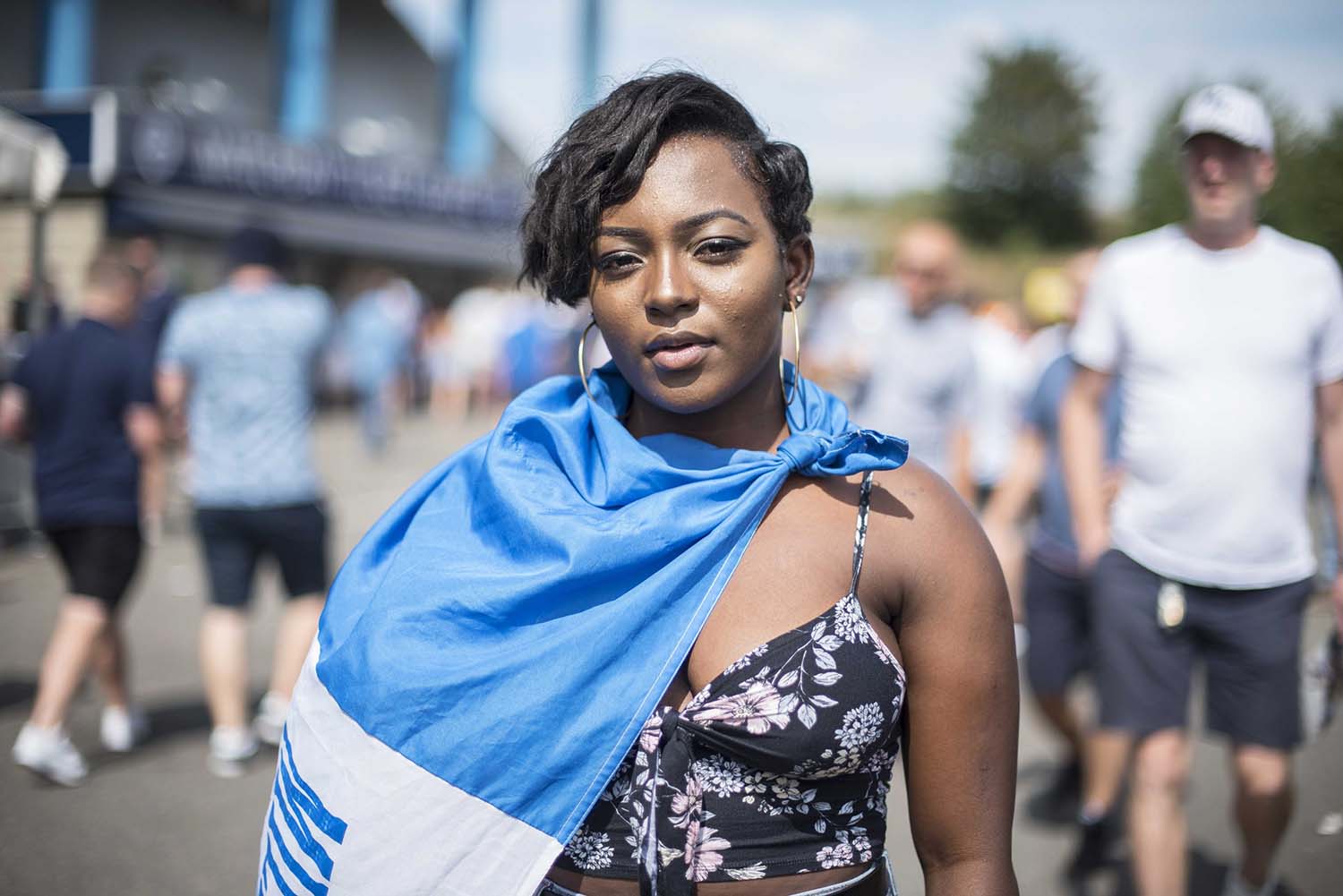 "I go [to Lens] every couple of months to see my family, and there are a lot of similarities, most notably the sense of an even tighter community of supporters in response to their negative reputation." The siege mentality that results from being demonised in the press and by fellow fans is as powerful in Northern France as it is here in Bermondsey, and it's that familiarisation with tight-knit, working class communities — coupled with an increasing indifference toward the rapidly gentrifying modern game — that led the photographer to embark on a fascinating exploration into the very real world of Millwall FC. Capturing the South East London community between 2018 and 2022, Favre regularly attended The Den and its surrounding pubs and caffs, finding that, whilst no one may like them, perhaps they do care.
"There's a lot of frustration at being consistently depicted unfavourably," he tells me. "Having my own experience with RC Lens, another working class club usually derided in the press, the idea behind this project was to go beyond this preconceived idea, to take an honest look at Millwall supporters and re-evaluate their reputation in contemporary football culture."
"I feel they care as much about the community around the club than about the football. It's not like Millwall has an impressive trophy cabinet, but more importantly, it's a place where people can gather, not only for the football, but for the sense of community and togetherness. People come with their family (men, women, boys and girls … sometimes across three generations), and there's a huge sense of pride and belonging in doing so."
From evocative greasy spoons to the ups and downs on the terraces, proud old men to teenagers cracking open tinnies, multicultural characters and stereotypical hard men, packed boozers and packets of chips, a man of the cloth to an interesting chap who has admirably given up most of his face to tattoos including FUCK ALL COPS and FUCK TORY SCUM … in No One Likes Us, Jérôme Favre has beautifully captured the curious community that follow Britain's most derided football club.
Some clearly do not care, others perhaps do. The Millwall faithful might not be perfect, and many seem more than than happy to continue assisting in the perpetuation of their dark reputation, but scratching the surface reveals more than one might expect, and certainly a deep appreciation of their own community. In days of hedge funds and celebrity fans, global football spiralling into a homogeny of ratings-chasing entertainment, this working class South London club is one of the last bastions of the old guard. No one likes them, but you'd miss them if they were gone.
No One Likes Us by Jérôme Favre is available now from jeromefavrephotography.com as a 90-page photobook.