Four friends and entrepreneurs——Irina Chesnokova, Yulia Ilatovskaya, Misha Kim and Steven Sharma——collaborate to create Meow Bar, a venue where guests can enjoy craft cocktails, and where its founders can film their YouTube series, Bar in the City.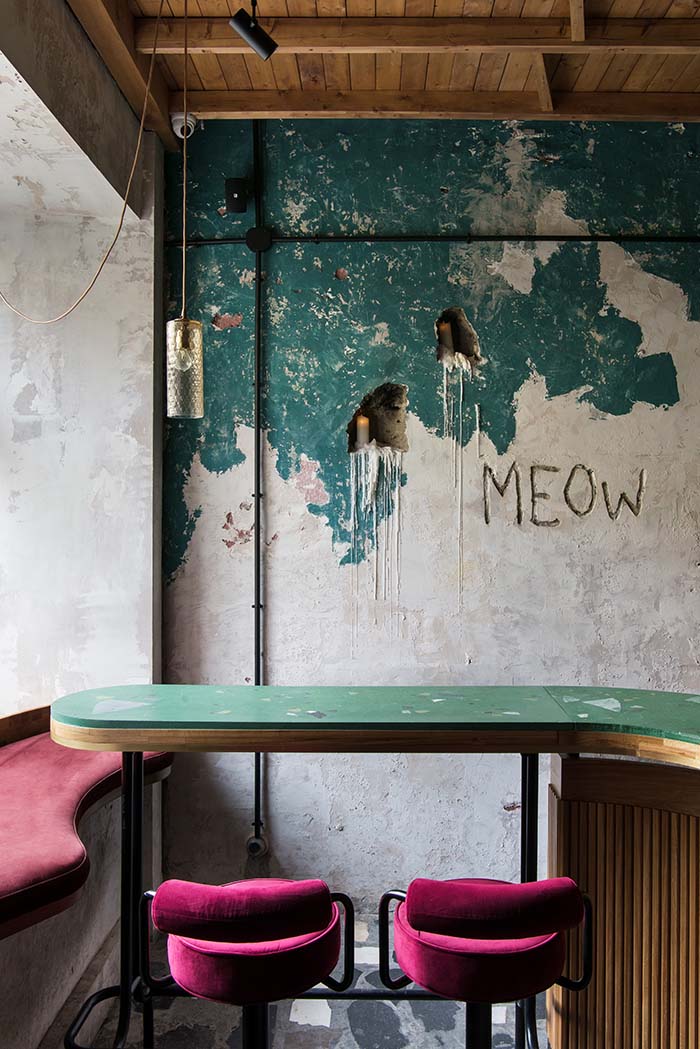 A hip but cosy space, extravagant but inviting space, the bar is just five minutes from Moscow's Bolshoi Theatre and exudes European flair without coming across as overly ostentatious, designer Polina Masiianskaia of Saint Petersburg-based design studio, PAUM Family, blending elegance and beauty with a hint of Baroque and some eclectic touches that lend it an unforgettable edge.
Mid-century furniture complements bare walls scarred by lime plaster and potholes, whilst the black marble breccia floor and wood-covered ceiling add a moody ambience to an otherwise hospitable space. The vintage bar is where mixologists create craft cocktails, and is lined with TOPOS chairs, the green colour of the countertop and bright pink that cover the chairs homely and rich in authentic retro feel.
For those seeking more natural light, seating at the window consists of armchairs made of tapestry fabric based on the graphics of William Morris, whilst hanging above the large round table is the room's focal point, a stunning chandelier made of ribbons. A second room exists, via a secret chamber, where patrons fortunate enough to seek it out can gain access to find an all-round different vibe. Here, a backstage atmosphere prevails, with an ultra-tech stainless steel T-shaped table that doubles as a second bar and sits under an altogether more decadent chandelier.
Spaces of serious style for the foursome to show off their YouTube famous skills, Meow Bar Moscow is a place of whimsy and wonder.