Back in the good old days of the Cold War, feeling a sharp prick while visiting a Moscow café might have had one looking around for a man in a trilby with a poison-tipped umbrella. No such sinister drama at Bulka Bakery though. You'll have probably just brushed past a cactus.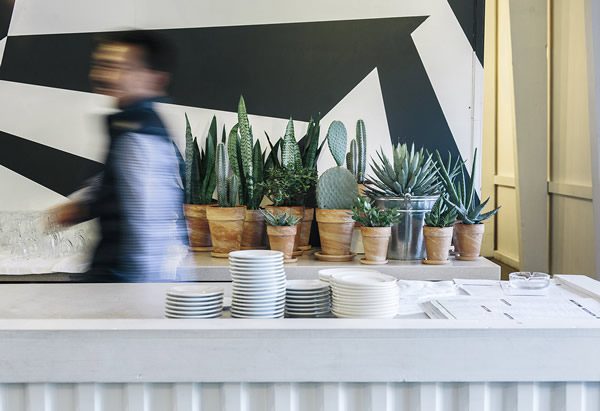 Local architecture and design firm Crosby Studios have included a liberal smattering of the prickly plants in their interior, which also includes other greenery that grows in the surrounding Gorky Park and along the banks of the Moskva.
Bringing the outside inside was one of Crosby's most important ideas when designing Bulka. In an effort to combat the city's seasonal gloom, the whole place is modelled on a summer house, putting the emphasis on open space, natural light, and an abundance of greenery including potted plants and vegetables, and water taps arranged over a trough sink recall those found in outdoor plant nurseries. Crosby's in-house workshop made the slatted bench that runs in two rails around the dining area, and the studio added an eye-catching zebra stripe graphic on the solid back wall — the other three sides of the café are floor to ceiling glass. One of the most remarkable aspects of the Bulka project was the timeframe — restrictions caused by the public park location meant that the café had to be built during the night, and took only a month to complete.