Taking its name from cult 1979 Israeli film Dizengoff 99 — which follows life on Dizengoff Street, once dubbed 'Tel Aviv's Champs-Élysées' — this petite new restaurant just off the Garden Ring (a major Moscow ring road) aims to embody the creative spirit of modern day Tel Aviv; in particular its creative neighbourhood Florentin.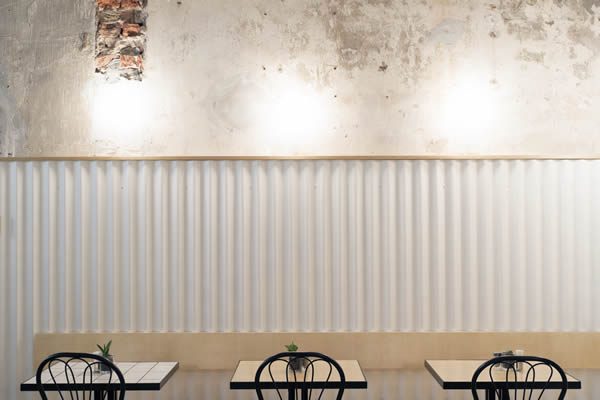 I'm not entirely sure about the reasons for wanting to set balmy Tel Aviv under the shadow of one of Moscow's imposing Seven Sisters skyscrapers, but the Israeli city's famously fine cuisine is a good starting point — so expect plenty of shakshuka and hummus to be dished up in the space that has been put together by Harry Nuriev and Dmitry Vorontsov's Crosby Studios. We checked in with the duo last year, at Gorky Park's Bulka Bakery, where a bold geometric backdrop dominated the summer house-inspired space; and it's a graphical approach that will be the first thing you see here, at Dizengoff 99.
Seemingly taking its cues from Ettore Sottsass's Memphis design movement, the bold exterior makes way to a minimalist interior — where stripped back walls have been left bare, for visitors to revel in their storied patina, and budget materials ('the cheapest chairs, the kind you might find in a Chinatown takeaway place') have been employed.
Catering to the growing creative clientele that are knocking around this emerging area, Dizengoff 99 is a rare space in a blooming city. Shalom!