In a city best known for futuristic skylines and slightly anonymous luxurious five-star hotels (Lost in Translation anyone?), it would be fair to say that Tokyo's BnA hotel does things a little differently. For starters: it's tiny, with only two bedrooms, a reception that doubles as a coffee shop and late night bar; and a small basement events space/rave-cave which hosts regular gallery launches and parties. This is already a novel approach, but where the BnA Art Hotel really stands out — and what forms its beating heart — are the local artists who not only have their work on the walls, but who designed each room themselves.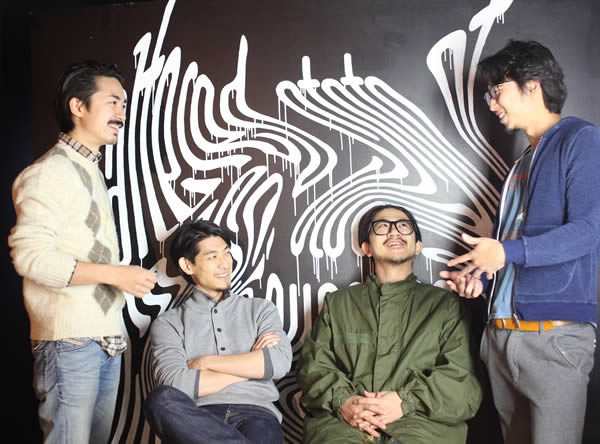 It's an approach that perhaps could only have been conjured up in Koenji, a neighbourhood on the outskirts of Tokyo that has always been home to artists, musicians; and anyone else looking to think outside the conservative cultural norms. The team behind BnA — Yu 'Taz' Tazawa, Yuto Maeda, Kiego Fukugaki, and Kenji Daikoku — all live and work in Koenji too, so it made perfect sense to trial their concept here first. 
As soon as you step off the Chuo Line train at Koenji, you immediately sense the laid-back vibe of the place; a million miles away from the neon and crowds of Shinjuku or Shibuya. It's a place filled with vintage stores, small alleys, hidden hole-in-the-wall bars, and underground music venues … it's no surprise that Koenji was the birthplace of Japanese punk in the 1970s, and you don't have to spend more than five minutes here before you spot a few long-haired musicians passing by, guitars in hand.
Arriving at the BnA hotel, you'll check in at the concrete bar counter, a narrow space filled with bright artworks and infused spirits, all created by a local café for BnA. We stayed in Room Two, designed by artist Ryuichi Ogino and filled with geometric zig zag patterns; light box characters; a hypnotic swirl of concentric circles on the ceiling; and a stark, black, white, and yellow colour scheme. Despite the small size and minimal aesthetic, it's big on comfort, with nice beds, a well-stocked bathroom full of all the necessaries, and even a little balcony with outside seating.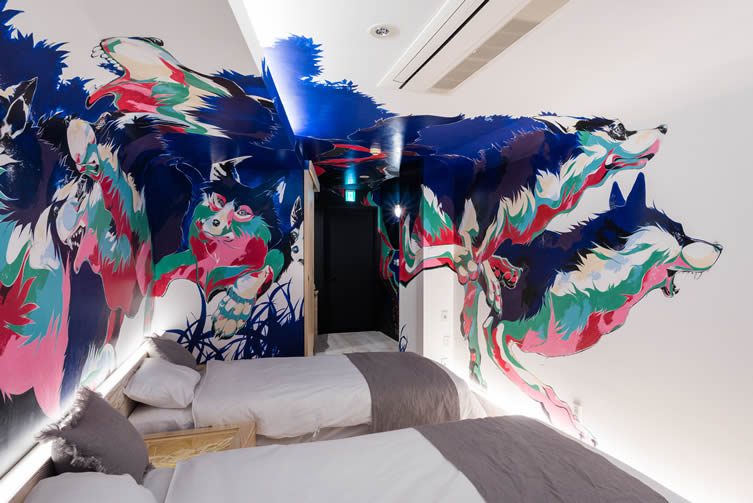 Aside from it being incredibly cool to stay inside a living artwork, you can also feel good about directly supporting the artists involved. Rather than paying artists a one-off commission to design the rooms, BnA give them a cut every time someone books — up to 25% goes directly to the artist, giving them a regular sustainable income that allows them to focus on what's important: creating more work. BnA also recently begun a public mural programme, and huge artworks are starting to pop up around Koenji which it hopes will encourage more people to visit the area.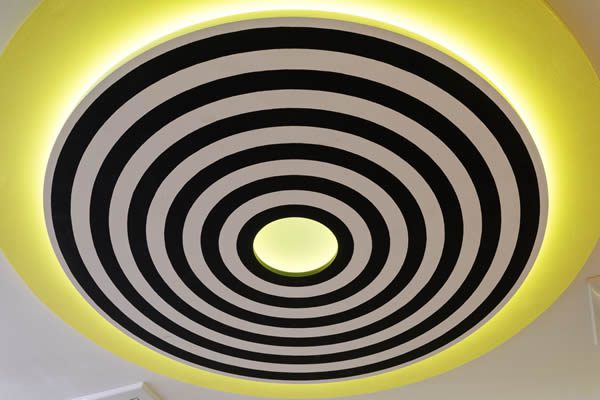 They are right to highlight the area's rich culture, as a stay at the BnA Art Hotel is more than just a place to sleep; it gets you right to the heart of a local community, which is usually no easy feat in Tokyo. We loved exploring the nearby streets, and happened upon some of the best food we had anywhere in the city here — particularly the basement izakaya Mamma Jima, where we had a front row seat as the chef prepared their signature hay-smoked, flame-grilled tuna right before our eyes. Heading back through the reception/bar (much) later that night, the party was just getting started; the place stacked with locals drinking, loud tunes and big vibes.
As a proof of concept, BnA Koenji is already a great success — it's not only fun and unique, but excellent value for one of the world's most expensive cities. With a network of artists in Japan and around the world taking interest in the idea, it hopefully won't be long before we see more BnA Hotels popping up in creative neighbourhoods globally; a like-minded home-from-home for artists and creatives wherever you are.