Design and architecture studio, MODGI Group, looked to the geography and colour of America's Mid and Wild West towns as well as the North American prairies, specifically the rocks and sandy landscape associated with the evocative area, when designing The Butcher House; a new steak restaurant located on one of St. Petersburg's oldest streets.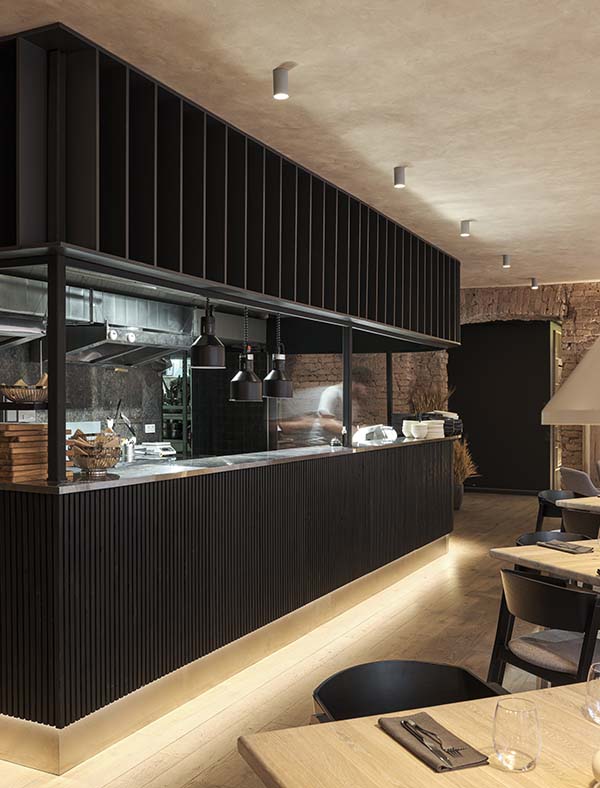 The historic building in Russia's second city, formerly home to a fruit shop and a tavern with a wine cellar, has been converted into a swanky restaurant that comfortably seats 85 guests, each one there to kneel at the alter of meat with an updated menu that includes plates such as calf liver steak, marble beef carpaccio, beef stroganoff alongside a host of other equally carnivorous dishes.
Shying away from what they call "typical meat restaurants with traditional decorative elements in the form of bulls heads or cowboy attributes", MODGI Group instead opted for interiors that nod to the brutality of the steakhouse, whilst maintaining a balance of comfort and brevity; combining warm natural shades in brown-beige tones with stainless steel and concrete elements. The walls and ceilings look to nature, namely that vast landscape of the prairies, whilst the addition of dried flowers gives a nod to the local flora, much like the furniture and lighting designed by local craftspersons.
A simple space where the food speaks for itself, The Butcher House is built around nuances, its aesthetics eschewing convention yet feeling innately natural to the project as a whole. A fashionable place to devour dishes designed for cowboys, St. Petersburg has a piece of the prairie to call its own.