With a name that reflects its ethos, COMMONS—a restaurant and wine bar in St. Petersburg, Russia—is a homely place that diners can visit on the regular, a place where pretentiousness stays firmly at the front door, instead encouraging the 'common people' to enjoy farm-to-table fare in comfortable but contemporary surrounds.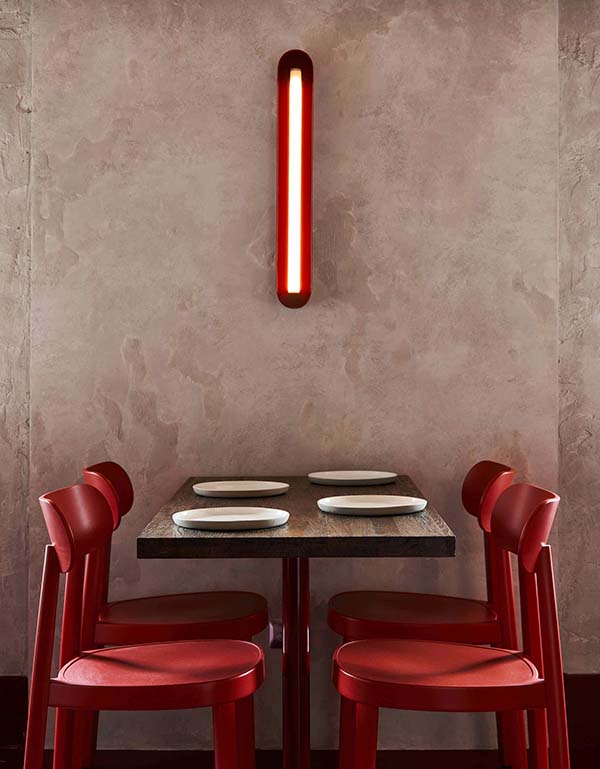 Located along the Griboyedov Canal Embankment, the interior for COMMONS is dominated by red, the same tone as a full-bodied red wine; a product that is in abundance on the bar's varied wine list. Overall erring to the industrial in appearance, the first thing guests are likely to notice is a brilliantly luminous 'Farm to table' neon sign projected from a jagged section of stone.
Moscow-based design studio YULOO used a mix of materials on the interiors—including monolithic metal pipes, Verde India green marble, concrete, and varied lighting that includes an eight-metre oval-shaped ceiling light that hangs over a mixed selection of seating for regulars and travellers to come together.
Red Thonet chairs have been used as a companion to COMMONS' rich red finish, whilst the bathroom is painted in a vibrant blue to contrast against the rest of the restaurant and wine bar. Alongside the Verde India green marble that lines the window to the kitchen, an ice sink built into the sommelier counter not only keeps the sparkling wine cooled, but adds a great design touch to an already buzzing space. Comfortable and cool, this St. Petersburg restaurant and wine bar may really be anything but common, but its homely approach to quality produce is sure to attract a loyal following.