Fashion's relationship with the hoodie has been a tumultuous one. The garment has been linked to social inequality, youth culture, subculture, racism and fear, whilst remaining at the centre of contemporary dress; a trend with no signs of abating, despite the fact that some ridiculously outdated rules mean you may not gain entry to certain establishments when wearing this staple piece.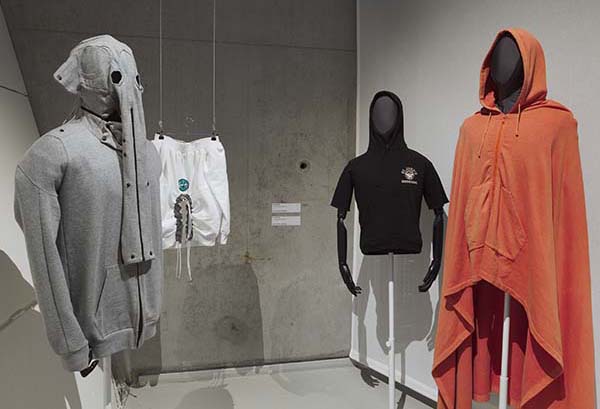 Exploring the role of this item of clothing, The Hoodie—an exhibition at Rotterdam's Het Nieuwe Instituute, curated by writer and cultural commentator Lou Stoppard—is an excellent mixed media exhibition documenting the divisive article of clothing; featuring artists, photographers and leading fashion brands.
Names such as Off-White, Lisette Appeldorn, VETEMENTS, Devan Shimoyama and Bogomir Doringer showcase work in photography, film, installation, fashion, and other medias that challenge the viewer to consider its relationship with contemporary culture by looking at themes and conversations around gender fluidity and breakdown of traditional dress codes. The show also takes a look at the hoodie's history, tracing its evolution from a practical solution for workmen in the 1930s to today's icon of streetwear.
Now arguably Western fashion's last truly political garment, the unconventional exhibition is set to challenge the perspectives of all; marking the humble hoodie through its guises as an emblem of inequality, deviancy, practicality and highly coveted piece of haute couture. A fascinating cultural escapade, The Hoodie runs at Het Nieuwe Instituut, Rotterdam, until 12 April.