Hamburg is a city of many dimensions. On one hand it is passionate about football; coffee; craft beer; its ports; and its artistic culture. On the other its laid-back vibes can be experienced while meandering graffiti-lined streets, past its historic buildings and warehouses, while drinking the locally-brewed beer Astra as you go.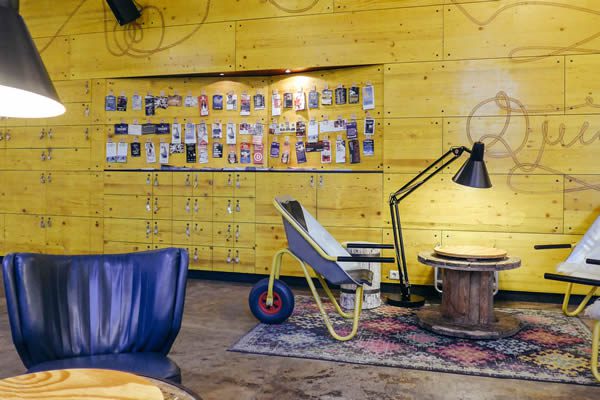 In just 72 hours we walked hundreds of sunny miles in a city infamous for its rain. We got lucky exclaimed our hosts Come To Hamburg, while handing us a 'just in case' umbrella. We experienced no downpours. Save for tears of joy when FC St. Pauli—their world-renowned lefty-liberal football team—won their match to stay in the 2. Bundesliga (2nd division). But more on that later.
Our first stop on our Hamburg adventure was Superbude St. Pauli. The ho(s)tel, located in the residential but vibrant Schanze neighbourhood, was in the perfect location to see and do everything in Hamburg. The area itself is a destination spot, and at weekends it is abuzz with drinkers, diners, and merrymakers. We Heart highly recommends La Fonque bar, a dark little place that exclusively plays vinyl, followed by a slice or two from Pizza Pazza to soak up all that booze—both cheap and cheerful but with a lot of soul.
At Superbude, everything is relaxed and friendly. Our double room was comfortable, styled with metal tube furnishings, rope motifs, anchor hooks, and a curious lamp arrangement nodding to its port town location. We had the best sleep followed by a generous and rather luxurious breakfast that included loose leaf tea, proper coffee, freshly-baked bread, a waffle station, organic milk, and yoghurt plus a whole bunch of other goodies you might find in a high-end hotel. Expectations were undoubtedly exceeded.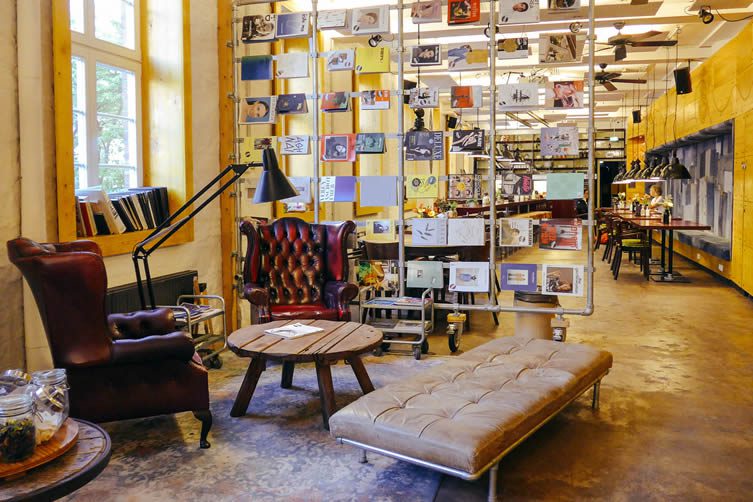 Most of the local independent stores in Schanze open at 11am, so don't feel guilty if you have a lie in. Later, head just ten minutes north towards Sternschanze Station to the old Schanzenhöfe for Elbgold Kaffe. The coffee hangout is a beauty in itself with high ceilings, black cast iron contrasting the oak wood tables, and hints of brass representing the 'gold' in Elbgold (meaning The Gold of Hamburg).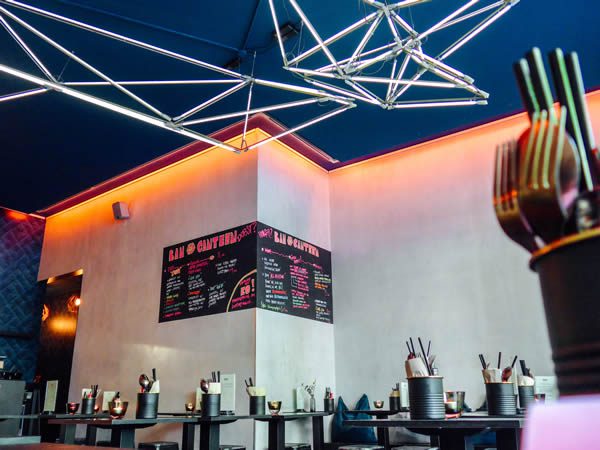 The speciality roasters buy their coffee direct from farmers and personally visit all the plantations, which means that they offer one of the widest varieties of coffee in the city. A visit here is a must and not just for a latte, there are cakes, pastries, and breakfast to be tried; plus cold-brew cocktails and nitro. The super nice team also offer free 'cupping' sessions for customers to try new roasts and recipes.
You can find plenty of well-considered international cuisine in Hamburg—we opted for a popular little Vietnamese café, Ban Canteen, for an early dinner; trying out their squid rice noodles and the shiitake and tofu burger, both full of fresh and vibrant sweet and sour flavours. Their homemade sauce tasted great, even if the noodles had been impossible to separate. The tempura sweet potato fries redeemed the noodle situation, and we rather enjoyed the interiors and chilled electronic music befitting of the sunny late afternoon.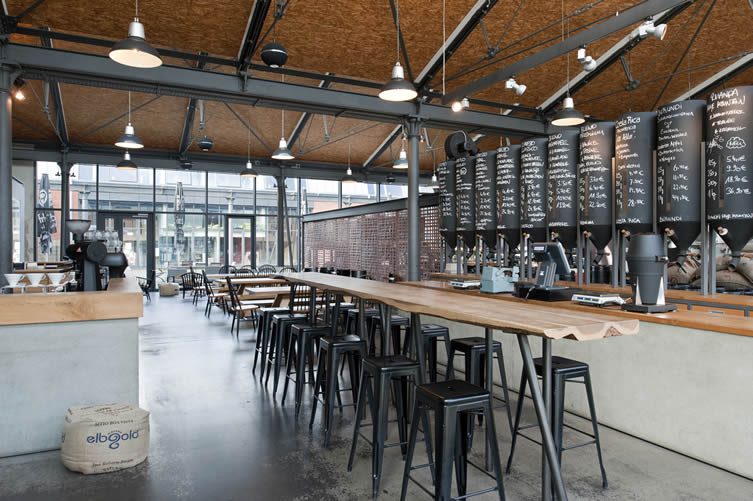 Come evening we head just two stops south on the U-Bahn to the heart of St. Pauli, where you'll find the notorious Reeperbahn. Famed for debauchery, stag and hen dos, sex shops, and all sorts of revelry, outside of its famed and excellent festival it's not quite our bag and so head just one street over to try to find Clockers Bar. We fail in our search but happen upon Affenfauste Galerie, which had a late-night opening with hundreds of folk in attendance. The work of Gideon Pirx grabbed us for its rich oil brush strokes, and before we knew it, it was way past midnight.
After another glorious night's sleep, it's on to HafenCity and Speicherstadt, Hamburg's canals and warehouse districts. Here, architecture aficionados will be in their element—taking in the tall geometric red brick buildings and elegant waterways that weave in and around. Invited to Dialog House, a charitable cultural institution that champions inclusivity and is staffed by 60% individuals with disabilities, we took part in the Dialog of Silence, an interactive walk-through experience sans sound; their cultural programme exploring 'other senses'. Our host Karl showed us how to communicate using body and sign language in a carefree and enlightening fashion, and we left feeling elated to have learned a bit of sign language. *waves both hands side to side (meaning yay/happy/well done)*
As the weather continued to be practically perfect in every way, we went in search of ice cream. Having heard about Luicella's—a local independent brand with two natural ice cream stores in the west and east of the city—we found their St. Pauli branch and dived into various flavours before falling in love with their pistachio and chocolate swirl, and the coconut with whipped cream on top.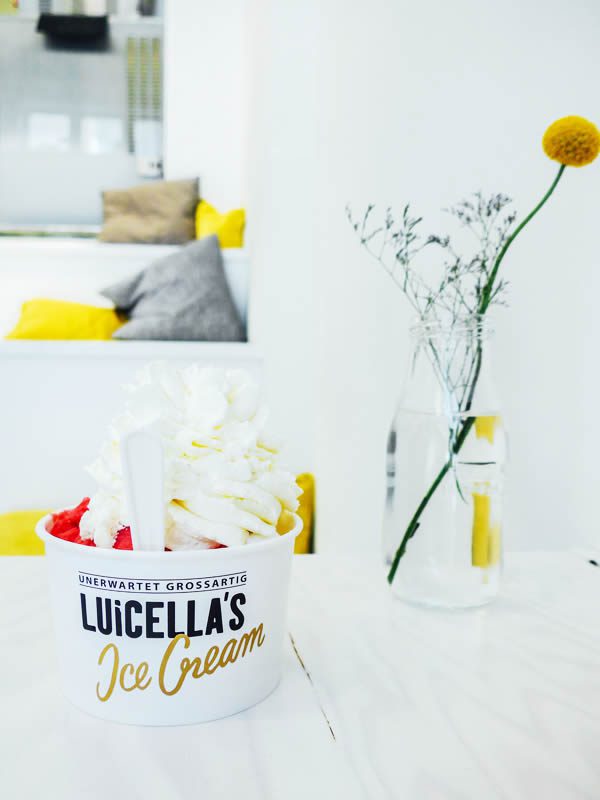 Because meandering is one of the best ways to experience Hamburg, we continued on to the Karolinenviertel neighbourhood; stumbling upon design shops with unique and second-hand goods along with a side of epic street art.
That Saturday evening we headed south of St. Pauli to the river and to dine at Salt & Silver Zentrale. Two travel-hungry surfers, who jacked in their jobs to 'taste' the world, founded the Latin American-inspired bar and kitchen. The menu at Zentrale consists of 'three rounds'. The first: classic cocktails like margaritas and Mezcal mules, snacks and tacos. The second: 'little adventures' such as the utterly delicious and soupy Tulum Ceviche and the 'mushroom quesadillas' (a stack of shiitake ragu with avocado, smoked cheese, and chilli-chocolate oil on a fried corn tortilla). And the third: the big shared meat or fish dishes.
Every mouthful tastes exciting and full of flavour, which mirrored the lively indoor and outdoor atmosphere. Overlooking the docks at sunset added colour to our experience, and we'd eat here again in a flash. For more port views and to watch the boats come and go against the Mecano-style docks, we headed to the large, mostly-outdoor StrandPauli beach bar before meandering back on foot to Superbude.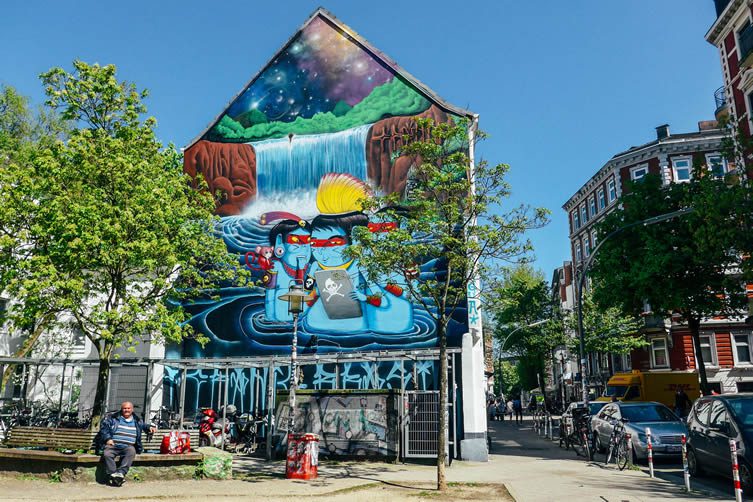 Every travel guide and local will tell you that you HAVE to visit Hamburg's famous Fischmarkt and sample Fischbrötchen early on a Sunday morning. Reluctantly we set the alarm, but many stay out until it opens at around 6am. Tucking into a fried backfisch roll with oodles of garlic sauce dripping all over your hungover self was quite the experience. The market sells all sorts of culinary treats, flowers, and typical market goods—while, in the main warehouse of multiple floors, visitors drink beer and listen to live music.
For a little respite and tranquillity you can head over to the affluent Eppendorf area on the banks of Alster Lake. Picture-perfect in every way, sailboats line the landscape while locals sit, read, and run around its park. If time permits, bring a picnic and steal a snooze while the sun is out, alas we had other plans.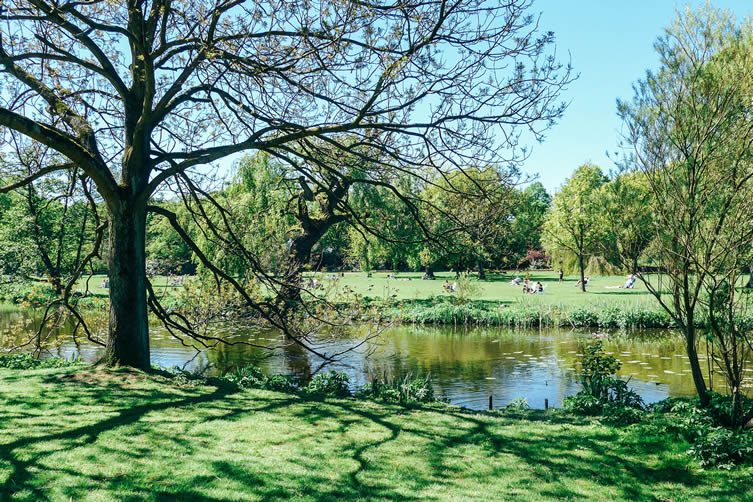 The finale of our Hamburg adventure was at the FC St. Pauli match against Arminia, a crucial game that saw the punk team saved from relegation at the end of the football season. We're big fans of the outspoken anti-racist, anti-fascist, anti-homophobic, and anti-sexist club, as it was one of the first teams to ban far-right nationalist activities and displays.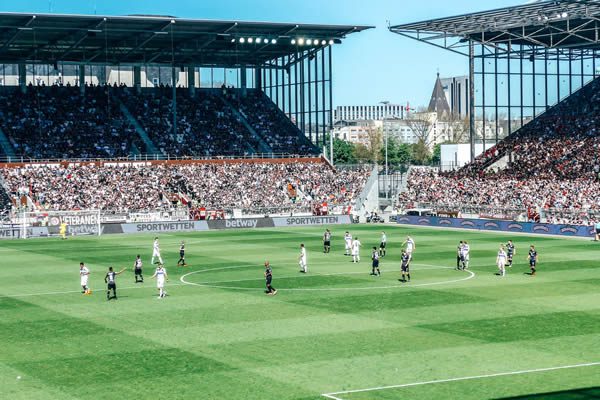 They're active in their charitable work too, and have the largest number of female fans in German football; awarding them the global cult status as (football) game-changers socially and politically. In attendance was a sea of skull and crossbones; friends, mums, dads, kids, and OAPs who made an astonishing racket in the lead up to their pre-half-time winner. The chants, singing, and cheers were thunderous in the graffiti-coated stands, while glitter covered the pitch and flags flew from every angle. There was so much heart at this game that the actual football didn't really matter. A show of unity, equality, and fairness, it felt like an honour to have experienced it.
The symbolism of this big-hearted city is seen everywhere from its street art, railings along HafenCity, the bottle tops of Astra beer, and on the walls across the entire city. Especially in the attitude of the locals. So if you're after a culturally-rich city full culinary delight, stunning architecture, hospitality, and fun—but without pretentiousness—then you have to Come to Hamburg.