The model village. A week in Devon with mum and dad. The English Riviera spelt out in roadside flowers. Melting ice cream. The scorched, torched, shattered smithereens of society?
In a 448 sq ft, 1:87 scale model (a representation of around one square mile), Jimmy Cauty depicts a Britain where something has gone very fucking wrong — what, we do not know. What we do know, is only the Old Bill are left; desolate, devoid of any purpose they might have had; staring, literally, into the abyss. Did the authorities desperately overreact to an apocalyptic riot? What did they do with the bodies? Is Burger King still Burger King if there are no burgers?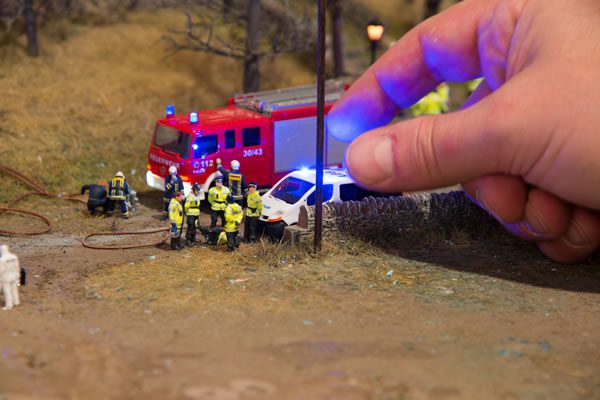 Having been doing the rounds as a touring exhibition for a few years — rolling into Banksy's Dismaland Bemusement Park last summer — the former-KLF man's Aftermath Dislocation Principle village is currently on show in London, with an all-new section underway. Visitors will bear witness to the meticulous construction of New Bedford Rising; a (1:87 scale) 323 metre solid gold pyramid that harks to the Tower of Babel … a new Eden where the constabulary may roam free, in a paradise free of crime.
Where so much angsty 'Fuck the Police' art can seem trite, the man who once burnt a million quid uses the aftermath of 'something' as a means to portray the sorriness of authority, of a police state, of control. Cauty's model village is angry. Angry inside, but its face carries a smirk. It is schadenfreude. It is exactly how we feel inside when we see another goon in riot gear wading into a crowd of students. It is many things. It is brilliant.
Jimmy Cauty's Model Village: The Aftermath Dislocation Principle continues at L-13, America Street, until 28 January.