Dishing up healthy fare alongside inviting sweet treats, Saint Petersburg's Futura Bistro is a popular spot at the city's Lenpoligraphmash factory; a creative haven also home to an array of restaurants, cafés, concert venues, coworking spaces, studios, public spaces and more.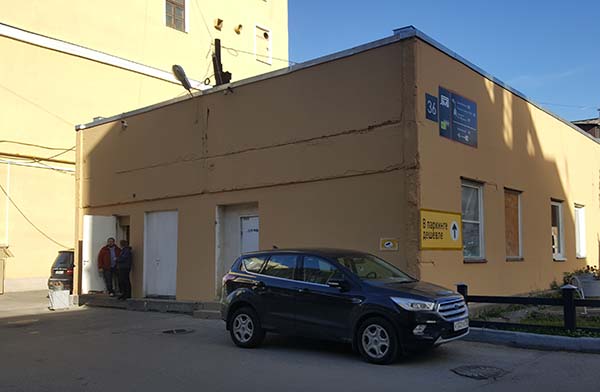 Located in a former metering station, architects Rhizome (they behind the city's Scandi-cool, Gastrobar О) chose not to focus on the area's postindustrial past, instead concentrating on the size and architectural language of the space when putting together the concept for the bistro.
The all-black exterior—laced with super-sized white type—leads to a sparse dining room where white painted brick walls and exposed ceiling beams are softened only by a smattering of greenery hanging from said ceiling; wooden tables and chairs come from local studios DeloDesign and Verstak.
Boasting plenty of natural light due to large windows that extend out onto a terrace during the summer months (which takes in views of that brilliantly austere exterior), indoor lighting was kept to a minimum and is purely functional. An open space, diners can take in the kitchen, the cooking and serving equipment; whilst the washrooms are tucked behind a strategically positioned white wall.
Despite its appearance, the atmosphere is welcoming, with customers staying long enough drink a coffee, or lingering over a long lunch and catch up with friends. Simple yet bestowing everything you need, Futura Bistro is well worth seeking out when in Russia's second city.