A new playground for hedonists and chilled folk alike has opened on Miami's infamous South Beach, The Goodtime Hotel – a venture between David Grutman of Groot Hospitality and a certain Pharrell Williams – commanding almost 100,000 square feet of public space; dominating a full square block on Washington Avenue and 6th Street.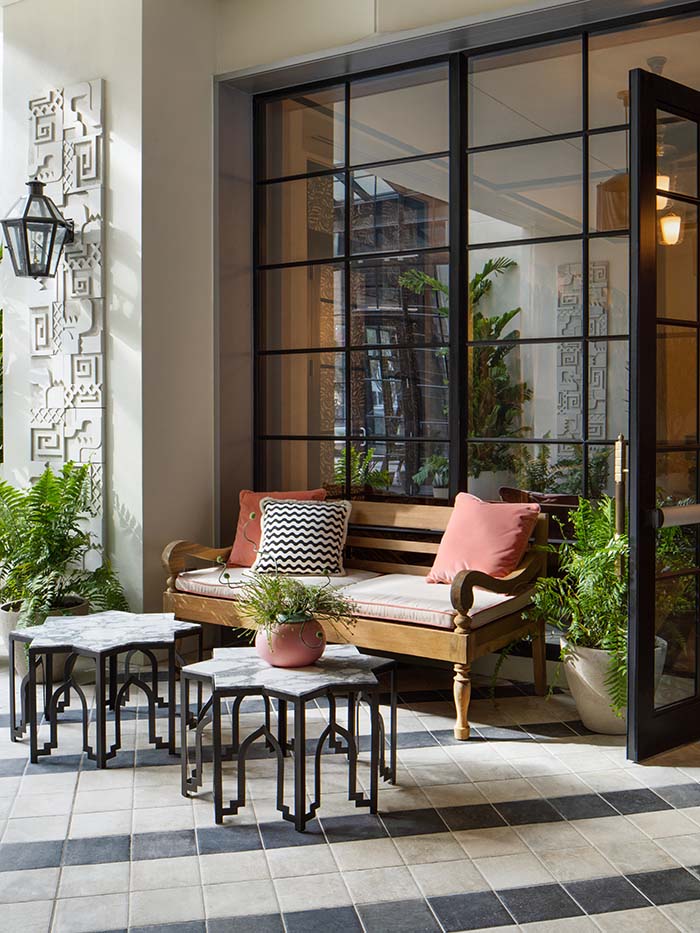 Unless you've been detoxing from the internet over the last week, you'll have no doubt seen Instagram posts of Grutman and happy hip hop production genius along with social media glitterati Kim Kardashian and The Beckhams, the quintet (along with a 'few' other friends) celebrating the design hotel's grand opening in typical Miami Beach style.
A nod to the Art Deco neighbourhood that surrounds it, hand-painted hothouse murals and Deco plasterwork recall the opulence and nostalgia of a time gone by, the corrugated façade and airy atrium serving as entrance to a "full on experience". "This is about providing a getaway within a town that's already known as a vacation spot", Grutman explains. "When you're at the Goodtime, we want you to feel like your worries and anxieties have been left outside." Pharrell adding: "We want The Goodtime Hotel to impart a feeling of both revitalisation and that rare, exciting thrill that takes over when you discover something special"; blurring the lines, if you will.
With 266 guest rooms designed for the tastes and desires of modern travellers, with custom bedding, bespoke drapes (including a blackout option), leopard-print benches, Ortigia bath amenities, and a signature pink rotary dial phone——as well as views of the famed Miami sunrises or sunsets (depending whether you're ocean facing or looking out over to Biscayne Bay)——this lifestyle hotel is an adrenaline-fuelled, tropical oasis that is as cheery as its famous owner.
Working alongside real estate developers Michael D. Fascitelli and Eric Birnbaum of Imperial Companies, architect Morris Adjmi, designer Ken Fulk and landscape architect Raymond Jungles, the team have created a whole-rounded experience, The Goodtime Hotel also be home to vibrant F&B options including Grutman's Strawberry Moon, a restaurant and 30,000 square foot pool club serving classic and casual Mediterranean fare and a full array of specialty cocktails for lunch and dinner.
As gleefully Miami as anywhere could be in this unforgettable city, South Beach veterans will be happy to see another venue with serious style and presence.