"In a market flooded with watered-down options and brands dictating experience for their guests, we create an environment that is comfortable and well-appointed for discovery, you take it from there".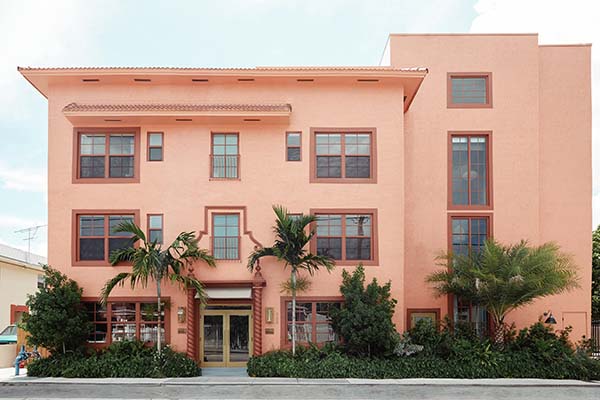 With an ethos like this, we cannot wait until once again we're able to travel freely (though more consciously, one hopes) and experience first hand hotels such as those in Rami Zeidan's Life House collection; a young brand boasting such powerful manifestos, and one that has properties throughout Miami, New England and Denver. With more locations planned for 2020 and 2021.
Located in Little Havana, Miami, the aptly named Life House Little Havana is an artfully designed 33-room hotel, housed in a historic 1920s mansion in the heart of the city's Cuban neighbourhood. Inspired by urban tropical estates—the dusty peach tones of the Mission Style façade setting the scene—interiors feature a mixture of guava pink, rich jade, and earthen sienna, combined with natural wood and simple lines. Art Deco details were retained in the refurbishment, and are complemented by monochrome-checked flooring (typical of a Havana mansion) and modern design.
Creating authentic and locally rooted spaces designed to appeal to both locals and travellers, those who experience Life House Little Havana can expect inspiring design, artwork and photography sourced and commissioned from local artists, a home-from-home ambience, and rich cultural offerings. Whilst guest rooms are furnished with hand-picked textures, and appointed with plant-based Le Labo bath products, it's the social spaces that make the heart of this petite property, beat. From the living room and library to a three-story atrium gallery and secret garden style courtyard, here likeminded individuals converge to share stories under the warm Miami sky.
Although temporarily closed, Life House Little Havana, hope to reopen the Terras Rooftop—a tropically overgrown rooftop haven overlooking the Miami skyline, where one can drink and dine until the early hours—and Parcela Café, reminiscent of the 1940s Havana that attracted writers such as Hemingway; a fine spot in the courtyard to sip an iced coffee and pen a story of your own.
Immersing visitors in the local scene, Life House Little Havana—a member of Design Hotels—is a real gem of a find.
@lifehousehotels
@design_hotels