As slowly but surely, all things COVID-19 related appear to be changing for the better, here at We Heart HQ, we are daring to set our sights on international travel, and thanks to Rockwell Group's interior design of Moxy South Beach, the first stop is looking an awful lot like Miami.
Fusing 1950s glamour, from the romance of classic cruise travel to Havana, and with a combination of evocative spaces and curiosities, the 202-room hotel is located on Miami's storied Washington Avenue, neighboured by the highest concentration of Art Deco buildings in the world. Set over seven floors, the New York-based architecture and design firm have fashioned a new and vibrant playground for the city's young and hip crowd, sun worshippers and cultured travellers.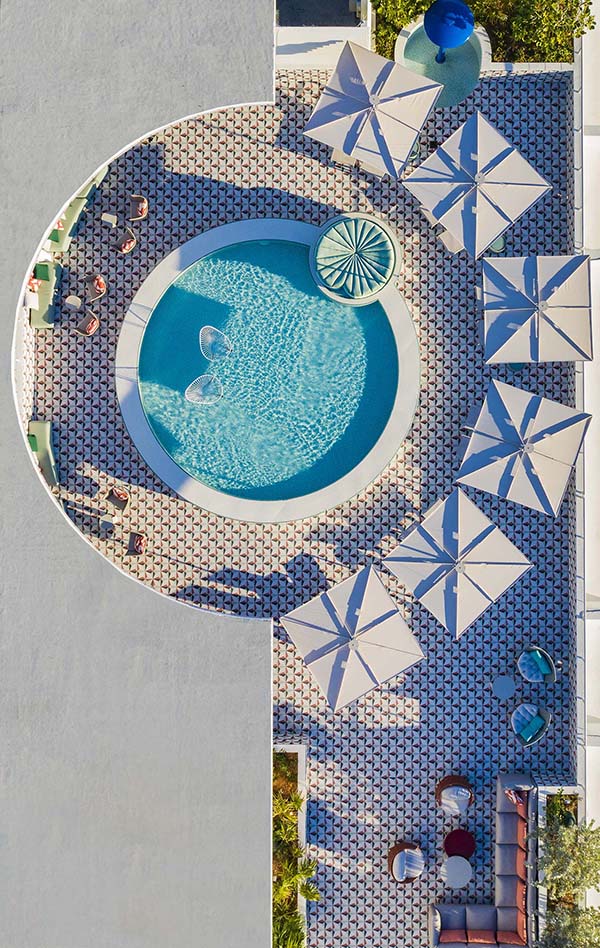 Enter the colourful lobby via the porte-cochère at the east entrance, or the main walkway on Washington, passing through the preserved Art Deco façade. Here, Bar Moxy plays a central role and features an infinity mirror installation with the phone number of Havana's historic restaurant and cocktail bar, El Floridita; the designers' gentle nod to Miami's famed Cuban heritage. A relaxed space to hang out both day and night, the lobby is filled with an assortment of lush greenery, quartzite tables, colourful seating and bold flooring.
Up in the guest rooms, Rockwell Group opted for colour and light, taking advantage of Miami's year-round sunshine and all the natural light it provides. As a nod to Miami's past with Clyde-Mallory cruises to Havana, the 'state rooms' take their inspiration directly from the cruise ship experience, whilst those on the higher floor boast unobstructed views of the Atlantic below. Headboards in a gradient of greens, pinks and citrus tones blend beautifully with clean lines, terrazzo floors and custom light fixtures; built-in charging stations and ingenious system of peg wall storage provide functional space for living and dining accessories, including trays, hooks and hangers. A functional touch to complete a decadent design.
This wouldn't be a Miami Beach hotel without a jaw-dropping outdoor space, and the Moxy does not disappoint. Step out under the blistering sun (or pouring tropical rain) onto a 72-foot second floor pool area flanked by palm trees and decorated with flamingo artwork, oversized graphics, tiered seating, and luxury private cabanas. A large circular window looks out onto the lobby creating a sense of space, and come evening, live music and DJ sets will lend this spot the sort of hedonistic vibe one expects from this neighbourhood.
Head up higher to the rooftop on level eight and enjoy those famed Miami views from a large lounging pool and communal daybeds. With a more chilled vibe, this is a place to catch some rays, perhaps a movie on the custom freestanding screen, or enjoy a refreshing cocktail underneath Brooklyn-based artist Edward Granger's multi-faceted, custom ceiling mural.
@moxysouthbeach
@rockwellgroup