With just 22 guest rooms and a location that defines the essence of 'to-be-envied', Hotel Neri offers discreet luxury in the most evocative corner of Barcelona's Gothic Quarter.
One can expect the level of refinement on show here, when you learn this hotel is a member of the esteemed Relais & Châteaux family; the city's only to boast this accolade. Beyond the quiet luxury, Hotel Neri is absolutely dripping in history, possessing a lineage that can be traced back to the 12th century, something that is evident throughout this gothic era property, in which interior design interventions — initially from 'pioneer of maximalist extravagance,' Cristina Gabas in 2003, later Virginia Figueras in 2011 — have respectfully retained much of its original character and patina. Byzantine pillars, Roman ruins, centuries of stories … this property has been a part of every stage in the history of the Catalan capital.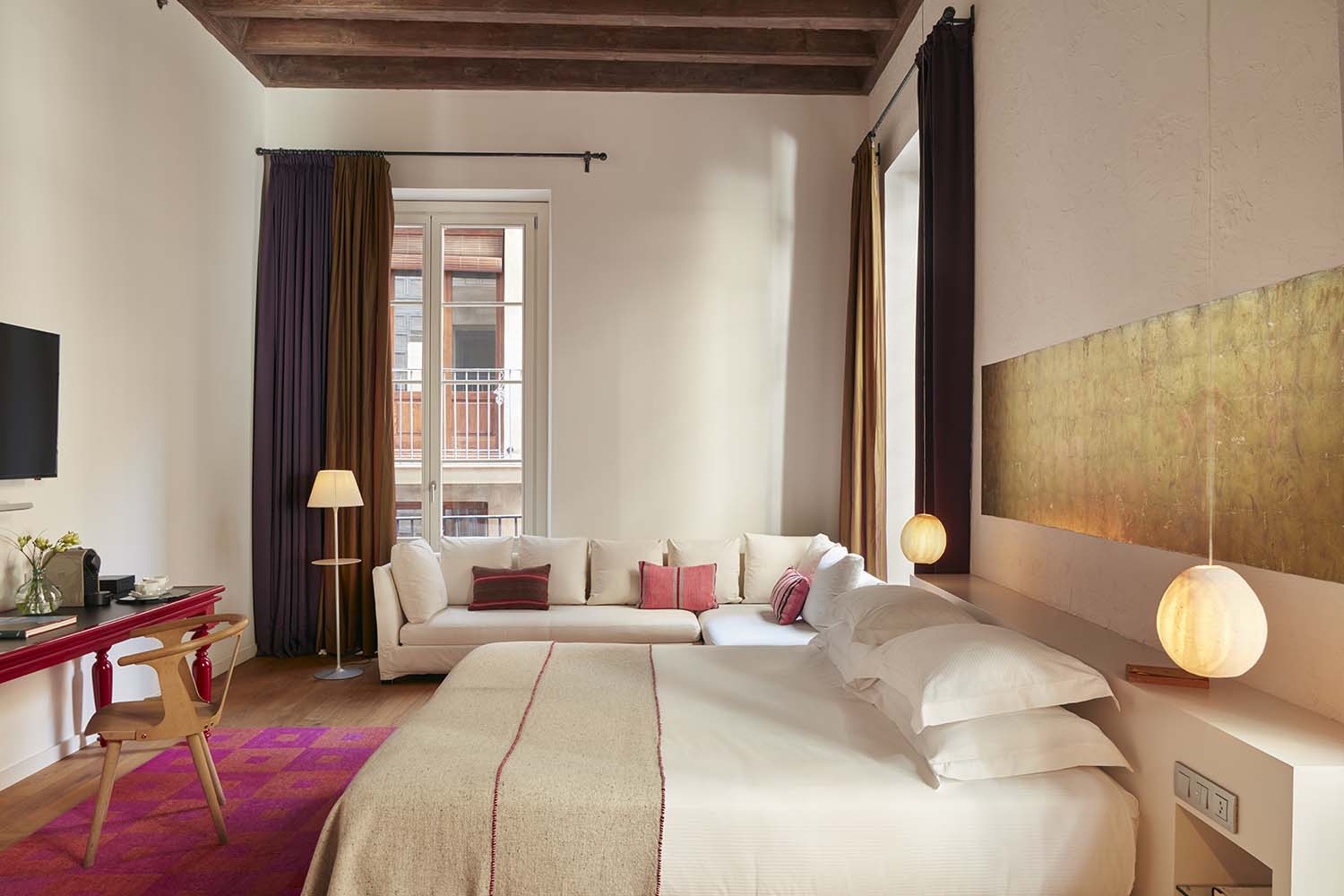 A true gem amid what can otherwise be a hectic neighbourhood, the Neri is a place of open-armed hospitality filled with captivating nooks and crannies. To sleep in of its 22 bedrooms is to connect with Barcelona through its roots, a place to rest and recuperate in splendour after a day's exploration. Accommodation spans four categories — Standard, Deluxe, Junior Suite and the Neri Suite — and are home to Mercader mattresses, Egyptian organic cotton sheets, wool blankets from Catalan brand Teixidors, minimal furnishings, and choice works of art and photography. Whilst some rooms boast large mural paintings made using gold and silver leaf, others offer original coffered ceilings or terraces with outdoor showers. Ours, a Deluxe, offered privileged views over one of the city's most handsome squares, Plaça de Sant Felip Neri, an emblematic spot with a much storied history; home to a church with pockmarked walls after a horrific 1938 bombing during the Civil War.
Of course the walls of the Neri itself are also witnesses to Barcelona's past, forged by the work of merchants as well as the multicultural mix of peoples arriving here via the Mediterranean Sea. Amazingly its main doors are situated a few hundred metres from what used to be the former sea front. Taken over by Anima Hotels towards the end of the 20th century, the building was converted into the luxurious Neri with Gabas's design work in 2003, connecting history to modern day Barcelona.
There's a unique essence here, an intangible sense of a hotel that is above and beyond others, something you notice from the second you step over its threshold. Guests are encouraged to enjoy the public spaces, to linger in the library, the lobby, the restaurant or with a drink on Plaça de Sant Felip Neri. A warm colour palette, cosy textures, and restorative aromas serve to heighten senses and ensure every moment at this hotel counts.
From the library with timber coffered ceilings, to the Boa Room located on the first floor, home to the Boa sofa from celebrated Brazilian furniture designers the Campana brothers, and to to Roba Estesa, the hotel's cosy rooftop with an inviting plunge pool and urban garden offering views across the neighbourhood skyline, guests can connect to the spirit of Barcelona past and present without even doing so much as leaving its front doors.
Located directly beside the Plaça, aRestaurant is led by chef Alain Guiard, and serves up dishes designed for sharing, honest fare that nods to the city and its traditions, yet infused with a contemporary twist. Whether opting for a tasting menu or à la carte dining, the food is fresh, creative and unpretentious; plates such as duck croquette, crab brioche, and steak tartare, offered alongside rice, meat and fish. It's the same space where a lavish breakfast is served, and where one can catch an evening tipple, and is another tranquil gem in the very heart of this historic neighbourhood.
For a hotel located deep in a touristic part of town, Neri surprises at every opportunity. A corner of calm, a slice of history, interiors fusing local craftsmanship with contemporary design, and an ambience blending refined luxury with the majesty of the medieval Barri Gòtic, this is a truly unique luxury boutique hotel that has an inimitable essence all of its own. File under: exquisite.