We all know Beta comes after Alpha, cooking up inspiring hospitality venues now as easy as A, B, C for Peter 'Godfather of Greek food in Australia' Conistis; as the acclaimed chef opens another innovative space in Sydney's CBD.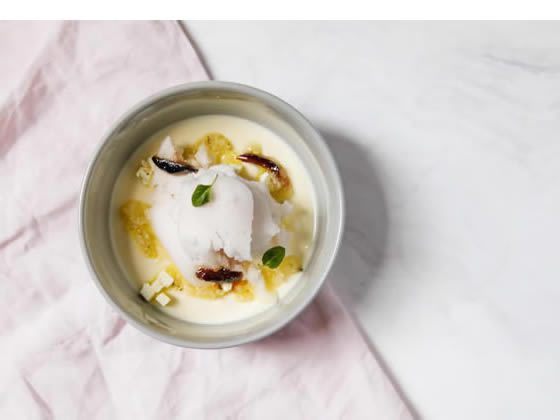 Located above Conistis's highly-regarded restaurant Alpha, guests at Beta are greeted by a jaw-dropping atrium that emulates the theatrics of a Greek village wedding; a selection of authentic greek dishes and small plates designed to be shared and enjoyed with good company on offer. Featuring the chef's signature flair, highlights include 'Horiatiki' (Greek salad ice with feta jelly, candied olives and papara dressing), rock oysters, and inventive cocktails with a Grecian twist.
Paul Papadopoulos of local design studio DS17 worked his magic on the interiors, striking a balance between respecting the classic building's elegant architecture and fashioning a forward-thinking space. The result is an opulent romp through raw brickwork, decorative arches, and plush furnishings finished in muted hues; a collaboration between Conistis and the Hellenic Club (established in 1926 to bring future generations of Greek migrants together), Beta enjoys a timeless feel that carries as much weight as its esteemed founders.