Taking the humble donut as their key source of inspiration, architect Eduard Eremchuk and designer Katy Pititskaya have created a rounded project for Cafe Krujok, a new pitstop for coffee and pasty lovers in the southwestern Russian city of Voronezh that is steeped in dreamworld whimsy.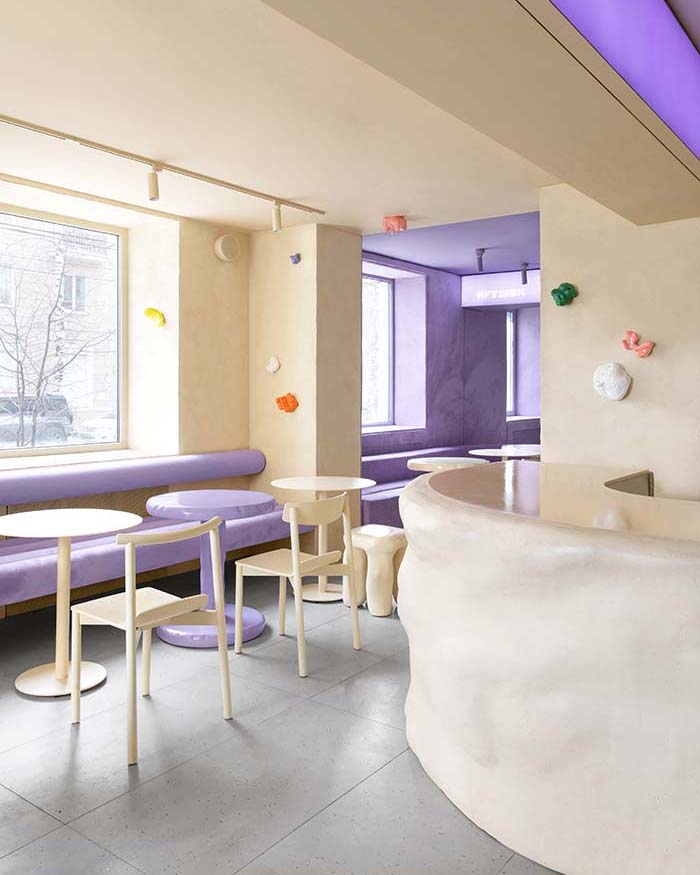 Krujok——which is a round form of a donut in Russian——is divided into two zones, the first with its beige and sand-coloured walls and glossy furniture, designed to emulate the inside of the fried, circular sweet treat, whilst the second zone reinterprets the melting glaze; the design duo toying with tactility by mixing transcendent purple shades with soft velvet fabric on walls and accessories.
Founded and owned by a pastry chef, barista, and general manager (friends who had bonded over a love of coffee and breakfasts), Krujok is a desired destination in the heart of the city, thanks to its honest fare and Eremchuk and Pititskaya's hyperreal designs. With airy and crumpled shapes, a sophisticated use of colour and light, and a topnotch ambience, step into Cafe Krujok and prepare to be whisked away deep into the very essence of a donut. Melting glaze, cream, and decadent goo.
In a world where 'Instagrammable' has become the key adjective in a design brief, Eremchuk and Pititskaya's fanciful work is as inspired as any; a veritable feast that defines the very essence of 'eye candy'. Bravo.
@krujok.cafe
@pititskaya
@eduarderemchuk