Located in Prague's historical centre, VENUE is a tiny café with big design credentials; interior designer Martina Schultes having created a space based around the brand's logo. Namely the letter V; from V shapes in the ceiling lighting tubes and wooden floor to the large letter cut into the nude pink concrete bar.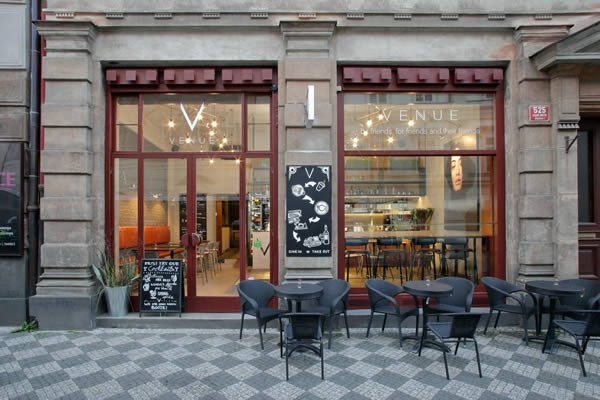 Schultes's vision with a capital V was the catalyst for a refurbishment that resulted in everything apart from the chairs and barstools being custom-made in order to establish a casual eatery where friends could catch-up over a coffee or wine — all underneath a huge illustration of an asian girl by Russian artist Viktor Miller-Gausa. Pass a few hours surrounded by good people, good food, and good design.
Curated with as much love as the interiors, the menu at VENUE consists of dishes made from scratch using fresh ingredients and produce according to the season. Soups, salads, artisan sandwiches, and weekend brunch not only satisfy the locals, they keep them coming back again and again; safe in the knowledge that if the food is half as fine as the alluring aesthetics they're on to a real winner.