There are pizza fans, then there are pizza obsessives, and then there is Scott Wiener and Steph Mantis. While I reckon I'd hold my own in any pizza eating contest, consuming pizza is the limit of my expertise. Not so these two pizza professors from New York. Scott knows so much about the slices of NYC that he runs tours of the city's pizzerias, while Steph is behind the Forever Pizza project, which involved preserving slices of pizza in resin. After a chance meeting at (you guessed it) the opening of a New York pizzeria, the pair pooled their pizza prowess and now work together on creative projects centred around everyone's favourite food.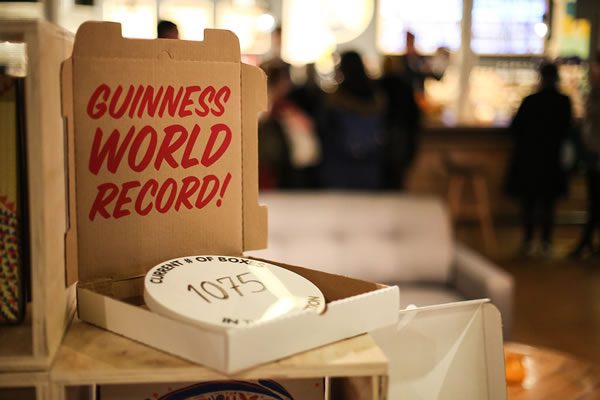 Scott featured in #PLYin90seconds, the pre-launch exhibition at PLY — the pizza-potty bar and events space in Manchester's Northern Quarter, and he's back with Steph to look at one of the most under-appreciated aspects of pizza culture: boxes.
While most takeaway boxes are generic and instantly disposed of, others are carefully considered works of graphic art, and Scott's personal collection runs to more than 1,000 of the best international examples — that's a verified Guinness World Record folks! Around 80 have been selected for the PLY exhibition, and range from traditional boxes to contemporary designs by the likes of Napoli pizza box artist Ciancio, who draws and paints each of his boxes by hand. The lid closes on this mouthwatering show on 20 December.