Delve inside a looming 1930s building in the centre of Poznań, a city on the Warta River in western Poland, and you'll find Próżność Klub; a mysterious and eclectic spot where cocktails and culture collide. The 500 square metre historic space boasts a 130 square metre ballroom, elaborate bar, and stages, and looks fitting for the sort of place one might want to celebrate the end of this everlasting situation.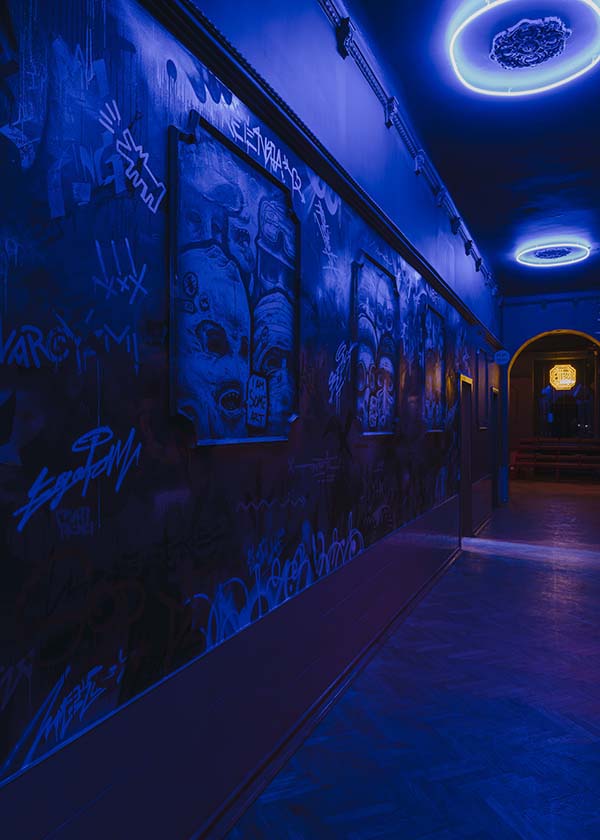 Designed by wiercinski-studio—the architectural practice led by Adam Wiercinski and responsible for the eye-catching interiors of fellow Poznań establishments Przyjemność Pizza and Yeżyce Kuchnia—Próżność Klub, which means 'vanity' in English,is homed inside a listed building, meaning the team had to get creative with the space making sure not to interfere with any of the construction elements.
A long, wide corridor leads to the cloakroom, VIP room, and cocktail room with small dance hall; part of the corridor painted by local street artists Someart and Dumin in an abstract style. Retaining original antique elements, wiercinski-studio set about securing the space before painting it dark navy blue to bring with it an air of mystery and intensity. The original oak parquet flooring, antique decorations and ceilings have remained whilst furnishings designed by the studio and made by local locksmiths, glaziers and carpenters, fill the space. Think barstools, tables, blue neon rings and a classic crystal chandelier.
With the majority of windows soundproofed and covered with mirrors to enhance the impression of space, reflection of lights and furniture, guests of this nightlife venue are treated to a immersive-like experience where colour, light, reflection and culture collide.
Making our hearts ache for times that we can get back out and lose ourself to loud music, Poznań's Próżność Klub is a fine example of bringing fresh life to heritage spaces; another masterclass from the folk at wiercinski-studio.
@wiercinski_studio
@klub.proznosc