A Paris-based contemporary artist of Dutch descent, Robin Kid (a.k.a. The Kid) has taken over Templon's Grenier-Saint-Lazare space in its entirety for Kingdom of Ends; his second solo show to date for the Parisian gallery.
Through the evocative poignancy of mass-produced foundational imagery depicting our commonly shared childhood nostalgia, the self-taught multidisciplinary artist delves into the notion of personal and cultural memories that are tied deeply to popular culture real and imagined; conjuring feelings of uncertainty alongside the most naive of hopes and dreams that are gathered during childhood and teenage years.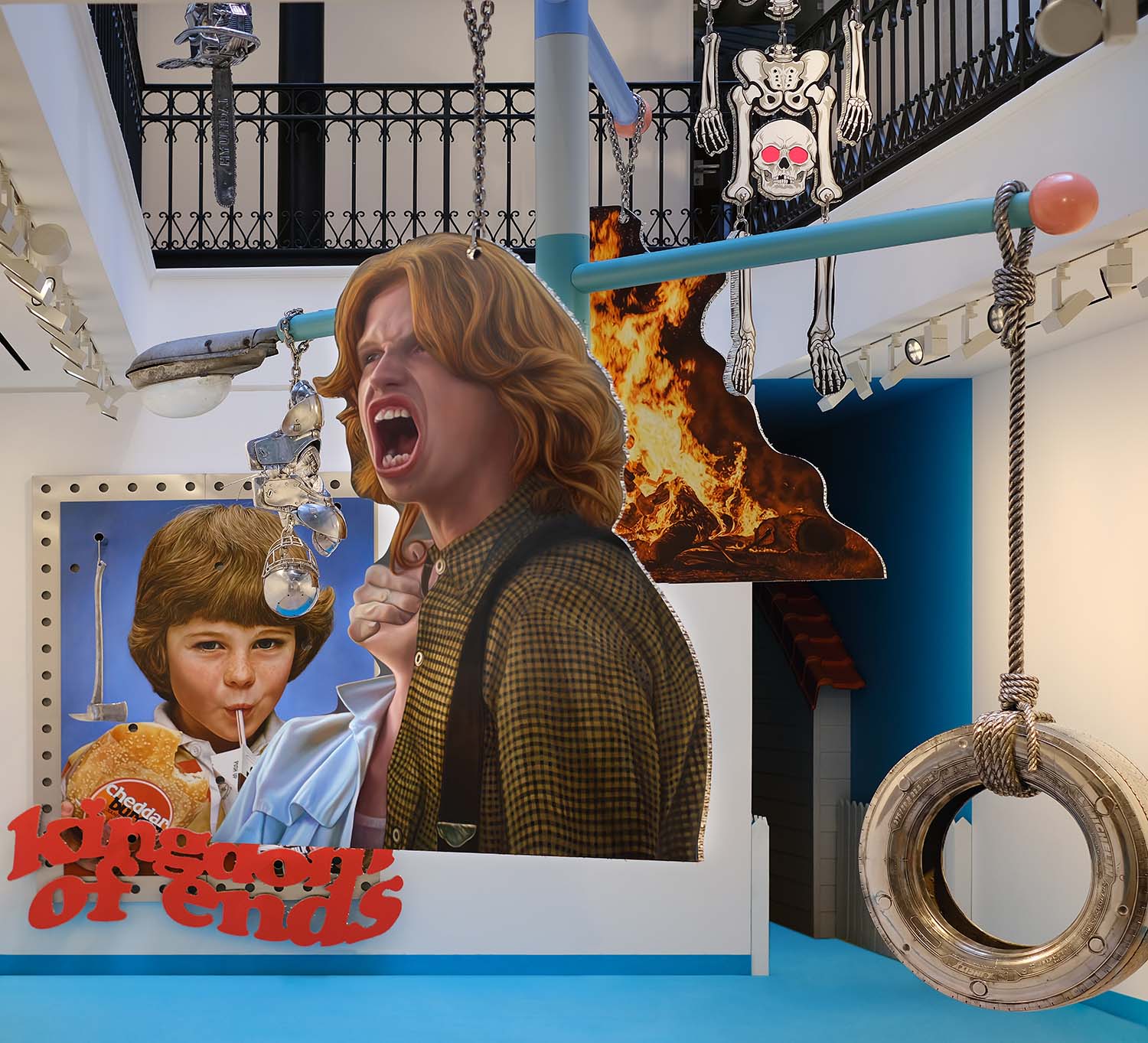 Spanning the whole gallery, the exhibition forms an immersive experience that comprises painting, sculpture, video and installation work; all revolving around a two-storey high mobile. Borrowing its title Kingdom of Ends from Immanuel Kant's hypothetical state of existence, the works explore our collective need and hope for a secure existence, and the fear that in today's world many might never attain it.
The series features hybrid works which are influenced by Robert Rauschenberg's Combines and Jim Dine's early works such as Lawnmower, and are neither painting nor sculpture, but both at once. By invading the viewer's space, the works demand attention and instigate dialogue, the eye-catching and menacing yet perfectly balanced advertisements invoking a nostalgia designed to make the viewer pine for a "time and place of which we are and always have been exiled from."
On show until 21 October at Templon Grenier-Saint-Lazare, Robin Kid's Kingdom of Ends allows us to delve into an imagined nostalgia that decades of cultural repetition has weaved into our psyche. A brilliant observation of the mass-marketed simulation we have found ourselves trapped within.
@galerietemplon
@artist_the_kid