It's over four years since the Arab Spring, doesn't time fly when you're having a revolution? Since December 2010 governments, regimes and dictatorships have been forced from power with varying degrees of violence. Some have returned, rebranded, others jailed, executed. Amidst widespread upheaval, one constant has remained: the importance of social media to the modern insurgent.
Odd that I should be chatting Facebook and civil revolt with one of Australia's foremost authorities on ceramic restoration, but then I shouldn't suppose many authorities on ceramic restoration have bags of Action Man machine guns knocking around their studio. Just about to jet off to the UK for forthcoming art fair Art14 London, Penny Byrne is of course no ordinary fixer of priceless porcelain – as she puts the last of her 'day job' pieces back into a storage unit, that 'separates' her professional lives, Byrne has an errant glint in her eye. The danger sign that reads "DEMOLITION WORK IN PROGRESS" seems an apt indicator of a secret second life.
Let us move back in time briefly: Penny's alter ego dates back a decade, mother having handed over some broken porcelain ballerinas from her antiques shop some time earlier – "think you can do something with this?" A pretty straightforward question to a daughter who had studied ceramic and glass conservation and restoration at Chichester's esteemed West Dean College. Penny's response would be anything if straightforward. For this, we must slide our timeline back further: 10 January 1977, the brutal killing of Suzanne Armstrong and Susan Bartlett, Collingwood, Melbourne. The infamous Easey Street murders having long cast a cult shadow over the street in which Penny Byrne's studio resides, a shared studio space with artists who were submitting works to the city's 2004 Fringe Festival. Murder on Easey Street presented an opportunity for Byrne to show work of her own, work that expressed her identity, a respite from restoration.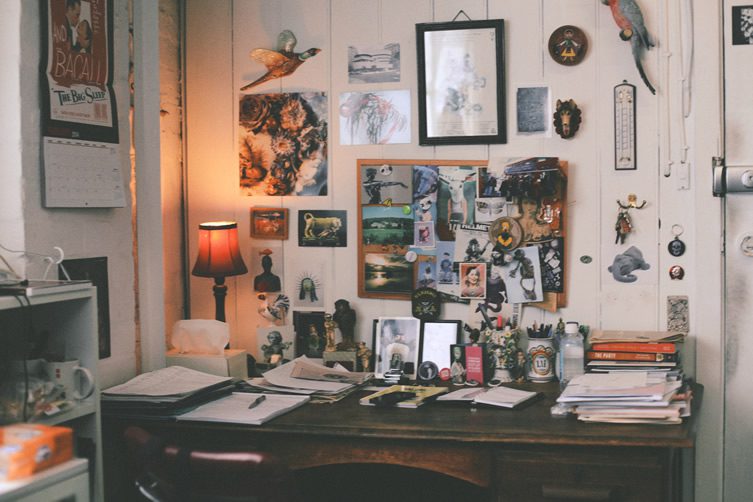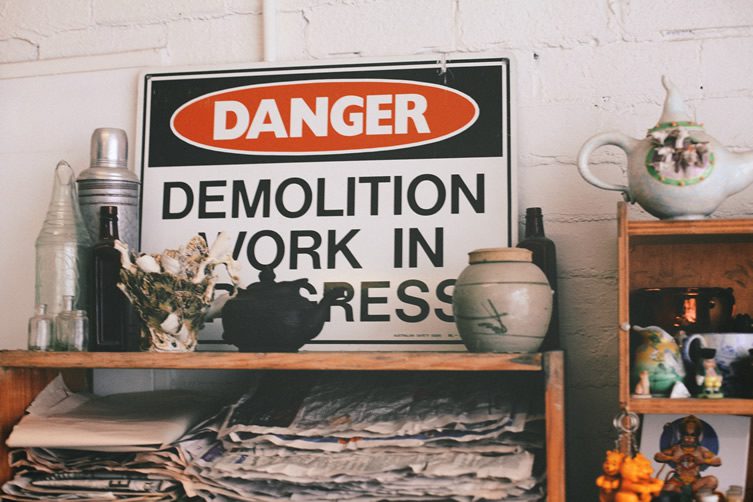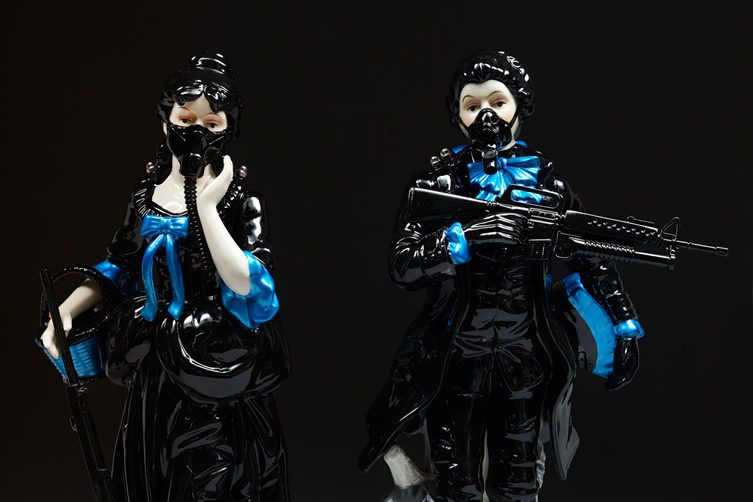 Exhibition: check. Cult theme: check. Artwork: let me think about that… The time had come for Mum's ballerinas. One savagely beheaded, another armed with a Samurai sword (Penny had recently been watching a certain Tarantino flick) – the figurines would enact a dark existential account of Sophie Ellis-Bextor's most bloodthirsty ditty. There was Murder on the Dancefloor, and Penny Byrne's career as an artist had been born.
Ten years on, countless more ceramic homicides behind her, Byrne has established herself on her own merit in the art world – her large-scale series of subverted figurines, iProtest, is one of the highlights of Melbourne Now, a major exhibition of local artists and designers at the National Gallery of Victoria, and the reason why we're chatting uprisings, protests and social media. Politics, human (and animal) rights, sustainability… little escapes satirical reappropriation through kitsch ceramic figures, children's toys and a heavy helping of wit. Penny is a unique artist working in a unique medium, the busy eclecticism of her Collingwood studio indicating a mind frantically dancing through ideas. Here are musings of potential future works, eBay-bought supplies of toy warfare lying in wait for forthcoming international events, shelves heaving with intent.
Although relieved from the compulsive tracking of global protests that resulted in iProtest, Penny can't help but follow events in Kiev. Art14 London runs 28 February – 2 March, and the artist ensures me that there's plenty of restoration work to catch up on, but I can see her mind ticking over. A week in London. 40-plus hours in a steel fuselage. I pity the porcelain princesses who lie in wait.
***