What started with a billboard takeover at Leeds's Hyde Park Corner has become a much grander initiative, local street art project In Good Company now counting 150 sites across the city that renowned designers and artists have given a splash of colour to, thanking the NHS staff and workers on the frontline of the COVID-19 pandemic through colourful poster art and uplifting messages.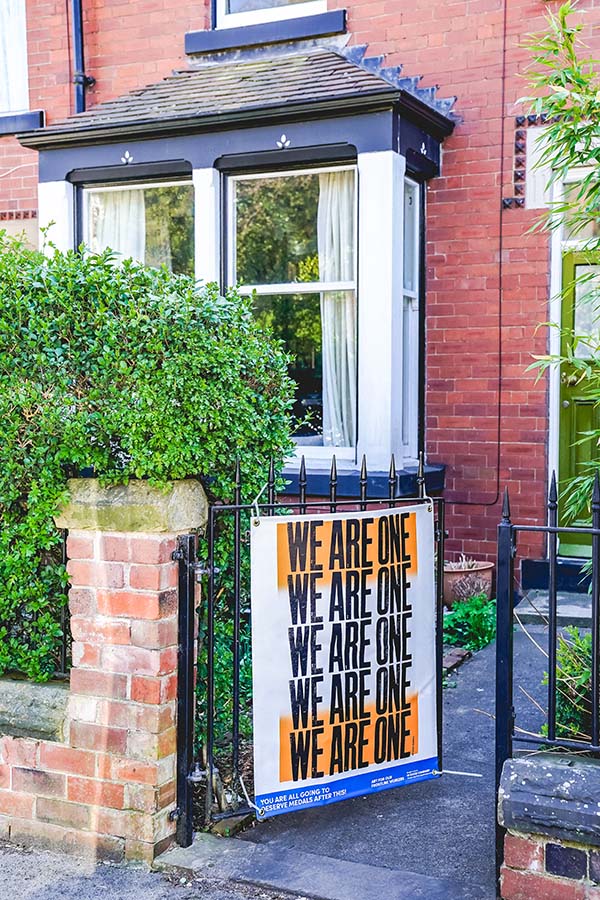 The collective of eight artists—which includes Morag Myerscough, the London-based artist behind the original billboard—have created a series of bold posters and banners that the public can print at home and colour in themselves; allowing folk city-wide to creatively convey their gratitude and respect for those that continue to keep vital services running in times of grave uncertainty.
The brainchild of Duke Studios-founder, Laura Wellington—who established In Good Company as a passion project with the aim of bringing more large-scale art, fun and colour to the city—Posters for the People was "inspired by the weekly applause and the rainbow artworks popping up on pavements and in windows"; Wellington continuing that "as artists and designers we thrive in creativity, and there's no bigger opportunity to be creative than in a crisis."
And create the designers and artists have done, the eight artists including Studio Build; Rebecca Strickson; Anthony Burrill; FYI; Luke Tonge; Craig Black; Risotto Studio; and Morag Myerscough each having designed a banner that is guaranteed to raise a smile (and some funds) for those that need it.
From Anthony Burrill's We Are One message printed in his distinctive typographic style, to Myerscough's vibrant outpouring of love or Risotto Studio's Take Care banner, costing just £19.80 and available worldwide, Posters for the People is an empowering form of communication, and a throughly lovely way to show appreciation whilst raising both spirits and funds.
@ingoodcompanyleeds
@RisottoStudio
@AnthonyBurrill
@moragmyerscough