Since January, the gallery space at Fort Makers—a New York-based artist collective and design studio—has been transformed into an ethereal puffy 'forest', complete with soft sculptural pillows hanging from the interiors; the floating composition cocooned by canvas-cushioned architecture treated with gestural paint marks by the collective's very own Naomi S. Clark.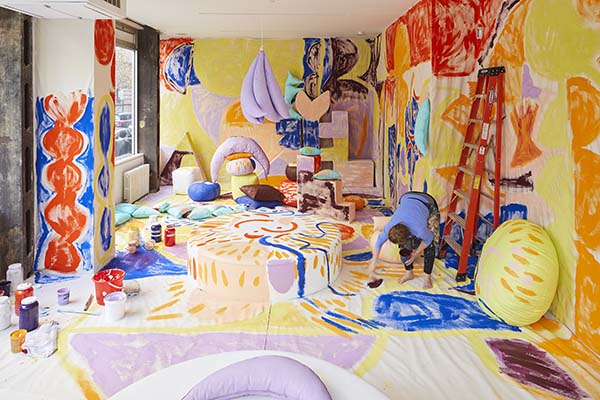 Encouraged to reconfigure the colourful shapes, fashioning the space to their own whims and desires, visitors to the all-encompassing installation can harness the power of play in sculpture through participatory performance and interactive design. "The power of play has always been at the forefront of Fort Makers' design philosophy," comments Fort Makers creative director, Nana Spears.
"Puffy is an embodiment of our mission to design objects and environments that stimulate the viewer and encourage a creative exchange of ideas. We hope the immersive atmosphere will serve as both a reprieve and stimulus, and as a reminder that a spark of inspiration can be just as soothing as a puffy pillow."
On show until 11 March, the exhibition includes pieces from two previous Fort Makers projects: a stage design for MoMA PS1's Warm Up outdoor music series in 2014, and an interactive wall installation in collaboration with magnetic wall covering company, Visual Magnetics, in 2017. These pieces are playfully strewn alongside Clark's installations and a whimsical backdrop of lavender, cobalt, chartreuse, poppy red, maroon, mint and pumpkin orange paint; all visible to passersby, creating quite the stir on downtown Manhattan's Orchard St.
Those who enter the space trade shoes for slippers before letting themselves succumb to the collective's free-spirited approach to creativity.